Updated February 1, 2018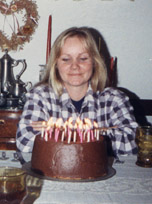 2/2/2018: HAPPY BIRTHDAY, EVA!
Friday, February 2nd, is the anniversary of Eva's birth in 1963. Is there something you should do in honor of her birthday? YES, I'm going to say it AGAIN — support the musicians in your community! Take a look in your local entertainment listings, and you will surely find performers in your area who are just getting their start. They need an audience. Eva did a lot of "open mikes" in her day. Look for the next Eva Cassidy!
Of course you should also play your favorite Eva songs today. I always have an Eva CD in my car, don't you? If you don't already have the "Another Eva Cassidy Fan" bumper sticker on your car, bulletin board, or guitar case, visit the evacassidy.com web site, run by Eva's sisters Anette and Margret, to see the wonderful Eva artwork prints you could treat yourself with, as well as the bumper stickers.
Here's a page listing some of Eva's favorite things, in honor of her birthday.


---
'BYGONE DC' DOCUMENTARY: One of the public television stations in the Washington DC area, WETA, has been showing a new documentary, "Bygone DC." "As Washington, D.C. and its communities usher in the future, iconic local establishments often disappear right before our eyes. [This] local production takes a walk down the region's memory lane, spotlighting the places that once defined Greater Washington and exploring the impact of their legacy."
Eva Cassidy is one of the featured artists (as you will already have guessed). Eva's producer Chris Biondo was interviewed about Eva, and some video clips were shown. Eva's sister Margret wrote me that "It truly was a very interesting and enjoyable program! But near the end, seeing Chris Biondo talking about Eva, and the clips they showed of Eva performing… well, this truly was the 'icing on the cake.'" The premiere showing was this past weekend, but it will also be aired on Tuesday, October 17th, at 8 AM, 11 AM, and 5 PM, and other dates and times (check at https://weta.org/tv/program/bygone-dc). Many thanks to Bryan McCulley and Margret Cassidy Robinson for keeping me up to date.
Interestingly, Chris Biondo and Lenny Williams were already involved with the program before Eva's name ever came up. "Lenny and I were hired to do the music for the documentary," Chris says, "but then they found out we had worked with Eva, and they put me into the documentary." He also told me, "They didn't put in one of the things I said, that I especially asked them to include, because people who aspire to be singers might benefit from it. That is — There was no ego involved in what Eva did. She sang for the love of singing. That is the difference between Eva Cassidy and almost everybody else."
---
HALL OF FAME:
Yes, Eva Cassidy and the members of the Eva Cassidy Band are going to be inducted into the Hall of Fame! But it's the Maryland Entertainment Hall of Fame, not yet a national one. (Baby steps.) The event will be held at the UAW Hall in Baltimore on December 10, 2017, and members of Eva's family will be present.
Click here
for more information. I'll update closer to the event.
---
"ESSENCE OF EVA" program with Dan Cassidy:
If you live in or around Barnsley, you should definitely attend. As reported in
the Yorkshire Evening Post
, "The 25-year-old music graduate, whose stage name is Laura Claire, will perform with Dan [Cassidy] alongside London guitarist James Hickman to raise money for Melanoma UK at The Essence of Eva show at The Civic in Barnsley on Sunday [June 18, 2017]."
Here's the link (will open in a new tab.
---
FUELLED BY THE GOOD MUSIC WE LOVE:
This is
a lovely article
from a site in New Zealand. Writer Sam Harris analyzes the "heart and soul" that typifies Eva's performance style.
'I'm reminded of St Paul's words in his letter to the Colossians: "Whatsoever you do, do it from the heart, as to the Lord, and not to men" or as another translation has it: "And do all that you do with all your soul." There's a purity and strength in Cassidy's music that perhaps points out the creative work of the Spirit in the background as Cassidy offers these songs to her listeners.'
---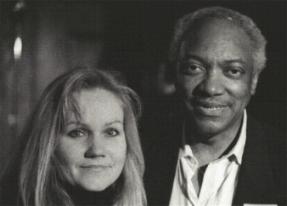 AL DALE: I am very sad to announce the death of Al Dale, who died on March 8, 2017. Al was Eva's manager from 1988-1996. He worked tirelessly to book local jobs for Eva (including Blues Alley) and to try to get her a record deal. They had a warm and positive relationship. "Eva was like a daughter to me," he told me once. You can hear Al's voice on LIVE AT BLUES ALLEY, saying "Let's have a big Blues Alley welcome for Miss Eva Cassidy!"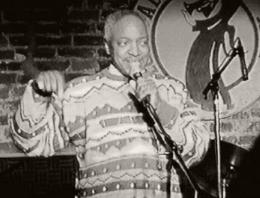 Here's a link to an interview I did with Al in 2001.
Al Dale is also mentioned in this 1998 article by Jefferson Morley in the Washington Post Magazine, and in this 2015 article by Dave McKenna for the Washington Post.
And here's Al in the New York Times, in 1986, in connection with the Fort Dupont events he founded.
---
ALISON KRAUSS ON EVA CASSIDY: Eva was a big fan of Alison Krauss, and performed several songs from her albums. In this webchat, Krauss is asked about singers that inspire her. "And Eva Cassidy, she was always one of those people where you'd be in a store and you'd hear it on the speakers – who's that?? It was always Eva Cassidy."
---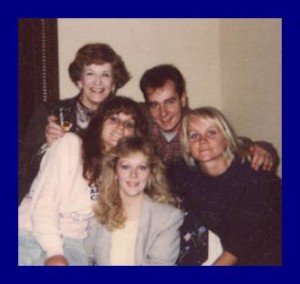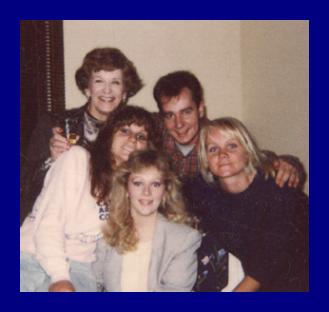 ISABEL CASSIDY BLIGH, 1933-2016
My mom, Eva's Aunt Isabel, passed away on December 28th, 2016, from pneumonia, at the age of 83. She had a special place in Eva's story. Eva's first musical instrument was Isabel's autoharp, which she gave Eva when she was seven or eight years old, too small to play the guitar which later became her preferred instrument. It was Isabel who insisted that all the children perform at family Thanksgiving and Christmas gatherings, much to our embarrassment! Isabel was so proud of Eva's accomplishments. She attended many, many of Eva's live performances in the Washington DC area, usually with a group of enthusiastic friends. She made Eva a set of custom laminated placemats from her performance calendars, and rescued some of Eva's drawings from the trash can and had them framed to hang in her home. Eva called her "my cool aunt," and "my own personal patron saint of the arts."
A few weeks before the taping of the live album at Blues Alley, Isabel pulled Eva aside at the family Thanksgiving gathering and handed her a check. She said, "Eva, I know you are going to have a lot of expenses for making this recording, so take this, and I don't want to hear any more about it." Eva used that money to pay for the manufacture of the CDs.
To the end of her life, Isabel kept an "Another Eva Cassidy Fan" bumper sticker on her car, and listened to Eva's music with joy and love.
The memorial service for Isabel Cassidy Bligh was held on Saturday, January 28th, 2017, at 11:00 AM, at the Mount Vernon Unitarian Church. It was a very lovely service. Among the musical highlights were Eva's brother Dan's performance of a beautiful composition of his own, "Ode to Isabel," and Dan and my son Paul, another family singer-songwriter, did a wonderful arrangement of Isabel's favorite Unitarian-Universalist hymn, "Spirit of Life." The family would appreciate donations in her name to any local Planned Parenthood or the Greenspring Scholars Fund (send to the Philanthropy Office, 7410 Spring Village Drive, Springfield, VA, 22150. Please indicate in the memo section of the check in whose memory the donation is being made. Greenspring is a 501(c)(3) organization, and gifts are tax-deductible as allowed by law).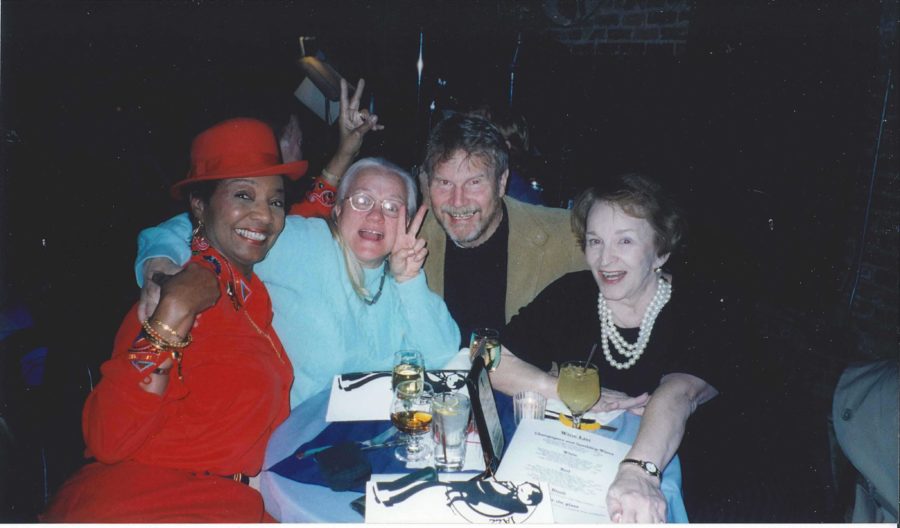 ---
IRISH POP TENOR IS EVA FAN:
Eamonn McCrystal has won four Emmy awards for his program "Celebrating the Music from Northern Ireland" and is just releasing his tenth pop album. In
this interview
with the
Irish News,
he is asked,
[What is] the record you'd take to a desert island?
His reply:
"Anything by Eva Cassidy – I could listen to her voice forever."
---
REMEMBER EVA WITH JOY AND LOVE: For those of us who loved Eva, and there are millions, our soundtrack for today will be Eva singing "I Know You By Heart."
"You left in autumn
The leaves were turning
I walked down roads of
Orange and gold
I see your sweet smile
I hear your laughter
You're still beside me, every day,
'Cause I know you by heart."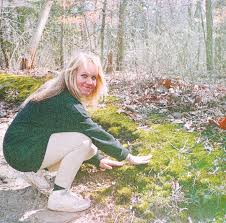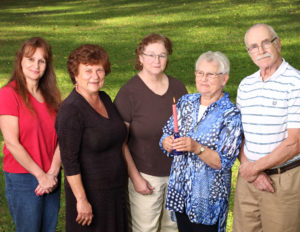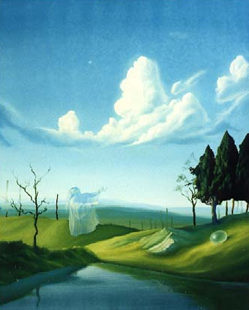 ---
"AWESOME FEMALE COVERS:" The online mag Verily featured Eva in this article listing seven "oldie but goodie throwback songs, covered by fresh female voices, to create the perfect playlist of chillicious autumn tunes." Among the other artists are Adele and Carrie Underwood. "If you haven't yet heard the songbird known as Eva Cassidy, I envy your musical encounter ahead. "
---
WE LOVE YOU, KRISTIN CHENOWETH! The superstar Kristin Chenoweth seems to mention Eva Cassidy every chance she gets. In this interview with Marie Claire magazine, the interviewer explores what's on Chenoweth's smartphone. What about your most *played* song? "Eva Cassidy—the entire songbook album." (Obviously this was a transcription error, and Chenoweth is referring to the album SONGBIRD.)
---
CAROLE BAYER SAGER is a fan! She mentions Eva in this interview in Variety. It's an interesting article about the songs and songwriters she admires. The part about Eva: "'Over the Rainbow' [Harold Arlen-Yip Harburg], for me, is the quintessential top of the top of the top of the songwriting craft. Of course Judy Garland's version is the gold standard, but Eva Cassidy's version still gives me goosebumps."
---
SONGBIRD LIVE: The racehorse, that is. What an amazing day we had, attending the races to see Eva's namesake thoroughbred filly in action. We were guests of Songbird's owners – Eva's sister Anette and I, my daughter Claire, and friends Sallie and John. Owner Rick Porter and his family were so gracious to us. It was Porter's assistant, Victoria Keith, who introduced the family to Eva's music and suggested that their promising new filly be named Songbird in her honor. Anette brought a goody-bag of Eva CDs and notecards for the Porters and Victoria, which seemed much appreciated.
Anette is a "horse person" and had even worked at racetracks, but Claire and I were new to the sport and were surprised at so many things. When you are the guest of an owner, you aren't hanging out with the crowds in bleachers. We were up above the noise and jostling in a nice restaurant-like area that just happened to have a racetrack outside a big picture window! When it was time for Songbird's race, the Cotillion Stakes, we all went down to the saddling area to see the horses in the parade ring, and to watch the race from a prime spot next to the rails. There were an estimated 15,000 racegoers in attendance, and most of them seemed to be Songbird fans. As for the race itself — wow! And beautiful Songbird won so easily. Hall-of-fame jockey Mike Smith didn't need to urge her on. She just flew! Here is an article about the race.
My photos didn't come out very well. If I can improve them any, I'll add some here. There's a good reason why the racing photographers have very elaborate cameras and lenses. It's really hard to get a good shot of a galloping horse.
Here's a lovely article about Songbird (not about the race).
---
TRAVELING TO MEET SONGBIRD THE RACEHORSE: This weekend, Songbird will be competing in another major race for fillies, the million-dollar Cotillion, at Parx Racing outside Philadelphia. Eva's sister Anette and I will both be there to cheer on this remarkable thoroughbred, who was named for Eva. What fun! I did a couple of interviews to talk about the Eva Cassidy connection (we are a family of shy people, so it was a matter of "You do it!" "No, you do it!" and I lost the battle). Here's an article from Philly.com and the Philadelphia Inquirer which quotes me. Here's the other, from Bloodhorse.com. Both of the reporters were so nice, and didn't seem offended that I asked them to call back later because I was watching Jeopardy!


---
EVA TRIBUTE IN LONDON: West End star Emma Hatton will be performing a cabaret-style tribute to Eva Cassidy at Live at Zedel at Crazy Coqs in Piccadilly for one night only, on 28th October at 7pm. Hatton comments in this article from Broadway World, "I have loved Eva Cassidy since I first heard her sing. She has the most wonderfully emotive sound that is unique to her – you only need to hear a word or a note to know it's Eva. As a vocalist, that's incredibly special and what we all seek to achieve. It's truly an honour to be able to combine my own sound with Eva's genius."
Hatton joins my list of Eva fans who starred as Elphaba in the musical "Wicked." A quick on-line search shows that Eden Espinosa, Kerry Ellis, Lisa Brescia, Willemijn Verkaik, and Stephanie J. Block are also on that list. (Plus the first Galinda, Kristin Chenoweth!)


---
UPDATE ON SONGBIRD (THE RACEHORSE): Eva's thoroughbred namesake is still in the news. The undefeated filly won the Coaching Club American Oaks on July 24th, 2016, at Saratoga in New York State, and the Alabama on August 20th.
The word seems to be out about the Eva Cassidy connection, also. Here is an article from the racing website "Bloodhorse." Blogger Steve Haskin writes a little about Eva's history, then explains, It was the name of that title song on Cassidy's CD that eventually became the inspiration for one of the most brilliant young fillies seen in America in many years. Songbird, owned by Rick Porter's Fox Hill Farm, is now undefeated and untested in eight career starts, and is as mellifluous in action as the song and CD for which she is named…. Eva Cassidy never became a star and was relatively unknown when she died. But she has since developed a following of admirers, whether they are just music lovers who have discovered her through her "Songbird" CD, her renditions of "Over the Rainbow," "What a Wonderful World," and "Songbird" on YouTube or artists and producers within the industry. Now, the beauty of her voice may live on in through the beauty of a magnificent filly.
---
POLITICAL WRITER JOE KLEIN IS AN EVA FAN: Another item I stumbled across while looking for something else. On September 24, 2014, Joe Klein wrote in Time Magazine, "The drive from Atlanta to Tuscaloosa this afternoon enabled me to listen to some music and renew the road trip playlist tradition. Here are five songs my thoroughly shuffled iPod played along the way that made an impression: 1. Eva Cassidy–Oh, Had I A Golden Thread: Cassidy had one of the great voices ever, sadly gone now. This puts the instrument on spectacular display, almost knocked me off the road."
---
EVA AND TUPAC? NOPE. Every so often I get questions about Eva's backup track(s) for the late rapper/actor Tupac Shakur, who died the same year Eva did. Here's the scoop: Eva did not know Tupac. Eva did not work with Tupac. Eva did work with a number of local rap musicians by recording backup vocals. But not for Tupac. According to Eva's producer, Chris Biondo: "There was a lot of poaching of [Tupac's] rap vocals. After he was killed, some people got their hands on raw vocals and were in a mad rush to put together background music with the idea of releasing it as a Tupac recording. One of our local rappers made a backing track and synced up the solo rap tracks and hired Eva to sing backup vocals. I have no idea what happened to that song, if it was ever on an album anywhere. Eva never worked with Tupac." So there's the answer.
---
"THE SONG THAT CHANGED MY LIFE" is a video feature on the Fuse TV website. Pop stars Nathan Sykes, Colette Carr, Bullet For My Valentine's Matt Tuck, and Ro James were asked to discuss "the ultimate song that changed their entire world." Sykes cited Eva's "Over the Rainbow" starting at about the 1:00 mark on the video. He says that he performed Eva's version as a 11-year-old.
---
EVA TRIVIA: Jeopardy! fans will recognize the name of legendary champion Ken Jennings, who has a whole new career writing trivia books. Eva's name has turned up in his Trivia Almanac. I don't know what the question was, though!


---
"TRUE COLORS" ON ICE: Taiwanese figure skater Amy Lin celebrated her first international medal with a lovely performance set to Eva's "True Colors" at the post-competition gala. Lin won the bronze medal in the MNNT Cup competition. Here's a link to the video (the music sounds a little weird, probably due to the acoustics). Her choreography starts out a little somber and dull, but by 2:15 it becomes joyful and will make you smile!


---
THIS ONE'S WEIRD: Someone has invented a self-playing piano that will play along with the music on your iPod. Britain's Daily Mail featured a video of the "Edelweiss" device accompanying Eva's recorded voice for "Fields of Gold."


---
SMALL MIRACLE: In the December 2010 issue of the magazine Oprah, columnist Lisa Kogan challenges herself to find miracles in these cynical times. For her April miracle, she writes: I am folding laundry as the late, great Eva Cassidy sings "Danny Boy" over my crummy old JBL speakers. Her sound is crystalline and ethereal, seductive and soaring. I am amazed by the way three minutes and 41 seconds of music can leave a girl sobbing into a dish towel. Eva Cassidy's voice is about as miraculous as it gets.
---
NETHERLANDS CONCERT ABOUT EVA: The Dutch singer Jerney Kate and her band will perform a tribute to Eva Cassidy on Sunday April 10. Between the musical selections, author and biographer Johan Bakker will talk about Eva's life. The event takes place at 15.00. in Scheltema Leiden, Marktsteeg 1.
---
EVA FAN ON BRITAIN'S "THE VOICE": The singers of today often cite Eva Cassidy as an important influence. Here's an example, from Tom Rickels, a contestant on "The Voice":
Question: Was there anyone in particular that inspired you to be creative?
Answer: Definitely Eva Cassidy! I remember singing Somewhere Over the Rainbow and being absolutely mortified when my mum found me singing away in the backroom of our old house. Her tone, the way she performed and how pure it all was is really inspirational.


---
ANOTHER UPDATE ON SONGBIRD (THE RACEHORSE): Eva's thoroughbred namesake won the Santa Ysabel Stakes in California this weekend. Songbird is a winner, undefeated in six starts, with $1.7 million in earnings. She is a probable contender in the historic Kentucky Oaks fillies race! Owner Victoria Keith of Fox Hill Stables confirmed to me that the champion filly was named for Eva Cassidy. "Eva's voice was so, so beautiful that it gives us chills." Here's a link to Songbird's Wikipedia page. Her jockey is Hall-of-Famer Mike Smith, who considers it "a privilege" to ride her. This article calls Songbird "America's Sweetheart" and mentions the origin of her name.


---
"SONGBIRD" TRIBUTE TO EVA IN NORWAY: Norwegian songstress Rita Eriksen, best known as the winner of the NRK television program "Stjernekamp" ("Star Game"), will be touring Norway with a program titled SONGBIRD: RITA ERIKSEN SYNGER EVA CASSIDY. Here's an article about Eriksen and the tour. With the imperfect help of Google Translate, I can give you a lovely quote from Eriksen about Eva Cassidy: "She had an almost otherworldly power that takes hold of the soul and rips hold of you."


---
2/17/2016: From the financial blog "The Simple Dollar," here's an article about many sources of inspiration, including Jimmy Carter, Bismarck, Vincent Van Gogh, and Eva Cassidy. I urge you to read the article, because you too may find inspiration in many of the items listed. Regarding Eva, after a simplified explanation of her story, the moral drawn is this: Never give up. Never stop making things. You might never see the impact that it can have on others.
Isn't that beautiful?
---
2/11/2016: JAZZ SINGER LISA FISCHER LOVES EVA! Have you seen the Oscar-winning 2013 documentary "20 Feet From Stardom," about back-up singers? If so, or if you are a Rolling Stones fan, you have experienced the voice of Lisa Fischer, who was featured in the film and has toured with the Stones since 1989. In this article promoting the Fischer's concert in Arizona, the singer is quoted: "My favorite jazz singers are Ella Fitzgerald, Nina Simone, Billie Holiday and Eva Cassidy." Such august company! (When I watched the documentary on Netflix I thought about Eva the whole time, because she often used to say her dream job was to sing backup for Stevie Wonder.)
---
2/9/2016: Another NIGHTBIRD review in French: This is from the website of La Croix, which, according to Wikipedia, is "daily French general-interest Roman Catholic newspaper." Thanks to my talented friend Sallie, I am able to provide a better translation than the usual Google Translate variety. Here's an excerpt:
In France, still very few people know the story of this shy singer with a blazing talent and a relentless perfectionism, who preferred to go on a bike ride than to chase celebrity at any price.
Today, many people wonder how such a talent could elude the labels. Approached by several of them, the young woman changed courses. Pop, rock, jazz, blues, soul? Her voice, a trickle of pure water or a powerful torrent, was continuously changing. She chose songs for their personal resonance and refused to have her choices dictated to her. Not "marketable" enough.
…As of today, Eva Cassidy has sold more than ten million albums worldwide. And on the site dedicated to her memory, many come to tell how that voice grabbed them while in their car or in a store—making them stop in their tracks.
The double CD Nightbird, released on 5 February, brings together all the songs from that night on 3 January 1996, enhanced with a DVD of the recording, where the young blond woman's magnetism shows through. In a "Stormy Monday" with bluesy overtones, the sweet lament of "Autumn Leaves," or the stripped-down reinterpretation of "Over the Rainbow," she reveals not only a beautiful voice, but also a beautiful soul.


---
DMV LOCALS TAKE NOTE: Miyuki Williams will be celebrating Eva Cassidy TODAY (Sunday, February 7th) on the DC area's local radio station WPFW (89.3 FM, or stream live). Barbara and Hugh Cassidy will be her special guests from about 12:15 to 2:00 PM, Eastern Standard Time (same time zone as New York). Songwriter Doug McLeod, who wrote the title song of the new NIGHTBIRD album, has promised to call in during the show! **Note: He DID call in! I was in the car and had to pull over to scribble down a few notes to add to my article about the song "Nightbird."


---
NIGHTBIRD reviews in French: Le Populaire magazine reviews NIGHTBIRD here. With the help of Google Translate, I can tell you that the review is favorable, the headline calls her the "shooting star of jazz," and says that Eva has "become legendary in the Anglo-Saxon world."
Reviewer Thierry Gandillot of Les Echos marks the new album as "DO NOT MISS!" The headline says "An Angel in Washington DC." My favorite quote (translation by Google)" "'Cheek to Cheek' begins, we remember, with these words: 'Heaven, I'm in Heaven …' Eva is in heaven, and we are thrilled."


---
A HAPPY BIRTHDAY TWEET FOR EVA: 2/3/2016: Among those to tweet a "Happy Birthday" to Eva was singer-songwriter Haley Johnsen, whom you may remember as an "American Idol" finalist. "Happy birthday to one of my greatest vocal influences, Eva Cassidy. To this day I can't listen to her sing without crying. She was taken much too soon, but she left us with chills down our spines."


---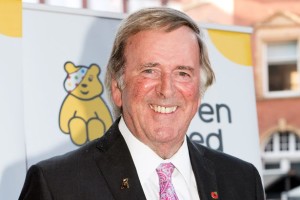 1/31/2016: SIR TERRY WOGAN died today after "a short but brave battle with cancer." He was 77.
Sir Terry played "Fields of Gold" and "Over the Rainbow" on his immensely popular BBC programme, "Wake Up With Wogan," with spectacular results! He was indisputably the most important and influential person to bring Eva's music to the attention of the British public. Here's a good article about him from The Guardian.
Today's headlines call him "A National Treasure." Those of us outside the United Kingdom and the Republic of Ireland cannot fully comprehend what a broadcasting phenomenon Wogan was. When I first heard about his important role in the Eva Cassidy story, I asked many people to list an equivalent force in American media, but nobody was able to come up with any. He was unique. Larry King? No, though he seems to have been as recognizable; not Walter Cronkite, not Bob Hope, though as warmly beloved. Over his long career, Wogan raised hundreds of millions of pounds for BBC's "Children in Need" charity. He hosted the Eurovision Song Contest for decades. Among his BBC programmes for TV and radio were chat shows, quiz shows, music shows, and narrator roles on documentaries. He was surely one of the most recognizable voices ever. Of particular note to Eva Cassidy fans, Terry Wogan was the narrator of the BBC Radio tribute to Eva, produced by Kevin Howlett. That radio program is my own favorite of all the Eva tributes, and wouldn't it be lovely if it were available in the United States or online?


---
1/22/2016: More NIGHTBIRD reviews: Critic Bill Bentley writes, on the popular culture website "The Morton Report," "Cassidy's voice is so full of life and love it's almost impossible to think she didn't live long to see her success. The fact that she went on to sell over 10 million copies of her music and had three releases reach #1 on the UK charts is like a fairytale, no matter what. To hear a night of one woman's soaring beginnings, start right here."
In Elmore Magazine, critic Jason Kwan comments, "One aspect of Cassidy's vocal style which always gives me shivers is her ability to seamlessly soar between her head voice and her falsetto, utilizing her entire vocal palette to paint her performances."


---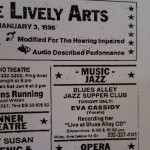 1/3/2016: IT WAS TWENTY YEARS AGO TODAY…. On this date in 1996 — twenty years ago tonight — Eva was singing at Blues Alley. It was the second of two nights of live performance and recording. As it turned out, due to technical problems the first night's tapes were unusable and all the material on the albums LIVE AT BLUES ALLEY and NIGHTBIRD came from the two sets on January 3rd. For more information, check out my newest article, telling the Live at Blues Alley backstory.
So what should you be doing this week to honor Eva? Listen to her music, yes, but more than anything I urge you to go out to hear live local music! Support the NEXT Eva Cassidy in your community! And if you play an instrument or sing, do a bit of that too, OK?


---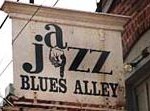 1/3/16: Today's anniversary sent me over to the Blues Alley website to see what's new. Look what's on the menu: "Eva Cassidy's Shrimp & Grits ala Nagé Sautéed in Homemade Shrimp Gravy Served over Cheddar Cheese Grits"!
---
1/1/16: In its seventh week, NIGHTBIRD is currently #6 on the UK Indie Album Charts. Adele is #1 — I think Eva would have loved her music!
---
12/30/2015: REVIEWER: Wayne Bledsoe of the Knoxville News Sentinel reviews NIGHTBIRD and says, "Hearing this album can't help but make you a little sad imagining just how much great music Cassidy could've made. Still, hearing this music made 20 years ago on this date feels like a gift." Here's the link. Nice review.
---
12/30/2015: REVIEWER: "Without a doubt my highest recommendation ever!" I just love it when someone is so excited about Eva's music that he simply bubbles with joy. Dennis Russo writes on the Critical Blast web site, "One of the joys in getting to review music is getting to listen to someone you've never heard of before and after listening to them you realized you missed something special for a long time. Such is the case for Eva Cassidy. I had never heard of Eva or her music prior to listing to the NIGHTBIRD 2CD set I am reviewing here. I could forgive myself for not hearing of it if Eva was someone relatively new on the scene. That is not the case here, so I could kick myself in the pants for not having heard of her sooner and been listening to her music all this time!" Also "From start to finish I enjoyed every song she sang. Asking me to pick a favorite would be like asking a parent who their favorite child is."
---
12/30/2015: BLOGGER: "How did producers not recognize this talent? They were professionals. This was their business. When would would they ever find someone like this again?" Financial adviser Gary North is another one who had never heard of Eva Cassidy. He has now, is spreading the word, and writes on his web site, "This is a reminder: if you have a talent, record it. Put it on YouTube. Encourage talented people you know to do the same. No one knows when the public will discover talent. Sometimes this is posthumous." Gary North's takeaway from Eva's story is different from my own cri de cœur about supporting live local music, but it is valid.
---
12/22/2015: I guess a lot of people listened to the interview (below). Record number of visitors already today! I'm listening now. Nice interview with plenty of music. Bill Straw, you were very good — but please learn how to pronounce Bowie! (Music people always want to say it like David Bowie. The town in Maryland actually is pronounced like Buoy or Gluey.) The only other correction I'd like to make is that the American Idol contestant who used Eva's arrangement of "Over the Rainbow" note-for-note was Tamyra Gray, not Katherine McPhee, who sang an arrangement that was a mix of Eva's and Judy Garland's. Several other Eva arrangements have been heard on American Idol, and on many, many other talent shows in several countries. (UPDATE: The day ended with almost 5,000 visitors. That's a lot for a tiny site like mine. I am so happy to know that more and more people are discovering Eva's music!)
12/22/2015: RADIO INTERVIEW ABOUT EVA! Bill Straw of Blix Steet Records recently taped an interview for Robin Young's nationally syndicated "Here and Now" radio show. It was broadcast on Tuesday, December 22nd and is about ten minutes long. Here's the link so you can download it and listen. Incidentally, Robin Young has been an Eva fan for a long, long time. "In the late 1990s, Robin played a cassette of Eva's music [on her radio show] and the phones rang off the hook wanting to know about the artist." Some of you may remember this excellent 1/31/1999 article from the Boston Globe. She's one of the fantastic Eva ambassadors who helped spread the word!
---
12/16/2015: OVER THE RAINBOW information: Thanks to an international Facebook conversation, I have updated my article about Eva's recording of "Over the Rainbow." Here's what I added:
Eva's brother Dan Cassidy heard secondhand (via Ned Judy) that Eva was motivated to sing "Over the Rainbow" after watching a television talent show. 'Eva used to watch a show in the 80´s called "Star Search" which sometimes had some really good singers competing for national attention… There was a contestant who was singing the daylights out of "Somewhere Over The Rainbow" which apparently inspired Eva to do her own version of the song.' The singer was probably Sam Harris, who won the competition in 1983.
---
12/11/15: YOU SHOULD DEFINITELY READ THIS ONE: There's an excellent article in today's Washington Post. Dave McKenna doesn't mention it, but he actually attended a number of Eva's live performances, including Blues Alley, and he and his wife first met at Shootz when Eva was singing! Some good quotes from the band members, and Mick Fleetwood. Take the time to read the comments too. This is Eva's hometown, so you'll be hearing from people who knew Eva or heard her perform live. I'm also pleased that McKenna mentioned my mom's involvement (Eva's Aunt Isabel): To pay for the manufacture of CDs, Cassidy used money she had been given by an aunt. Biondo recalls Cassidy being pretty sure she had wasted the gift. "We'd ordered a lot of a thousand CDs," says Biondo. "I remember driving with her to Virginia to go pick them up from the CD plant. She thought we bought too many. So the whole ride she was saying she knows she'll have boxes and boxes of them lying around forever, really concerned that for the rest of her life she'd be seeing these things in her basement. I was telling her don't worry about that, that it would be fine. But, I thought it would be a great thing to sell the 1,000 we had."
---
12/10/15: There's a nice story about Eva by John McNamara in today's editions of the Maryland newspaper chain, Capital Gazette, including the Bowie Blade. I love the first lines: When Bowie native Eva Cassidy was kicking around Washington area clubs hoping to make it as a singer, she sold her CDs out of the trunk of her car. In the nearly two decades since her death, she's sold more than 10 million records. She's about to sell even more. The last lines are pretty good too: Almost 20 years after her death, Cassidy's music is poised for another rebirth. "I think Eva's not going to go away," Biondo said.
---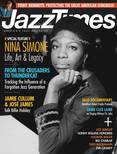 12/10/15: Geoffrey Himes reviews NIGHTBIRD in the current issue of Jazz Times! Nina Simone's face is on the cover, but Eva's name is in the lower right corner! The article is not yet online.
---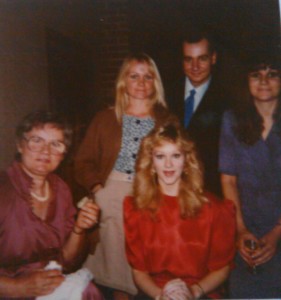 12/10/15: Here's another photo I just came across — taken at my wedding in 1989. Counterclockwise, Aunt Barbara, my sister Vivien, Margret, Dan, and Eva.
---
12/10/15: NIGHTBIRD has received an enthusiastic reception in the UK (currently #5 on Amazon UK's Music: Box Sets list), and I hope tomorrow's North American release will go as well. Some customer quotes from Amazon.co.uk:
"A common fantasy exercise is to imagine where would one choose to go with a time machine. I can tell you where I would go on January 3, 1996!!!"
"This is her "At Folsom Prison" moment."
For me, this album completes the Eva story. Highly recommended.
---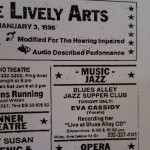 12/8/15:
If you're interested in a work-in-progress, check out my new article, telling the Live at Blues Alley backstory. It's even closer to completion now. Perhaps there is more information about microphones than you might have wanted, though.
---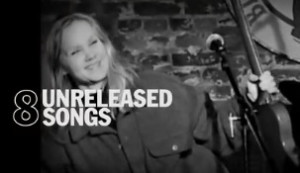 UK Television Ad for NIGHTBIRD: Here is the link to see it on YouTube.
---
12/4/15: Did you read what Gerard in Ireland posted in the Guestbook? It is so important, I am reproducing it here. He wrote: As I watched my Nightbird DVD it reminded me of an evening in 2008, in a small club (long closed) called Crawdaddy, where I watched a very young Adele sing on the small stage. Today tickets for her arena tour in Dublin (2 nights), and part of her European tour, sold out in 3 minutes. How we all miss Eva Cassidy and what surely would have been, and treasure the music she left us. I wrote this reply: Gerard, I'm so glad you posted this. It's the perfect illustration of my message about supporting live music. "There will never be another Eva Cassidy, but there will be someone else." In this case, there was Adele Adkins, who has mentioned Eva Cassidy as an influence! –Laura
---
12/3/15: I found some old family snapshots, and Eva is in some of them! I'm going to make proper scans as soon as I figure out how to do it, so these are just previews.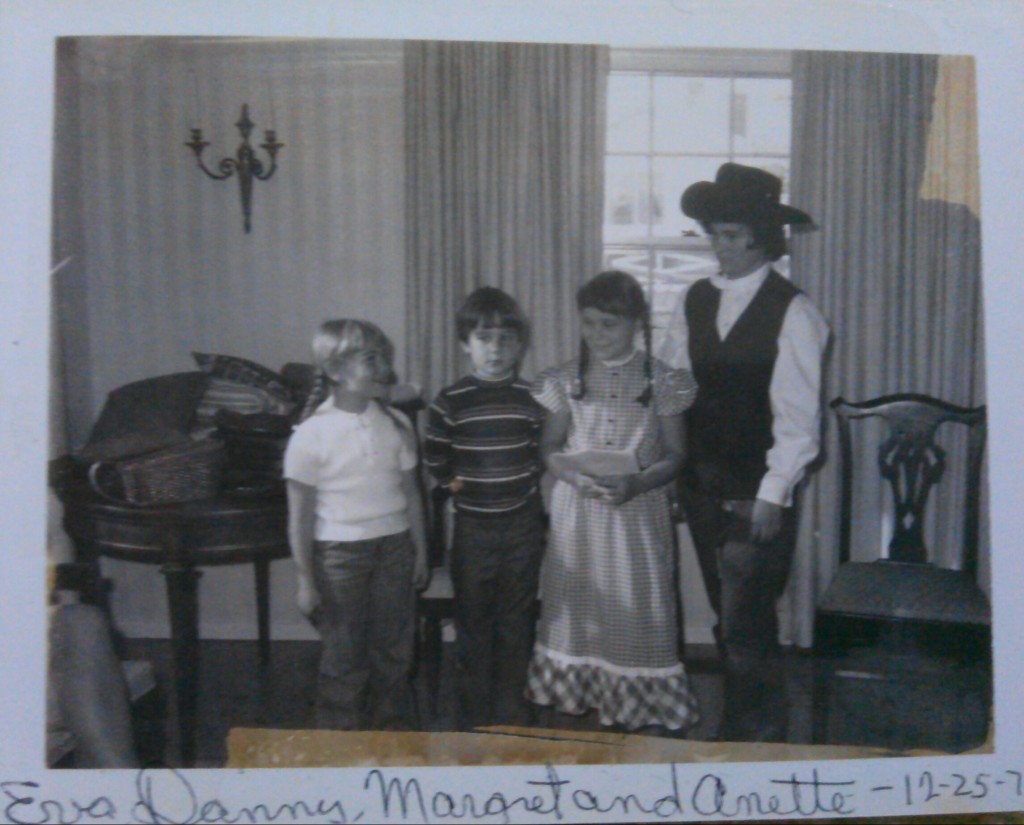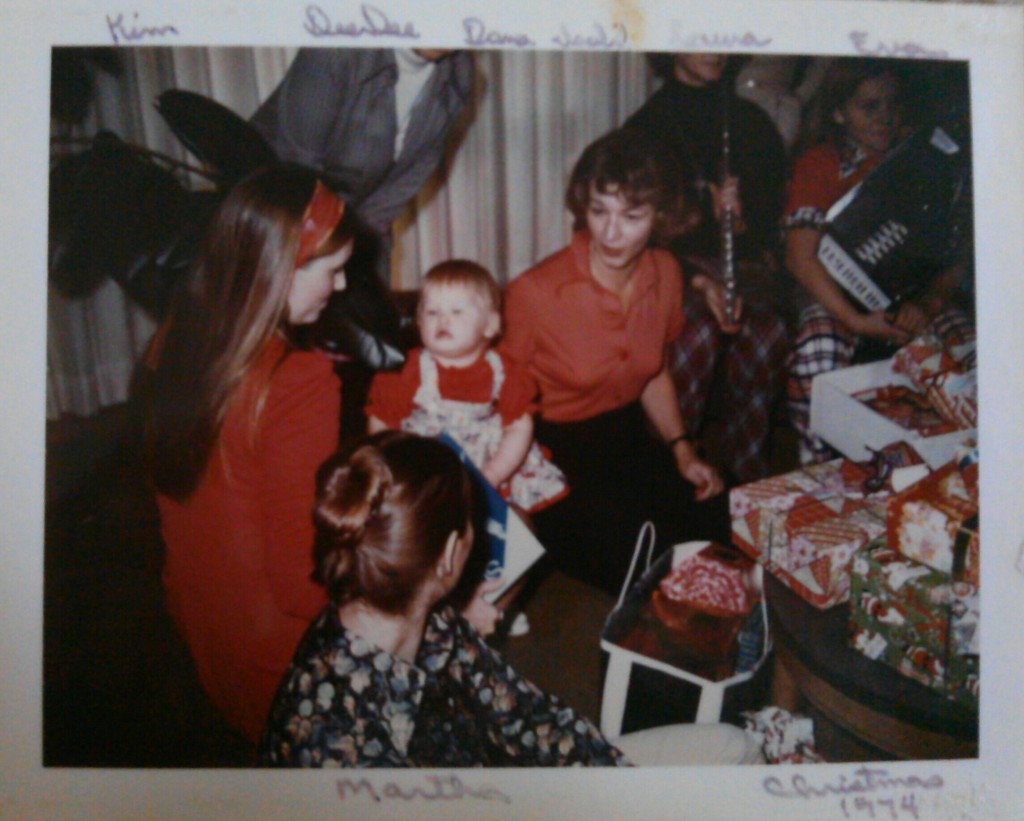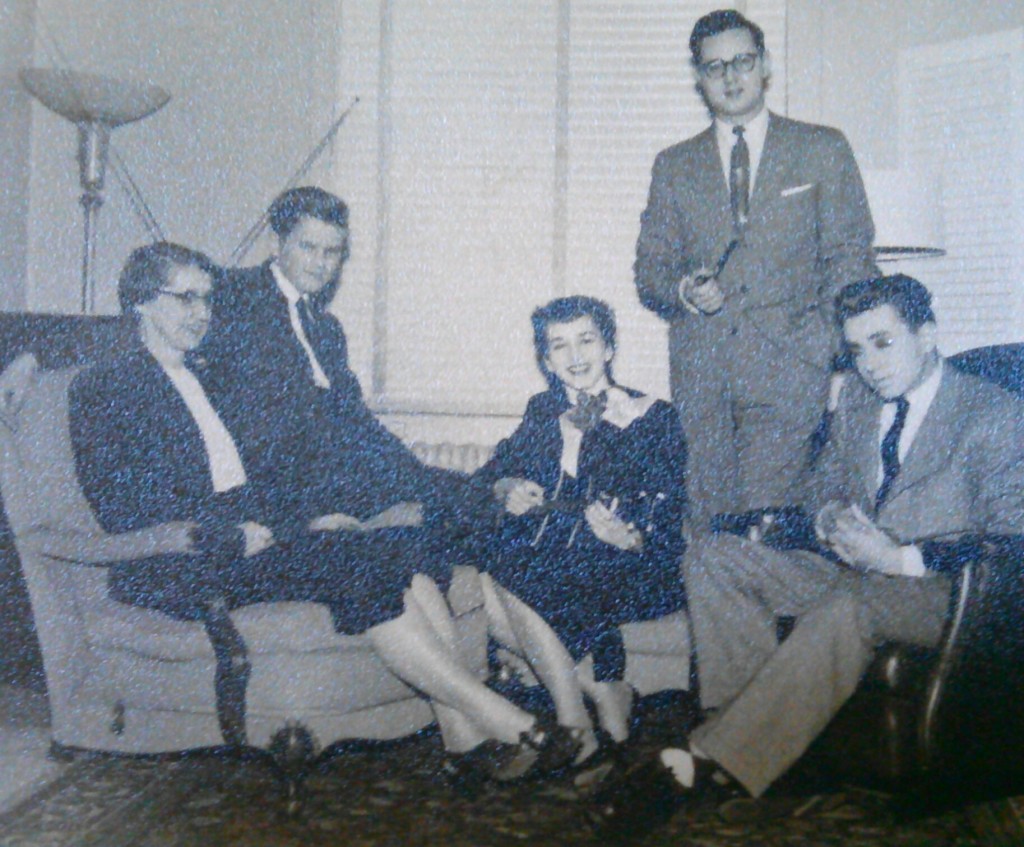 ---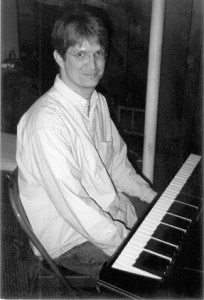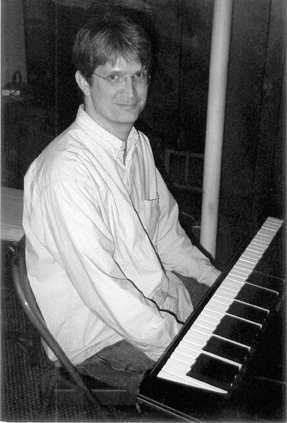 LENNY WILLIAMS RADIO PIECE: I'm still finding interesting things online, and this is a really good one. From the Artsedge/PRX series "Weird Jobs in the Arts," here's Lenny Williams talking about how he found himself writing "music for non-fiction television." You should definitely listen to this 10-minute program. The transcript is here. If you didn't already know Lenny was brilliant, you will be amazed, and you'll never listen to TV background music the same way again. He does talk about his connection with Eva, as the pianist on many of her recordings, but only in passing.
There, that was really interesting, wasn't it? You can listen to more of Lenny's music ("Samples") and see a partial list of his projects, at his website. Here's a link to Chris Biondo's website as well. Listen to the music!
---
Here's one I missed earlier in the year! In the 9/14/2015 issue of the magazine Us Weekly, singer Leona Lewis cites Eva among her "Top Divas" and says of "Over the Rainbow," "A truly beautiful arrangement. Her version gives me chills every time." The others divas listed are current celebrities (Adele, Sia, Chaka Khan). The X Factor star also mentioned Eva in a tweet in October: "Yup Eva Cassidy is one of my favorite artists EVER"
---
11/23/15: The NIGHTBIRD album must be attracting a lot of attention, because this web site had its busiest week since its remodel earlier this year: 5,487 visitors. The top countries, in order, were the United Kingdom, followed by the United States, with Germany, Netherlands, Canada, Norway, Australia, Sweden, Japan, South Korea, France, Ireland, New Zealand, Poland, Austria, Ukraine, United Arab Emirates, Denmark, South Africa, Russia, Bulgaria, Belgium, India, Guernsey, Bosnia & Herzegovina, Indonesia, Italy, Greece, Czech Republic, and Slovenia. That's pretty darned international! South America and Africa are not as familiar with Eva's music as the other continents, but I have seen Guestbook entries from South American and African countries in the past.
---
11/23/15: MORE REVIEWS OF NIGHTBIRD: The Hertfordshire Mercury calls the new album "a wonderful memory of that special night featuring an incredible artist."
Joanna Davis of the Dorset Echo writes, It's an immersive live experience that is sure to bring even more people to Cassidy's superb – but so sadly – small body of work. The full (short) review is here.
Nick Cole of the Scunthorpe Telegraph gives the album 9 stars out of 10, describing it as Some great laid-back, late night music from the late Eva.
---
11/16/15: Were you there at Blues Alley in January of 1996? Please contact me at webmaster at evacassidy dot org, to help with an article I am writing. (Sadly, I myself was not able to attend. If you need proof that it really HAS been 20 years, check out my twenty-year-old son, of whom Eva once said "If they're giving points for cuteness, he gets ten out of ten." He was an infant in January of 1996, which was why I wasn't there.)
---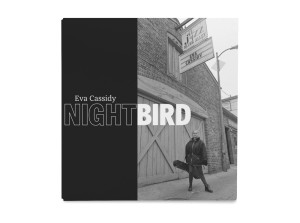 NIGHTBIRD is now available in the UK and opened at #17 on the UK album charts. The North American release will be December 11, 2015. The album covers have different designs, as you can see on this page. The gray version is UK, the blue is North America.
In anticipation of the 20th anniversary of the recording of LIVE AT BLUES ALLEY (has it really been that long?!), this two-CD set includes much more of the original Blues Alley material: 32 tracks, including 8 unreleased songs. It is also available on four vinyl LPs and on iTunes.
For more information about the UK release, which includes a DVD, visit this website. IMPORTANT: The North American set will not have the DVD, and if you decide to make the effort to have the UK set shipped overseas, you need to know that the DVD is in PAL format and may not play on all North American DVD players. However, many of the videos can be viewed online here. This YouTube channel contains legal and official videos, which is why I am including the link. Fans may also be interested in this Facebook page, which is curated by Blix Street Records. **UPDATE: Several US fans have told me they had no difficulty in playing the UK DVD on their machines. So if you order one, cross your fingers. You may be lucky!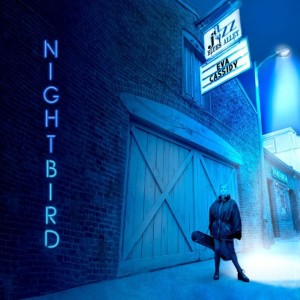 CREDIT WHERE CREDIT IS DUE: Just a reminder to everyone that the wonderful photos of Eva outside Blues Alley were taken by her friend Larry Melton, and that the priceless videos of Eva performing inside the club were taken by her friend Bryan McCulley. Millions of Eva Cassidy fans thank you, guys! A little more information about Bryan's videos can be found here.
With the 20th Anniversary coming up, I plan to write more about Eva at Blues Alley soon. In the meantime, if you want to know more about the famous recording session at Blues Alley, read my "You Are There" article in which I attempt to describe it all for you!
---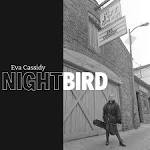 "An exceptional release, offering fresh insights into perhaps one of the greatest female vocalists of all time. Highly recommended." Here's the first review of the new album NIGHTBIRD, from the Herts Advertiser.
---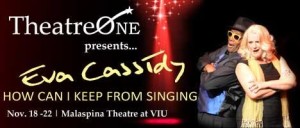 November 13, 2015: "HOW CAN I KEEP FROM SINGING" is the title of Canadian singer Cayla Brooke's show about Eva Cassidy. Her next performances will be in Vancouver, at Malaspina Theatre, VIU Campus, November 18-21 at 7:30pm, and Sunday, Nov. 22 at 2:00pm. For further information visit this website. Don't delay, apparently this show often sells out. I'd love to hear from someone who has attended one of these performances.
---
October 2015: SONGBIRD THE RACEHORSE was named for Eva, according to the Fox Hill Stable website and this article. The filly is training in Kentucky and has been successful in several races. Good luck, Songbird, we are rooting for you and will follow your career with interest. **UPDATE:** Songbird won the juvenile division of the Breeder's Cup! Go Eva!
---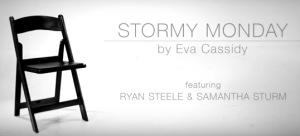 October 21, 2015 (updated):
STORMY MONDAY is a wonderful dance duet choreographed by Grady McLeod Bowman (Broadway's Billy Elliot, South Pacific, Honeymoon in Vegas, Wonderland, The Pirate Queen). As you see in the screenshot image, Eva is fully credited! The dancers are Ryan Steele and Samantha Sturm. It's quite delightful, so spend a few minutes enjoying the performances on the Broadway World site.
I contacted Grady McLeod Bowman to ask about the duet, and was delighted to receive this reply:
I was introduced to Eva and her music by my dance teacher back in high school (late 90's) when she choreographed to one of the songs on the Songbird album. I was hooked. Something about the texture and conviction in her voice deeply resonated with me. Since then, I have choreographed to "Wayfaring Stranger", "Fever", and "Red Top" to name a few. I also use her music often when teaching classes.

I've wanted to choreograph to "Stormy Monday" for a while now and about a year ago I was asked to put together a submission for the FOX television show So You Think You Can Dance (that's why it's so short and sweet). A year later we finally got around to filming it. But I have always envisioned choreographing the entire song with a full ensemble of people and setting it inside a smoky jazz/blues club. Hopefully one day I'll have the time and resources to expand on this duet and make that happen.
---
October 7, 2015: ANOTHER EMMY FOR LENNY AND CHRIS! Congratulations to Lenny Williams and Chris Biondo, formerly of the Eva Cassidy Band, for receiving another Emmy (their fifth) for "Outstanding Music and Sound" at the 2015 News and Documentary Emmy Awards in September. They were the composers for the "Nature" documentary "Animal Antics" on PBS. Guys, we are all so proud of you!
---
September 28: : Actor/writer Michael Moriarity again writes about Eva in his blog: 'When she sings You Take My Breath Away, the "thief" in this case is Eva! I end up a blithering idiot with tears dancing down my cheeks. Her infinite sensitivity, particularly in the last utterances of that song… more than takes my breath away. I die such an exquisite death! And the legendary Yesterday?! No one, other than Eva Cassidy, sings it with greater abandon or depth of understanding." He clearly has a large supply of "Eva receptors"! (Note to self, add this to the "Celebrity Eva Fans" page.)
---
September 28: BAKE-OFF SOUNDTRACK: Apparently one of the hottest reality shows in the United Kingdom is the "Great British Bake Off." According to this article, there will soon be an album of songs chosen by the contestants, including Eva's "Fields of Gold"! (Good news — one season of this show is available in the United States on PBS, and on Netflix, under the name "The Great British Baking Show." You won't hear Eva's music, but I really love the show.)
---
September 20: EVA AT THE 2015 EMMY AWARDS!!! Eva's "Over the Rainbow" was heard by over 11 million people tonight on the Emmy Awards during the "In Memorium" segment. Here's a link to this section of the Emmy broadcast, on the Television Academy's YouTube channel. As described on the Entertainment Weekly web site: 'The lives of Joan Rivers, Leonard Nimoy, Jan Hooks, Wes Craven, Harris Wittels, and many more were remembered Sunday at the Primetime Emmy Awards in a moving segment honoring their contribution to television. The montage featured Eva Cassidy's rendition of "Somewhere Over the Rainbow," and had Mike Nichols opening and Nimoy closing the reel.'
The recording used for the Emmys was the studio recording from the album THE OTHER SIDE, and later included in the anthology SONGBIRD. The instrumental section was edited out. By the way, if you haven't read my article about "Over the Rainbow," please do!
---
September 6: Trivia app in the Google Play Store?!?!?! Yes, there are currently two "free" apps that purport to offer challenging Eva Cassidy trivia. Both are dreadful and have the same intrusive advertisements, the kind where you accidentally tap on the moving ad instead of the answer to the question. The trivia questions are also terrible. Don't bother with these. I'm sorry I did!
---
August 8: Such a joy to know that Eva's music is touching people all over the world. Countries represented in Eva's Guestbook during the last two weeks: Spain, China, Italy, Sweden, Canada, New Zealand, Belgium, Slovakia, United Kingdom, United States, Ireland, Germany, Finland, and Australia.
---

July 15: HELLO PEOPLE IN SWEDEN! I just looked at the web site statistics, and I see almost a thousand page views from your country today. I wonder why? Something on the radio or television? Welcome, and please visit the Guestbook! Maybe you can tell me what brought you here today.
---
July 15: Eva has influenced a whole generation of young singers, and so many list Eva Cassidy as a favorite artist or inspiration. Here's today's example, in which British soul singer Lauren Housley talks about how 'When her mum came home with an Eva Cassidy album, a creative light really went on. "That really touched me," she remembers. "I learned a lot of the songs, and that's when I first started imagining myself being able to do something like that. She could sing anything, it absolutely blew me away. Imagine walking into a small bar and seeing her sing. That's what people were doing. I hope that's fed into the way I perform."'
---
July 10: The first performance of Rebekah Lowin's tribute concert (see below) was a success — here's a review in the New York Times. Do read it, and note that the show continues on Aug. 7 and Oct. 4 at the Metropolitan Room, Manhattan.
---
June 24: CHUCK BROWN FANS TAKE NOTE: TV-One will be showing a documentary tonight (Wed. 6/24) about Chuck. The Washington City Paper's Steve Kiviat reports:
Since 2008, TV One's music documentary series Unsung has chronicled the lives and careers on R&B, soul, and hip-hop acts from the '60s through the '90s, including Otis Redding, Martha Wash, the Chi-lites, DJ Quik, Ike Turner, and Rick James. This Wednesday at 8 p.m., the network will spend an hour on the late D.C. go-go pioneer Chuck Brown.

While much of the network's history of Brown and go-go will be old news for longtime fans, the program includes enough wistful anecdotes, interviews, fun video clips, and obscure photos to keep the already-clued-in tuned in. Over email, the senior producer for this episode—Silver Spring raised, L.A.-based Sade Oyinade—told me that the idea for the episode came from Cathy Hughes, the founder of TV One, who used to work at Howard University and WHUR-FM radio. Production started in August 2014 and lasted about seven months.

Unsung biographies feature the voiceover of actor Gary Anthony Williams, and on this episode, he doesn't just tell the story of Brown—his narration takes a deep look at the rise of the local brand of funk Brown championed. The episode covers Trouble Funk's signing with Sugarhill Records, Rare Essence playing a packed Capital Centre arena show, the failed Good to Go film, E.U.'s success via Spike Lee with "Da Butt," the popularity of the hip-hop-inflected approach of Backyard Band, and the genre's struggles once problems with crack and street violence shut down go-go clubs.

Through faded snapshots and interviews with Brown's family, including some emotional observations and admissions from his son Nekos, viewers will learn about the Godfather of Go-Go's upbringing in rural poverty in North Carolina, brushes with crime (including the shooting that led him to a stint in Lorton Penitentiary, where he developed his guitar skills), struggles with the bottle, marriages, success in Japan, and satisfaction with his life after successes like his first Grammy nomination at age 74. While some major chunks of Brown's life are not included (like his acclaimed jazz and blues duets with Eva Cassidy and his gig with the National Symphony Orchestra), the program hits the highlights nicely with Soul Train footage and shots of D.C. crowds shouting, as they always did, "wind me up Chuck!" The program also unearths some fascinating lesser-known gems: Brown's signature look was inspired in part by country-music icon Hank Williams' boots and cowboy hat, and Brown was the first black waiter at Duke Zeibert's, a famous downtown D.C. restaurant frequented by many U.S. presidents.

The Unsung episode includes interviews with the likes of singer Jill Scott; former D.C. mayors Marion Barry and Vince Gray; Brown's 1970s bandmates John "JB" Buchanan and Donald Tillery; Rare Essence's Andre "White Boy" Johnson; E.U.'s Sugar Bear, and Ju Ju House; TMOTTGoGo's Kato Hammond; and The Beat authors Charles C. Stephenson Jr. and Kip Lornell. A number of the interviews were recorded specifically for the episode, while others were archival videos found by TV One production staff. Associate Producer Shekila Ferguson tracked down much of the latter through various collectors, vendors, go-go artists, and filmmakers who've made videos on D.C. go-go. Oyinade interviewed Barry just a couple of weeks before he passed away.

Oyinade says that for her, the episode was not just about Brown's story, but was "even more about representing for D.C., a city that had its own rhythm and flavor that too often, at least in the U.S., rarely gets enough love."
---
June 22: Here's some artwork Eva would have loved. Britain's Bek Roberts made a wonderful portrait of Stevie Wonder, which you can see on display at the Show Whitsunday Art Exhibition, or in a photograph that accompanied this article from the Daily Mercury. "The piece is a pencil drawing of Stevie Wonder in a blue shirt and in the reflection of his iconic shades are other musicians who inspire Ms Roberts. Hayley Williams from Paramore, Pink, Eva Cassidy and John Farnham are the others." Really terrific.
---
June 4: As part of my research for the Celebrity Eva Fans page, I've been using Google to search for Eva's name plus various random celebrities. Occasionally I find something interesting, though not necessarily about the celebrity I was looking for. (I don't really know much about who is and is not a celebrity anyway.) Here's an old item about actor Sam Elliot from a blog called "Almost Famous" written by a San Francisco Herald entertainment reporter named Kimberlye Gold. She was attending a film festival and some post-screening parties:
Mr. Elliot was quite the charmer. Almost made me blush, that Sam! We talked about the film, and both agreed that a shot where the family sees young Bo gets on a bus to go off to school, and in a moment of editing magic, a grown up Bo (played by Amy Brenneman) gets off that same bus to come visit her aging parents, was one of the coolest things we'd ever seen.

I gave him a copy of the Herald with Eva Cassidy on the cover and he seemed quite moved by her story. I also gave him a copy of my CD, which he seemed quite pleased by, until I noticed later he had left it on the bar. I marched up to him and said, "Hey Sam, I didn't leave your movie on the seat, how come you left my CD on the bar?" Sam said, "I didn't leave it, I knew where it was, and look, I still have this!" pulling the Herald out of the back of his trousers.

…Perfect closing night anecdote: a woman approached me and said, "Are you Kimberlye Gold?" "Why, yes!" I replied, feeling like the celebrity I almost am (not). Apparently, this woman was Sam Elliot's driver after the party the night before (good thing, after four martinis!) and he told her all about meeting me and showed her the SF Herald with Eva Cassidy on the cover. Well, it just so happened this lady driver was a big fan of Eva's and she had one of Eva's CDs in the car! "I played it for Sam and he was blown away," she told me. "Today he had me take him to a record store and he bought one for himself!" I swear, Eva is up there watching over us, like a guardian angel. Maybe she'll put in a good word for me one of these days…
---
June 2: This isn't new, just a new discovery. Back in 2012, Broadway star Eden Espinosa (Wicked, Brooklyn, Rent) performed a tribute to Eva at the nightclub 54 Below. I knew about that already. The "new" part is that she was interviewed about the tribute on the 54 Below podcast. She says her parents introduced her to Eva's music, and "I instantly fell in love with her voice, her interpretation, her arrangements." They also share the birthday of February 2.
---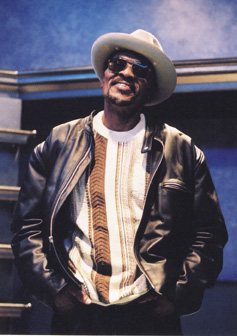 May 15: Margret Cassidy Robinson reminds us in the Guestbook that tomorrow, May 16th, is the third anniversary of the death of Chuck Brown. What an unforgettable performer! Chuck Brown will never be forgotten here in the Washington DC area, where he has been honored with a park (see photo below).
Working with Chuck Brown changed Eva's life in so many ways. If there had been no THE OTHER SIDE, would there ever have been a LIVE AT BLUES ALLEY? He was a larger-than-life character, that is sure. Performing with Chuck, the ultimate extrovert showman, took the pressure off Eva in the biggest venues she ever sang in.
Have you read this article from the Washington City Paper, where reporter Alona Wartofsky interviewed both Eva and Chuck? Take a look. Here's my favorite part, where Chuck says his favorite song on the album is an Eva solo, and Eva says her favorite is a Chuck solo.
Ask Cassidy which of The Other Side's 14 selections is her favorite, and Chuck gives his answer–"God Bless the Child," one of two Side tracks on which she sings alone. Cassidy names "You Don't Know What Love Is," one of the two tracks Brown does without her: "I think that one just says it all right there," she says. "It has so much feeling in it."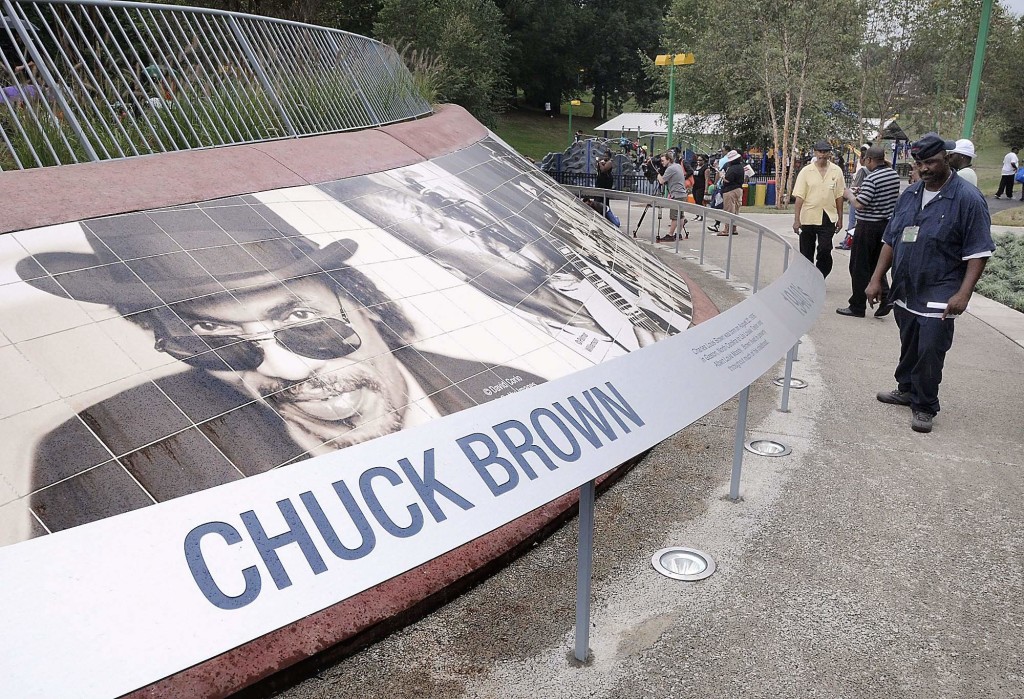 ---

May 14: I'm getting ready to rewrite and edit the "Tributes" page. This section of the web site features performances by artists who intend a deliberate tribute to Eva or who are telling her story in some way, such as the long-running "Over the Rainbow" musical play still touring Britain. If you have seen any of these performances and would like to tell me a bit about it, or if you are a performer of such a tribute, feel free to tell me about it. You can e-mail me at Webmaster at Eva Cassidy Dot Org (taking out the spaces, obviously. I set up this new email account, and want to keep it free of Spam for as long as possible).
---
May 13: I have added a link to the Site Statistics in case you are interested in seeing how many visitors come here every day. Currently the average is 700/day. I wish I could also share the statistics I get to see, showing countries, etc. I can do a screenshot from time to time, though, like these: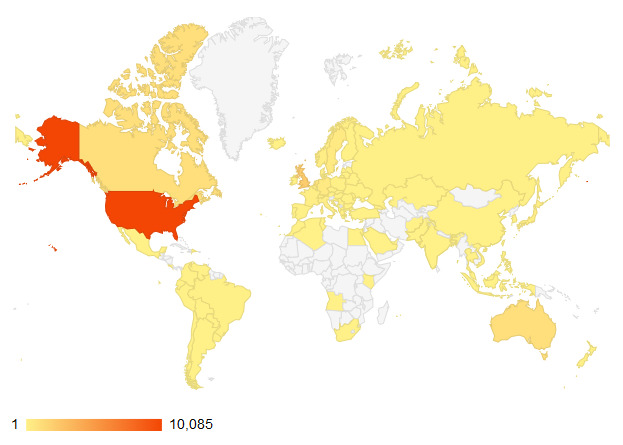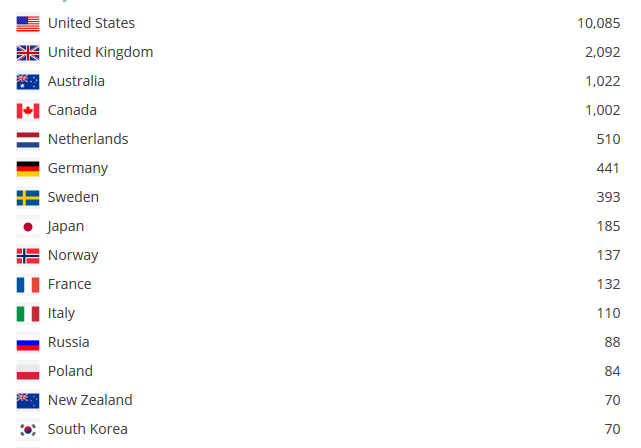 ---
New York City tribute concert: Found on the website Broadway.com, Rebekah Lowin to Bring I KNOW YOU BY HEART to the Metropolitan Room, Beginning 6/21. Rebekah Lowin e-mailed me to tell me more about the project:
As you saw, I've put together a show about Eva, more info available here: http://metropolitanroom.com/event.cfm?id=193125 and here: https://www.facebook.com/events/1578467329103165/.

It's a concert of Eva's arrangements, with vocals (me), guitar, and cello. We will be telling Eva's story throughout the concert in a way that's new and creative. I'm very excited to bring this to the Metropolitan Room in NYC, a well-known concert spot frequented by locals and tourists alike, and to share Eva's music and name with people who may be unfamiliar with her story.

Hugh and Barbara contributed bits and pieces to it when I met with them last fall. I've also incorporated everything I've learned from years of reading and listening. I've been a fan since I was 12 years old, crazily enough, when my sister bought Songbird and popped it into our car. We listened to it every single day on our way to school for years.

It's really going to be a moving show. Most importantly a portion of the proceeds will benefit The Melanoma Research Foundation.
---
Mention of Eva, praise for Chris Biondo: Since I was already there on the Broadway.com website (see above), I went ahead and searched for Eva's name. One of the articles that popped up was this one about drummer Anthony W. Rogers. He released a new album in March, entitled WRONG, and mentioned having worked with Eva and with Chris Biondo (Eva isn't a Grammy winner, but never mind):
Anthony Rogers is a long retired veteran of the local tri-state music scene in many rock and jazz bands in his youth… Besides playing on several recordings while in DC, Tony also performed as drummer on several occasions behind legendary DC vocalist and Grammy winner Eva Cassidy and in several other jazz combos.

WRONG was prepared for release with Chris Biondo (Cassidy's musical collaborator) at his facility in Kensington Md. Rogers also recorded with Biondo as engineer on Rogers' 1994 solo debut 'Identifiction'.

Tony relates that, "I did most all of the mixes at home except for 'Keep Holdin On"which we re-did at Chris'. On the way in, I walked past his multiple Emmy awards he won for his TV music (Nat Geo, TLC, etc). He has the best ears and intuition of anyone I've been lucky enough to be around. He knows what I'm going for. I trust him and his opinion completely."
---
"ON CHESAPEAKE BAY WITH THE CASSIDYS: Welsh singer-songwriter Deborah Rose spent a few days with Eva's parents and friends while in Maryland for the Renaissance Festival in 2013. This link takes you to her wonderful account of the visit, including some fantastic snapshots. While you're on her web site, take the time to enjoy her music. You'll hear Eva's brother Dan playing fiddle on "The Lady of Shalott," one of my favorites.
---
Recent changes: I separated out the "Contact the Webmaster" and the "About the Web Site" material into two pages, and added another paragraph or two. Also, the Videos page is finished, if somewhat cranky.
---
FIFTY SHADES OF EVA? According to this web site, Eva's "Songbird" is mentioned in 50 Shades Darker (the sequel to the bestseller 50 Shades of Gray) "In the car while Ana and Christian are driving to the Saab dealer."
---
Progress Report: Only three or four more pages, and the site will be completely updated! The important ones that need rewriting are the Biographies Page (now that there is a second book about Eva), the Songbooks and Backing Tracks page, and the Miscellaneous page.
---
Anyone know what this means? I am baffled: http://spacestationplaza.com/event.php?evid=15901&sesset=1
---
I'm having a lot of fun working on the newest page on the remodeled web site, Celebrity Eva Fans page. There are so many, and some are famous people whose names would impress anybody. Sir Paul McCartney, Jerry Springer, Paul Simon, Ozzy Osborne…. One difficulty is that I don't really keep up with celebrities, so I don't always know who IS one.
---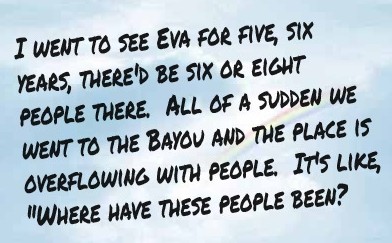 REMODELING UPDATE: I estimate I am about 90% finished with the site changes. I have moved the list of the updated pages (edited, links checked and corrected, linked pages updated, photos added, etc.) to the SITE INDEX page.
Guestbook change: As an experiment I have changed the layout of the Guestbook slightly. I'll see how it works on a variety of screens. Now people can list two "Favorite Eva Cassidy Songs" and list their country as well as home town.
---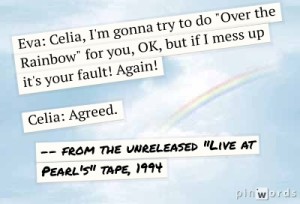 What's REALLY new? The Eva Cassidy Web Site, which is receiving a much-needed makeover and editing to make it up-to-date and "mobile friendly." I hope the clean minimalist look will make it readable on desktops, smartphones, tablets, and whatever else the modern world makes possible. It is a work in progress that I hope to complete by the end of April. In the meantime, I apologize for some missing pictures, invalid links, and other flaws. I also apologize that with the assistance of my 14-year-old daughter I am learning to make cute web pictures and quotation thingies like this one. I'll try not to go overboard with them.
–Laura
4/11/2015
---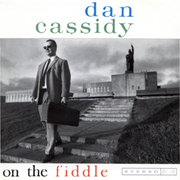 Now that you've discovered Eva Cassidy, you might want to find out about her talented brother Dan Cassidy, currently recording and touring with guitarist James Hickman. They characterize their collaboration as "A transatlantic duo inspired by the traditions of America and Britain." Here is their website (will open in a new window). The photo is of Dan's excellent debut solo album, by the way, DAN CASSIDY ON THE FIDDLE, available for download here (will open in a new window).
---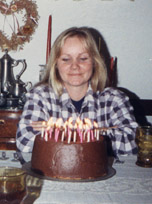 FEBRUARY 2 IS EVA'S BIRTHDAY: She would have been 52 on this past birthday (2015). Please remember Eva and her music on this special day. If you don't yet have all of Eva's albums, this would be a good day to buy an "Eva's Birthday Present" for yourself or other fans you know! You should also consider visiting the evacassidy.com web site to see the wonderful artwork prints you could treat yourself with, and maybe even a bumper sticker for your car.
And how about requesting Eva's music from your local radio stations?
Finally, as I do every year, I want to encourage you to support live local music in your community. If Eva were still with us, wouldn't you want to support her and encourage her and cheer for her and celebrate her birthday by attending one of her live performances? I urge you to honor Eva's memory by reaching out to the talented, dedicated, hard-working musicians in your own part of the world. "You won't see Eva Cassidy — there will never be another Eva Cassidy," someone wrote in the Guestbook a few years ago, "but there will be somebody else." I once asked Eva who the best local singers were, and she found it impossible to answer. "There are so many who are really great," she replied. That is true of the Washington DC area, and it is surely true of your own area too. SUPPORT LIVE LOCAL MUSIC!


RAICE McLEOD ON "HOW I GOT TO KNOW CHUCK BROWN": Raice is a great writer and I hope we all get to read his book about Eva someday. In the meantime, here are some of his recollections about the late, great, Chuck Brown. "He was a generous soul. He was an original. He was a legend. He was go-go."
---

CHENOWETH CALLS EVA "AN ANGEL": Broadway and television star Kristin Chenoweth has been an Eva fan for years. In this article, the singer tells the magazineEntertainment Weekly "What's On My iPod." "There was an angel on earth and her name was Eva Cassidy…. Her album Songbird has just about every great song ever written. And her voice! 'I Know You By Heart' is a particular fave." She also mentions Placido Domingo, Adele, and Blossom Dearie.
---

AMAZON ASSOCIATES: This website is pleased to participate in the "Amazon Associates" program as a fundraiser for cancer research. The year-to-date totals are shown in the "navigation box" on this page. Since the fundraiser began, we raised over US$ 20,000 from Amazon.com, Amazon.ca, and Amazon.co.uk combined. This money has been sent directly to the melanoma research fund at Johns Hopkins University in Baltimore, Maryland. When you're doing your on-line shopping, if you want to order ANYTHING from Amazon.co.uk (United Kingdom) or Amazon.com (United States), and Amazon.ca (Canada), come to this website first and follow the link to Amazon from here!  It doesn't cost you any more money, and a percentage of your total order amount is automatically donated to this charity. These little bits of money mount up, and it's such an easy way to support a worthy cause with a special connection to Eva Cassidy. THANK YOU SO MUCH for your participation!
---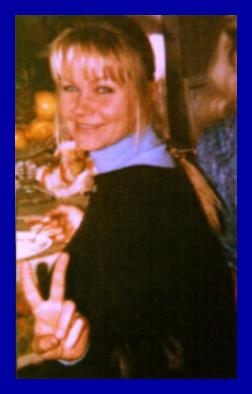 "Imagine all the people living life in peace."
Peace in many languages:
Hawaiian: "maluhia" (from Jan)
Danish: "fred" (from Henrik)
Finnish: "rauhaa teille" (from Annuka)
Spanish: "paz" (from Margot) or "felizidad" (from Kimberly)
Latin: "pax" (also from Kimberly)
Irish: "siochain" (from Yvonne and Gerard)
French: "paix" (from MP and Yvonne)
Croatian: "mir" (from Sasa)
Dutch: "vrede" (from Margot)
Swedish: "fred" (Katarina says "the same word as in Danish, but we pronounce it differently")
Catalan: "pau" (from Olaf>
Tlingit: "li-k'ei"(from Laurie)
Japanese: "heiwa" (from Fumio)
Tagalog: "kapayapaan" (from Lenette)
Portuguese: "paz"
Italian: "pace"
Hebrew: "shalom"
Arabic: "salaam" (from Todd)
German: "Frieden" (from John)
Hindi: "shanti" (from Debbie)
Welsh: "hedd" (from Paul)
Polish: "pokoj" (from Magda)
Urdu: "amun" (from Asad)
Swahili: "amani"
Esperanto: "paco"
Yiddish: "scholim" (from Don)
Indonesian: "damai" (from Marlene)
Mandarin: "ping-ahn"
Cantonese: "tai-ping" (from Cathy)
Russian: "mir" (from Joop)
Cree: "payutukayimowin" (from Don)
Hungarian: "beke"
Nepali: "shanti" (from Bernie)
Czech: "mír" (from Kamila)
Tongan: "nonga" (from Jan)
Korean: "pyong-hwa" (from Tim)
Somali: "nabad" (from Don)
Maltese: "paci"
Old English: "freod"
Cornish: "kres"
Breton: "pok"
Manx: "paag"
Occitan: "la patz"
Basque: "bake"
Cheyenne: "nanomonestoste"
Alabama: "oolakano"
Hausa: "salama"
Frisian: "frede"
Dari: "sulh" (from Kent)
Bengali: "sh 'anti"
Belarussian: "pakoj"
Hiligaynon: "paghidait"
Azerbijani: "sulh" (note: the 'u' should have an umlaut over it)
Welsh (more words): "Heddwch" and "Tangnefedd"(from Paul)
Georgian: "mshvidoba" (from Don and Basiki)
Estonian: "rahu"
Latvian: "miera"
Aukan: "fii"
Cebuano: "kahusayan"
Chamorro: "minaguen"
An'dorian: "bip"
Kampangan = "kapayapan"
Kiribatese = "te katoang"
Wolof = "jamm"
Bangla = "shAnti"
Haitian Creole = "lape"
Xhosa = "uxolo"
Undu = "aman"
Malagasy = "fiadanana"
Nauruan = "iow"
Turkman = "parahatchylyk"
Northern Sotho = "kagiso"
Potawatomi = "e'tokmite'k"
Persian = "solh"
Filipino = "kapayapaan" (from Erwin)
Romanian = "pace" (from Walter)
Greek = "irini" (from Peter)
Portuguese = "Amor" (from Santa Rita)
Greenlandic = "Eqqissineq" (from Allen)
Lithuanian = "Taika" (from Ramunas)
Armenian = "Hashtootune" or "Khaghaghootune"( from Serjik)
Mandarin = "he2 ping2" (2 means second tone) (from Jonathan)
Thai = "santi" (from Pornchada)
Algonquian = "Aquene" (from Katherine)
Papiamentu = "Pas" (from Terri)
Slovenian = "Mir" (from Monika)
Norwegian = "Fred" (from Hartmut)
Turkish = "Barýþ" (from Hasan)
Kiribati = "Raoi" (from Don)
Nauruan = "iow" (from Don)
Samoan = "filemu" (from Mary)
Niederdeutch = frod (from Don)
Uighur = tiniglikh (from Don)
Maliseet and Passamaquoddy = sankewitahasuwakon (from Don)
Friulian or Frulan pas (from Don)
Sudovian = sampaka (from Don)
Africkaans = vrede (from Don)
Guarani = py'a guapy (from Don)
Ilongo = paghidait (from Don)
Kashmiri = aram (from Don)
Maori ( NZ ) = "Rangimarie" (from Stephanie)
Slovak – "mier" (from Brano)
Turkish = Barýþ (from Hasan)
Ukrainian = spoìkiy (from Daria
Visayan (a local dialect spoken in southern Philippines) – Kalinaw (from Ian)
Pray for Peace in Tagalog = Manalaning para sa Kapayapaan (from Ian)
Pray for Peace in visayan – Ampo Alang sa Kalinaw (from Ian)
Hungarian = "Béke" (from Lisa)
Thanks to everybody who is helping with this list! I'd like to see that beautiful word in other languages too — you can e-mail me if you have any more to offer. (Yes, I could look them up, but it's more fun this way.) Be sure to put the word "Eva" on the subject line of the e-mail.