It has become an enduring part of Eva Cassidy's story, that the last song she ever sang in public was "What a Wonderful World." Less than six weeks before she passed away, Eva was in the midst of aggressive chemotherapy treatment. That night she was supported by a shot of morphine to diminish the pain and give her the strength to take the stage. It was a miraculous generosity of effort that she sang at all, to the huge crowd of friends, family, and well-wishers who had come to the Bayou nightclub for "A Tribute to Eva Cassidy."
But the choice of song! That detail seems to convey so much insight into Eva's attitude toward life and death, her simplicity, her love for the beauty of nature, her bravery and grace of spirit.
"I see trees that are green
Red roses too…
I watch them bloom
For me and you
And I think to myself,
What a wonderful world…."
Before it was part of a legend, "What a Wonderful World" was just another song, at just another gig. Eva first performed it in 1995, at Mick Fleetwood's nightclub in Alexandria, Virginia. Chris Biondo recalls, "I had been recording a wedding band in the studio, making the soundtrack for their demo video, and they did 'What a Wonderful World.' Near the time I was recording that song for them, we were playing at Fleetwoods. I mentioned to Eva how much I liked that song. It was Lenny and myself and Eva in the dressing room, we kind of figured out how to play it, and we rehearsed it between sets."
After that first improvisational performance at Fleetwoods, they tried the song again at a band rehearsal. Guitarist Keith Grimes had done the song before, and he taught the others the bridge between the verses. Lenny Williams comments, "It worked, and it was an easy one for the band to play." Thus it became a regular part of the band's repertoire.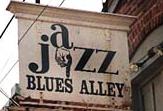 In January of 1996, "What a Wonderful World" was on the set list for the two nights of recording at Blues Alley. On the first night, Eva introduced the song by saying, "I dedicate this to everyone here. It's one that Louis Armstrong did, it's one of my favorite songs."
She caught Chris Biondo's eye. "One of Chris's favorite songs too."
She leaned back to see Lenny Williams, who is at the far end of the stage. "Lenny likes it!"
She smiled at Raice and Keith. "OK." Eva started the guitar introduction, and while she was playing, a loud car's horn could be heard honking out on the street. Still finger-picking, Eva made a comic face of exaggerated surprise. Someone from the audience called out, "They like it outside too!"
The following evening, Eva's parents were in the audience. Sounding a little emotional, she said "I'd like to dedicate this song to my mom and dad, they're here tonight. Dad taught me how to play guitar…." When LIVE AT BLUES ALLEY was mastered, most of Eva's spoken introductions were edited out, but Eva wanted this one to be included with the song on the album.

After the live album was released, some fans thought "What a Wonderful World" would be Eva's newest hit. People were requesting it at the band's performances, enjoying the feel-good nostalgia of the familiar ballad which had been Louis Armstrong's last big hit in 1968. Unlike "Over the Rainbow," which Eva had essentially re-invented, her version of "What a Wonderful World" was a fairly straight rendition. Drummer Raice McLeod says, "I always think of it as paying homage to Louis Armstrong. Eva sung the heck out of the song, but the original Louis Armstrong version is an all-time classic. She didn't mess with it." What Eva brought to the song that was special, beyond the unique beauty of her voice, was her sincerity and sense of wonder. "Basically every song was a gospel song, to Eva," Keith Grimes once said, and when Eva sang "What a Wonderful World," she made everybody listening feel that the world really was a wonderful place.
On September 17th, 1996, Eva Cassidy sang in public for the last time. Only a few months after the release of LIVE AT BLUES ALLEY, Eva was dying of melanoma, the deadliest form of skin cancer. Some of her friends in the Washington music community had put together a tribute concert for her at "The Bayou" nightclub in Georgetown. The large club was crowded with Eva's friends and fans, and many local musicians performed and expressed their warmest affection for the honoree. Then Keith Grimes announced, "Ladies and Gentlemen, please join me in welcoming to the stage — Eva Cassidy!"
Eva moved very slowly, leaning on a walker. She was dressed much as she had been at Blues Alley, in black leggings and an oversized grey man-tailored shirt with long sleeves and patch pockets, the collar of a white T shirt showing underneath. Her shiny blonde hair was gone but a rather chic black velvet cap covered her head.
Amid many cries of "Eva!," someone called from the audience, "We love you!"
"I love you too," she said.
Chuck Brown, Keith Grimes and Chris Biondo were already on stage, emotional but ready to play. The other regular members of the Eva Cassidy Band, Lenny Williams and Raice McLeod, were unable to be there due to unchangeable out-of-town engagements. Taking their places were some familiar faces from the early days of the Band: Kent Wood on keyboard, and JuJu House on drums. Chuck adjusted the microphone for Eva, down down down. Their first song was "Red Top," which was really a warm-up for Eva, who only had a minor back-up part to Chuck's lead vocals. "We're gonna sing to you, baby," Chuck said softly.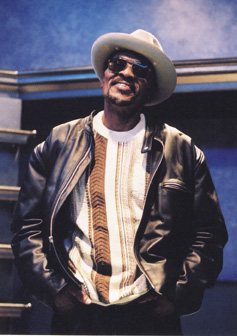 Chuck Brown: "We're gonna sing to you, baby."

After the applause for "Red Top," Keith Grimes brought out Eva's Guild "Songbird" guitar. Chris Biondo moved a wooden stool into position, and came around behind Eva. During Eva's illness he had seen her or spoken to her every day, and he knew how little strength she had. Wrapping his arms around her waist, he drew her gently onto the stool, while she laughed a little at her own helplessness. "Now my nose is running," she complained plaintively. Tissues were proffered from the front rows of the audience, and she took a moment to wipe her nose and eyes, and joke a bit about her condition. She played a tentative chord, adjusted her mike a little. Then she finger-picked the introduction to "What a Wonderful World."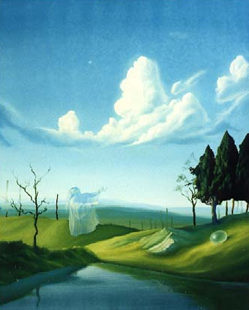 Eva's voice was sweet, a trifle short of breath at first. "I see trees that are green… red roses too…." Soon her power and confidence grew and the song blossomed. The people in the audience marvelled at Eva's ability to sing so beautifully while she was clearly so very ill. Behind her, Chris Biondo concentrated fiercely on his bass part.
"I see skies of blue and clouds of white, the light of day and the darkness of night," Eva sang, adding a verse of the ballad she had not known when she recorded it at Blues Alley earlier that year.
The song was almost over. "I think to myself, oh, what a wonderful…" Eva paused, looked around the audience, packed both downstairs and in the balcony. Everybody was crying, but Eva shed no tears for herself. Her young face was pale but beautiful, her eyes very bright. "…World," she concluded. She waved her hand to the weeping audience.
"Thank you so much, thank you so much."

---
Copyright 2003, 2004, 2007 – Laura Claire Bligh. Thanks as always to the members of the Eva Cassidy Band for helping me with this series of articles about Eva's recordings. I would also like to thank Liaison Records for the photo of Chuck Brown, Louis Scherr of Blues Alley for the photo of the Blues Alley sign, and Eileen White for the scan of the tribute ad. The photographer of the publicity photo of Eva at the piano is still unknown. The angel painting is Eva Cassidy's own beautiful artwork, which her mother thinks of as "The Essence of Eva."
Please do not copy the images on this website.