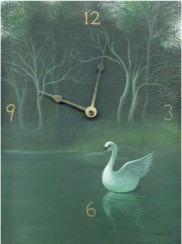 Laura Bligh spoke with Chris Biondo on April 20, 2000, about how "Time After Time" came to be recorded for the album of that name.
"[Eva] was playing at the Maryland Inn and had asked me to bring my DAT machine. We hooked it up to the mixing board. I think it was in the winter of 1995. We had a violin player sitting in with the band who had never played with us before and he didn't know all the music we usually did. So Eva did some solo stuff that night, including 'Time After Time,' as well as singing with the band.
She had known the song for a long time, she performed it when she did solo concerts, but she never recorded it in the studio.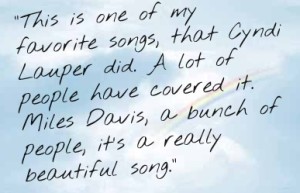 [Time After Time] was one of the songs Eva performed at the Wammie Awards, people around here still talk about hearing her there for the first time. She sang 'Over the Rainbow' at the Wammies, but first she sang 'Time After Time' and dedicated the song to Danny Gatton and another local musician, Quentin, who had died recently.
I probably gave her a cassette of the DAT, but I don't think we ever talked about that Maryland Inn tape again."
At the Maryland Inn, as an introduction to the song (which she performed after an impassioned "Son of a Preacher Man" with the band), Eva said "This is one of my favorite songs, that Cyndi Lauper did. A lot of people have covered it. Miles Davis, a bunch of people, it's a really beautiful song."
Another live rendition of "Time After Time" is on the NIGHTBIRD album, and a solo studio recording on SIMPLY EVA.