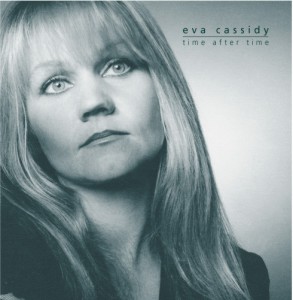 TRACK LIST (All parenthetical annotations are the Webmaster's. Some song titles are links to longer articles) :
1. "Kathy's Song" (the lovely and wistful Paul Simon song, "…the only truth I know is you…" in a studio recording Eva made as a demo. In performance, she did sing all the verses, but this is a shorter version)
2. "Ain't No Sunshine" (recorded live at Blues Alley on the same night as Eva's popular "Fields of Gold" recording)
3. "The Letter" (also from the Blues Alley session. "My baby wrote me a letter!") The band sounds particularly good on this one, I think)
4. "At Last" (best known from the recording by Etta James; just Eva and her guitar. A studio recording)
5. "Time After Time" (the Cyndi Lauper song, recorded live at the Maryland Inn in Annapolis, Maryland — just Eva and her guitar, with some bass from Chris Biondo)
6. "Penny to My Name" (AKA "Gas Station Mountain Home," this is a Roger Henderson song, folk/country style, which Eva recorded as a demo tape for Roger, years ago. Roger plays guitar and Eva's brother Dan plays violin, with Chris Biondo on bass)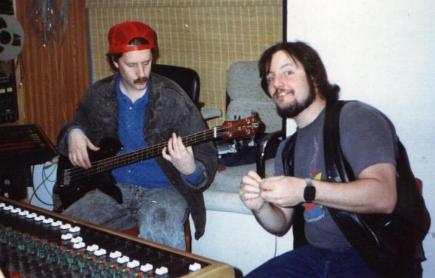 Roger Henderson and Chris Biondo at Chris's recording studio. Roger wrote the song "Penny to My Name." Singer Carey Colvin took this photo in 1988. For more about the song and about Roger Henderson, visit this page.
7. "I Wandered by a Brookside" (this is one I hope the Folk DJs will love. "The beating of my own heart was the only sound I
heard…." Eileen White heard Eva's recording of this song while working on the graphic design for the album. She fell in love with
it, and brought it to the attention of the record company, who loved it too. We think Eva first heard the song on a Fairport Convention
album, or at one of their concerts)
8. "I Wish I Was a Single Girl Again" (Eva loved this song and sang it a bunch of different ways; this is a solo studio version. My mom learned this song from her brother Hugh, Eva's father, in the 1950s, and I assume that's where Eva learned it also)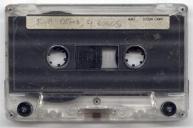 9. "Easy Street Dream" (by songwriter Steven Digman who wrote "Say Goodbye" on EVA BY HEART; this is a great blues song)
10. "Anniversary Song" (also by Steven Digman, a beautiful ballad with real strings added especially for the album).
11 "Woodstock" (the Joni Mitchell song, recorded live at the Maryland Inn on the same night as "Time After Time"; very folkie)
12 "Way Beyond the Blue" (AKA the gospel song "Do, Lord" in Eva's own a cappella arrangement. This is by far the oldest recording on the album, from several years before THE OTHER SIDE). The album notes say that Ned Judy recorded the song, but I have since been told that it was actually recorded by Larry Melton.
---
MORE ABOUT TIME AFTER TIME: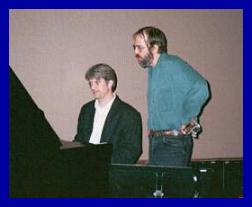 Additional instrumentals were recorded with Eva's vocals for the two Steve Digman songs on the TIME AFTER TIME album. The session took place on March 21, 2000, at Omega Studios in Rockville, Maryland.
For "Easy Street Dream," drummer Raice McLeod reworked the drum parts over Eva's long-ago-recorded vocals. Later guitarist Keith Grimes came into the studio and laid down first an acoustic guitar track, then an electric guitar part. Each time through, they'd hear Eva saying "Am I starting from the beginning?" and then begin to sing: "It's Sunday morning, I can feel the side effects…."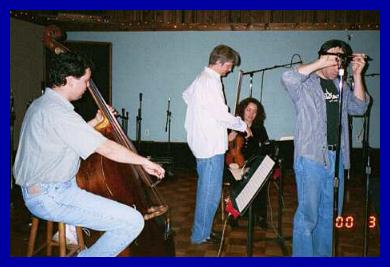 The instrumentals for "Anniversary Song" were recorded after midnight that same night. Members of the National Symphony Orchestra or the Kennedy Center Opera House orchestra, they were "moonlighting" after their evening performances at the Kennedy Center. Lenny Williams had written out a string quintet and piano accompaniment for "The Anniversary Song," to replace the synthesized strings that were originally recorded on the demo version of the song.
Chris Biondo almost went into a trance, listening to them rehearsing. "I'm a sucker for real strings," he said. After the string ensemble had been taped, the violinists recorded additional parts on top.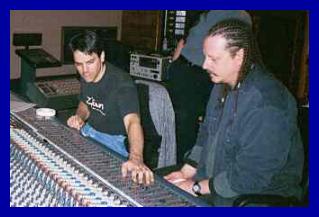 Songwriter Steven Digman was very pleased with the final mix: "I must say that Anniversary Song couldn't have been done any better. What Chris and the other musicians did was absolutely fabulous… I am in love with that song all over again – What a beautiful job!"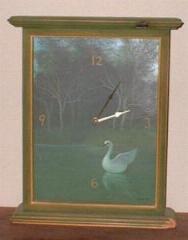 ---