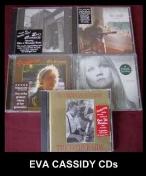 (Not yet fully updated.)
If you're a singer, a would-be singer, or a guitarist, you may be wanting to express your own "inner Eva Cassidy" and try out Eva's arrangements of the songs she performed. Now Eva's fans have a large selection of songbooks and karaoke discs available, and there is now an excellent website with lyrics to all the "Eva Songs," in addition to the many lyrics websites on the Internet that include songs from Eva Cassidy albums. Have fun with these! But as Eva herself would tell you, don't try to sound exactly like Eva, express your own creativity and sing it YOUR way!
---
EVA CASSIDY SONGBOOKS
A number of Eva Cassidy songbooks are now available, featuring arrangements for piano and/or guitar of the music on Eva's albums. Most of them are available in Europe but not in the United States, but check with your local music stores to see what can be ordered. There are many Internet sources as well, such as Musicroom.com, which ships internationally (click here to see their entire listing of Eva Cassidy material).

The first of the songbooks to be published, "Eva Cassidy: Songbird" (sometimes called the SONGBIRD Songbook), includes all the songs featured on the SONGBIRD album. I am told there are two versions, one with "Piano and Voice, with Guitar chord boxes" and the one with "Guitar Tablature, with chord symbols".'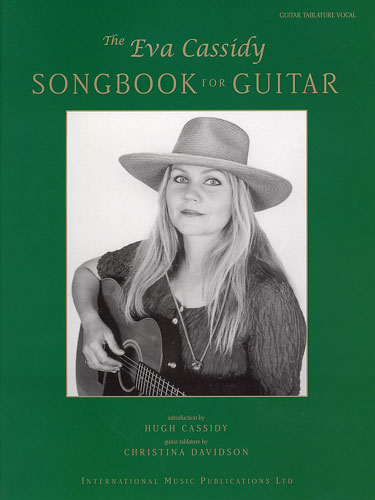 HIGHLY RECOMMENDED for guitarists: The Eva Cassidy Songbook for Guitar, published in the fall of 2002. The songs in it are: Ain't No Sunshine, Anniversary Song, At Last, Autumn Leaves, Fields of Gold, I Wandered by a Brookside, Nightbird, Over the Rainbow, Penny to my Name, Say Goodbye, Songbird, Time After Time, Wade in the Water, Way Beyond the Blue, Wayfaring Stranger, and What a Wonderful World. Tina Davidson, who transcribed the arrangements for the book, tells me, "As you can see, it is a variety of songs from all Eva's albums. Some of the songs just have Eva's accompaniment — with her strum/picking style written out in tablature. Others have her intros & solos written out (Autumn Leaves, Over the Rainbow, I Wandered by the Brookside, Fields of Gold, Songbird, Time After Time). I asked Tina Davidson whether she noted that Eva often used a capo. She replied, "Yes, I have indicated the capo-fret on each song — AND have transposed the songs to the capo key. For instance, if Eva played a song in the key of G, capo on the first fret — that's really concert pitch of G# (or Ab), so I wrote the song out in the key of G so the guitarist is reading the music in the same key as the chords they are playing. The piano books have written the songs in concert pitch, and guitarist don't like to play the chords that are in rotten keys [for guitar]. Eva's guitar solos and accompaniment are also written out in tablature — I'm very proud of the work!!!" Davidson has written over 50 songbooks for children and adults, including the "Woody Guthrie Song Book." Now that the book has been published, I am posting complete source information on the "Eva Cassidy Songbook for Guitar" page.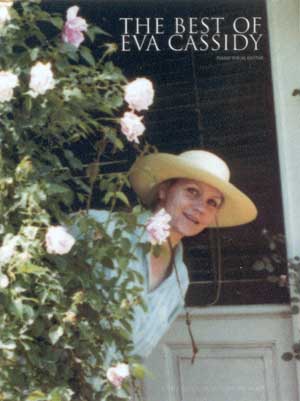 THE BEST OF EVA CASSIDY was published by International Music Publications in 2002. This is a songbook with piano/vocal reductions and guitar chords. It is fully authorized by the Cassidy family, with an introduction by Eva's father, Hugh Cassidy. The songs in the "Best of" book are: Ain't No Sunshine, At Last, Autumn Leaves, Blue Skies, Blues in the Night, Dark End of the Street, Easy Street Dream, Fields of Gold, How Can I Keep From Singing?, Kathy's Song, Need Your Love So Bad, Over the Rainbow, People Get Ready, Songbird, Stormy Monday, Time After Time, Way Beyond the Blue, and What a Wonderful World.



NOW SOLD IN THE UNITED STATES: The songbook/CD "You're the Voice: Eva Cassidy" which was originally published in the UK is now available in the United States. "You're the Voice" is a well-regarded series featuring the music of popular singers. The book features arrangements of ten songs for voice, piano and guitar, and the CD has backing tracks for all ten songs! The songs are "Ain't No Sunshine," "Autumn Leaves," "How Can I Keep From Singing," "Imagine," "It Doesn't Matter Anymore," "Over the Rainbow," "Penny To My Name," "People Get Ready," "Wayfaring Stranger," and "What a Wonderful World." Fran at Warner Bros. Publications (an Eva fan herself) tells me, "'You're the Voice' is available through Internet retailers (just type in Eva Cassidy You're the Voice into Google and many will come up). In addition, it will get picked up by various brick and mortar retailers around the US." She adds, "I love the book and CD accompaniment. The company that does the studio sessions is fantastic and I think you would enjoy it." You can order the book through Amazon.com among others. Amazon's price is $21.95, which seems expensive until you remember that you get both a book and a CD.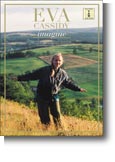 The songbook for the album IMAGINE contains lyrics, guitar chords and piano reductions for all the songs on the album, plus two bonus tracks — "The Bold Young Farmer" and "Wayfaring Stranger." The IMAGINE songbook is published internationally by Wise Publications. The preface was written by Elana Byrd, a friend of the Cassidy family, including her reminiscences about seeing Eva perform. The introduction also reproduces some photos Eva took herself on the trip to Nova Scotia where the album cover photograph was taken.
MORE:
Songbooks for AMERICAN TUNE are now for sale, both in a piano/guitar/vocal format and a tab format.
There is also a new songbook called "Eva Cassidy: Imagine + Songbird" which apparently has the songs from both those albums ("over 20 songs in guitar tabulature arrangments," but it's quite expensive, .00).
For pianists, Fields of Gold and Songbird are included in a book of music for voice and piano entitled "The New Woman Collection" (PVG Music).
---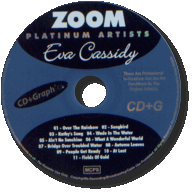 Backing Tracks and Karaoke
With the recent publication of the Eva Cassidy Songbook for Guitar, and other songsbooks, many people will be able to enjoy singing and playing Eva's wonderful arrangements. But what about those of us who don't play the guitar? Here's an update on Eva Cassidy "backing tracks" and karaoke discs. So far I have discovered the following:



There are MIDI backing tracks for "Over the Rainbow" and "People Get Ready" from Cybermidi, available for inexpensive downloads, listed here. That's all I know!

March 2004: Priddis Karaoke now has a five-song "Sing Eva Cassidy" karaoke disc (CDG) which is also available on VHS. The tracks are "Songbird," "People Get Ready," "Wade in the Water," "Over the Rainbow," and "Fields of Gold." The Priddis website has sound clips with a different singer performing. I am not sure if this is supposed to be an example, as if to say "This could be you, singing this song," or if this particular karaoke disc has "guiding vocals" that can be heard through headphones, or what. If someone can elucidate, please let me know!

The Eva Cassidy Karaoke CD+G disc from Zoom Entertainments Ltd. is now available. The songs on the disc are: "Over The Rainbow," "Songbird," "Kathy's Song," "Wade In The Water," "Ain't No Sunshine," "What A Wonderful World," "Bridge Over Troubled Water," "Autumn Leaves," "People Get Ready," "At Last," and "Fields Of Gold." Joe Blackie at Zoom explained, "Basically it's a regular Audio CD (which will play in any CD player) but it has additional information stored on it (CD+Graphics), and the +G bit means that when the disc is played in a CD+G karaoke player, it will display the lyrics on a TV in time to the music. In a regular CD player, all you'll get is the music, and no words on the screen (obviously!). The actual music on the disc was produced by one of our studios in London and is superb sounding, very much made to sound like the originals. The music is licensed through MCPS." An Internet search showed many sources for this disc, all sold for around $18.00 in the US and in the UK.

Feb. 2003: Joe from Zoom Entertainment wrote to tell me, "Our second volume of Eva Cassidy Karaoke is now released and available
from the usual sources. Here is the track-listing: Imagine, Fever, Wayfaring Stranger, I Know You By Heart, I Wandered by a Brookside, Who Knows Where the Time Goes, Penny To My Name, Time After Time, Natural Woman, Time is a Healer, Danny Boy. UPDATE: I had the chance to listen to one of these karaoke tracks last night, and it was ASTONISHINGLY faithful to the musical accompaniments on the albums. I'm going to have to get these disks, just for fun, and sometime if nobody else is home, maybe I'll let my "inner Eva" do some singing!

MORE KARAOKE: Good news for Karaoke fans and others seeking good backing tracks for Eva Cassidy songs. Zoom Entertainment will release its third Eva Cassidy karaoke disc on September 12, 2003. The new disc will include all the songs from AMERICAN TUNE as well as "You've Changed" — probably the solo version of the latter, not the duet version, but I'm just guessing. Richard from Zoom adds, "We're also planning a two disc set, featuring all 33 karaoke tracks that we've made so far." I recently received the first two Zoom karaoke discs in the mail and I have been listening to them at home, humming along for the most part, and occasionally bursting into song. It's been a lot of fun! For those of you who enjoy singing along with Eva, like me, or people who do the karaoke thing for relaxation and fun, or even singers who need backing tracks for "open mikes," I definitely recommend these discs. One thing that surprised me was that I don't know the lyrics as well as I thought I did. That's where a proper Karaoke machine can help, I suppose, since these are CD+G discs that can give you the lyrics one line at a time. Here's a comment from somebody who is more experienced in these things than I am: Kitty in Pennsylvania wrote in the Guestbook, "I sing at a local restaurant and have introduced Eva there. I bought the 2 Zoom CD's of the backgrounds and the clientele at Anthony's just love the arrangements. So, now I found out that Zoom is doing a 3rd CD which I shall also purchase."
BACKING TRACKS: At Backing-Track.co.uk, apparently accompaniments are available for "Fields of Gold," "Time is a Healer," "Over the Rainbow," "Autumn Leaves," "Wade in the Water," and "People Get Ready." Their website states, "All tracks are MCPS licensed and available on CD, cassette, minidisc or MP3. Tracks currently retail at .00 per track inclusive of postage & packing and MCPS fees."
"The Ultimate Karaoke Chart DVD" claims to include Eva's "Over the Rainbow" and is available from East Midlands Karaoke (UK).
Sunfly Specialties Karaoke has "Over the Rainbow" and "Songbird" on two separate "Most Wanted" karaoke discs.
Anybody know of any others that should be included here? If you own or are planning to buy any of these discs listed, please let me know about whether they are any good!
---
Links to Lyrics and Tabulature sites
LYRICS: One of the most frequently-asked questions I get is "Where can I find lyrics for the songs on Eva's albums?" I am delighted to announce another excellent new Eva Cassidy website, "EVA SONGS." The URL is evacassidy.dk, the DK standing for Denmark, where the site is based. "Eva Songs" is the Eva lyrics site we've all been waiting for! Henrik in Denmark and Torbjorn in Sweden have transcribed ALL the lyrics from ALL the Eva Cassidy recordings, complete with scholarly notes and links to other relevant websites. This lyrics transcription project has been in the works for several years, but only recently did the transcribers decide to share their lyrics with the rest of the world via the Internet. I'm very glad they did! I have never been entirely satisfied with the Internet lyrics sites because they contain errors, are difficult to navigate, and often come equipped with annoying pop-up ads. Now, at last, there is a place where Eva's fans can find all the lyrics they are seeking. "Eva Songs" is also a wonderful complementary site to the recent "Eva Cassidy Song By Song" site that lists and comments on Eva's entire vocal repertoire. I know that many of you will spend some time looking around on this new website today and on many occasions in the future. Congratulations, Henrik and Torbjorn, on your wonderful work.
---
This artistically-designed website, "Cry of a Songbird," offers lyrics to several of the songs Eva recorded. The creator of the site is a singer/songwriter and an Eva fan. Among the Eva Cassidy songs listed are "I Know You By Heart," "Over the Rainbow," "Penny To My Name," "Songbird," and "Anniversary Song."
---
TABULATURE and GUITAR CHORDS WEBSITES for people who want to play and sing Eva's arrangements: Matt posted the following on the Yahoo discussion group (slightly annotated by me): 'I've found
two websites that have a surprising amount of Eva's tablature.
The On-Line Guitar Archive (OLGA) has "Over the Rainbow," "Time After Time," "Fields of
Gold," and "Autumn Leaves." Guitar Tab Universe has different versions
of "Time After Time," "Over the Rainbow," and the same version of "Fields of Gold," (I think), and also "Woodstock." And, thanks to Closet Composer, I can now also play "At Last." Incidentally, Eva's version of "Kathy's Song" is almost identical to Paul Simon's as far
as the guitar playing goes, so you can search for Paul Simon on either of those two sites I mentioned and get the tab for it (although it's kinda tricky to learn–really fast chord changes and a complex picking pattern).' Another tabulature link with Eva songs is E-tabs with two versions of "Over the Rainbow" plus "Time After Time."
Henrik in Denmark has found an interesting link for people who enjoy recreating Eva's arrangements. "A guy called Kirk Lorange has written a detailed analysis of the chord structure of Eva's OTR with advice on how to play it. This was published on the web on April 23, 2001, but I have never noticed it before. Maybe it is new to guitar playing Evangelists as well."
Also from Henrik: A new guitar tabs site Soft Power Tabs (http://www.sda2000.org/tabs/) includes tabs for four Eva songs: Early Morning Rain, It Doesn抰 Matter Anymore, Songbird and Tennessee Waltz (http://www.sda2000.org/tabs/various1.html). You must have special software to read the tabs, but you can download this from Soft Power Tab抯 main page (http://www.sda2000.org/tabs/).
---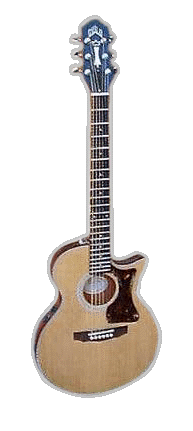 "Fields of Gold" for Guitarists — Henrik found this wonderful lesson on
Guitarnoise.com, the On-line Guitar College.
Guitarist David Hodge wrote, "Sting wrote 'Fields of Gold,' and most people know the original version. Many folks are also familiar with Eva Cassidy's arrangement. It is a beautiful, simple and elegant song. I had specifically been asked to perform it for an event. So, I'd like to share with you the results of having to learn it!" His version is a sort of hybrid of the elements of Sting's and Eva's renditions. I am not a guitarist but his method seems to be very clearly written and (pardon the expression) "user friendly." This website could be a fabulous discovery for guitarists! Let me know if it is as good as it looks. (At left, a Guild "Songbird" guitar such as the one Eva played.)
---
ONE MORE THING (no, two)

Looking through some old e-mail, I found this curious item Henrik told me about: 'A high tech item: an Eva Cassidy Songbird CD for Yamaha抯 Disklavier Mark III piano. This is what the vendor says about it:
揟his innovative software series enables your Disklavier Mark III piano to perform with the world's most popular CDs. Using Yamaha's PianoSmart Technology, this companion diskette will magically empower your Disklavier Mark III to accompany the exciting audio performance from the designated CD. /I>
That link led me to the exciting discovery that Eva's arrangement of "Fields of Gold" has been arranged for chorus — soprano, alto, tenor and bass! The write-up states, "Based on the achingly beautiful Eva Cassidy recording, this Sting song features a delicate arpeggiated accompaniment and the pure, simple vocal lines in a stunning arrangement by Roger Emerson. Available for SATB, SAB, and SSA. ShowTrax CD also available. Performance Time: Approx. 4:15" !!!!!
---