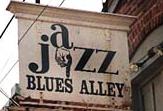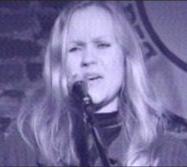 The 1962 Curtis Mayfield pop/gospel song "People Get Ready" was a staple of the Eva Cassidy Band repertoire, and it was one of the first songs Eva sang with the band. Drummer Raice McLeod explains, "It was a song that did well for her voice, it was a song that she was very comfortable opening up on, belting, if she felt like it. That was a personal favorite of hers all through the years we played." Chris Biondo, the bassist and recording engineer who brought the band together, was familiar with the Jeff Beck recording of "People Get Ready." He suggested the song to Eva, saying, "You'd tear this up!"
Guitarist Keith Grimes was responsible for the band's own unique arrangement. "We mocked tradition in our arrangement by refusing to change keys! Just before the final eight bars, I put in different chords and changed the rhythm a little to get the same uplift. Then, Lenny Williams comes in with these great bell-like piano textures that really help bring it on home behind Eva's vocal improvisations." Eva and Keith both felt a special affinity with gospel music. He says, "That gospel quality in her voice has always thrilled me! On the Blues Alley rendition of 'People Get Ready,' she does have her moments of gospel fervor, but overall, her vocal performance on this particular night was a bit more restrained and austere than usual. That, coupled with her strummed guitar part, moves the arrangement in a folkier direction. Folk-Gospel was a stylistic blend that came easily to Eva."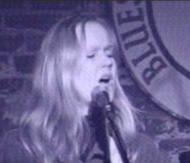 "People Get Ready" was featured on the album LIVE AT BLUES ALLEY and later was included on the compilation album, SONGBIRD. The night of the taping, the song was placed in the middle of the second set. Before she began to sing, Eva said, "I'd like to introduce the band, for those of you who weren't here before. On piano, Lenny Williams!" She leads the audience in applause. "On bass, Chris Biondo, he's a little scary. On guitar, Keith Grimes, and of course Raice McLeod on drums, and… and…"
She laughs a little as Keith leans over and takes the mike: "I'm going to grab the microwave [sic] because I just have to say that I'd like y'all to join me in giving a warm round of applause to our star, Eva Cassidy!"
After the applause, Keith played a familiar guitar riff and Eva quipped, "James Bond! Do it again!"
She turned toward Keith. "Ready?" she asked him.
That night, the song began with a guitar introduction played by Keith Grimes. Chris Biondo says that sometimes Eva would play that guitar part. "Over the six years we had the band, she and Keith traded off about a hundred times about who would start the song." Keith Grimes notes, "Eva is playing the 'acoustic' guitar parts on a Strat, while I'm playing fills and solos on a Gibson." About the "James Bond chord," he says, "We used to play it whenever we wanted a laugh. From top to bottom, it's F#, D#, B, G, E."
In 2002, BBC television's "Top of the Pops 2" showed a video clip of Eva and the band performing "People Get Ready." As with the "Over the Rainbow" video clip, the footage was taken by Eva's friend Bryan McCulley, and the picture has been synchronized with the sound on the original Blues Alley master tape. The caption read:
"This is a world exclusive for TOTP2
This rare footage of the marvellous Eva has never been seen before …
although it's from the same show that gave us Over the Rainbow" '
---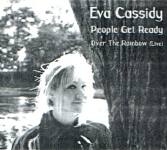 "People Get Ready" was originally released on the album LIVE AT BLUES ALLEY. It was later included on the compilation album SONGBIRD, as well as THE BEST OF EVA CASSIDY and NIGHTBIRD. In 2002, it was featured on a CD single, paired with the live version of "Over the Rainbow." In 2011, Eva's solo acoustic version was released as part of the album SIMPLY EVA.


---
Copyright 2002 – Laura Claire Bligh. Thank you to the members of the Eva Cassidy Band for helping me with this series of articles. Thanks also to Bryan McCulley, who generously gave me permission to reproduce the video images; to Ken in England, who sent me the screen shots; and to Louis Scherr of Blues Alley, for permission to use the photo of the Blues Alley sign. Please do not copy these images.