It was "Over the Rainbow" that made Eva Cassidy a star, but it didn't happen until five years after her death….
From "The Wizard of Oz" to the "Wammies" to "Top of the Pops 2," here is the story of Eva Cassidy's "Over the Rainbow."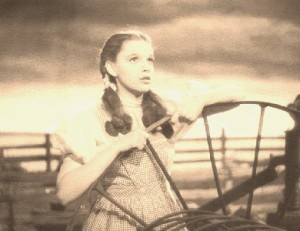 It all started, of course, with "The Wizard of Oz." Like most children in the pre-video days, Eva looked forward to the annual television broadcast of the MGM musical "The Wizard of Oz," with Judy Garland's classic performance of "Over the Rainbow."  Intrigued by the fantasy world depicted in the movie, Eva and her sisters and cousins eagerly read the complete series of "Oz" books by L. Frank Baum. Vivien Bligh recalls that Eva was particularly drawn to the character of the fairy Polychrome, the "daughter of the rainbow" in Baum's books. "I think that was when Eva started drawing fairies, actually. They all sort of looked like that, with the long flowing hair. Polychrome really did seem to inspire Eva." (Above right, Judy Garland dreams about going "somewhere over the rainbow." At left, a depiction of Polychrome, by illustrator John Neill, from The Tin Woodman of Oz.)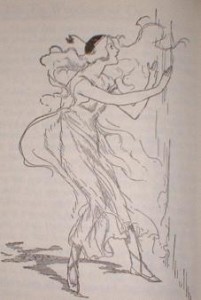 Eva's brother Dan Cassidy heard secondhand (via Ned Judy) that Eva was motivated to sing "Over the Rainbow" after watching a television talent show. 'Eva used to watch a show in the 80´s called "Star Search" which sometimes had some really good singers competing for national attention… There was a contestant who was singing the daylights out of "Somewhere Over The Rainbow" which apparently inspired Eva to do her own version of the song.' The singer was probably Sam Harris, who won the competition in 1983.
When Chris Biondo met Eva in the mid-1980s, "Eva had been doing that song for years. She had already recorded it once when she was in high school, I think it was Ned Judy who recorded it for her on his four-track. I remember we were driving to Ikea Furniture one day, she pulled out a cassette and she wanted me to hear 'Over the Rainbow.' And when we'd go places she would sing it in the car. A couple of times I had to pull over, I was crying so hard, it was brutal…. It was all her own version. There was a note she changed that was really good, the word 'far,' she changed the note, it's better than the way Judy Garland sang it."
When the Eva Cassidy Band was formed in 1991, they tried a full band accompaniment to Eva's special acoustic guitar arrangement, but it didn't seem to work. Drummer Raice McLeod recalls, "I remember playing it with the whole band, in the studio, at one of our routine Tuesday night rehearsals. We played the song down, maybe had some suggestions and thoughts, some chord changes. I had played along just on brushes, and at the end of it I said, 'I'd like you to try it without any drums, because I don't feel the drums are contributing anything of great meaning to the song.' It's not a song that needs a strong rhythmic line, it's a very laid-back, lazy, ballad groove, so I dropped out and we tried again. Chris then said he'd drop out, and at one point the song was being done with Eva, Keith, and Lenny playing a few little fill-in lines and so on. Then we evolved down even further to ultimately being just Eva and Keith on most occasions." According to Chris Biondo, "Keith played it with her, the first couple of times she played it live, but we figured that was her thing, that she should do it."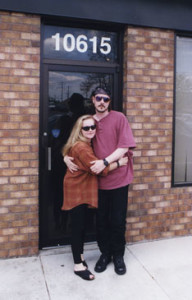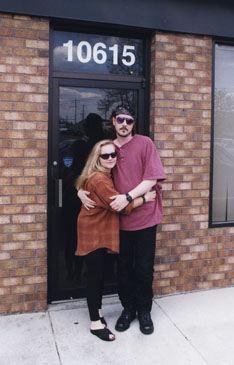 In the early 1990s, when the band was recording the album THE OTHER SIDE with Chuck Brown, Eva and Chris spent a few days in his studio working on "Over the Rainbow." The planned album would consist primarily of duets, but Chuck and Eva would each be featured on solos as well. Knowing that Eva's "Over the Rainbow" was something special, all the band members urged her to record that song for THE OTHER SIDE. Eva played every note on the recording herself, Chris Biondo says. "First she went in and played acoustic guitar, that took the longest. After she finished that, she did the lead vocal, and then the other instruments. We had a Korg T-1 synthesizer, which at that time was brand-new, the most sophisticated equipment. It belonged to Marcus Johnson of the Marcus Johnson Project. I was doing some recording for him, he had left it there and said we could use it. She hooked it up and scrolled through the different sounds, which are called 'presets.' Eva picked clarinet and several others, she played three or four different sounds for that middle section. She just played along and I kept rewinding the tape. That was the first time she really got into messing around with keyboards. (Photo above left, Eva and Chris outside his studio.)
"We worked really hard on it but we didn't think it was very good, at the time. I remember the day we finished it, it was July 18, 1992. We were really tired when we finished. It was just Eva and I, we didn't think it was very good. Chuck Brown called and we said 'Come on over, we want you to come to a party with us.' We went over to a friend of Eva's and had a jam session in the basement."
Shortly after recording "Over the Rainbow," Eva sold her old "Chet Atkins" model guitar and bought the Guild "Songbird" which she used for the rest of her life. "We put an ad in the paper," says Chris Biondo. "The guy who bought it still has it, I saw him playing it a couple of years ago on a local cable public access talent show. I don't remember his name."
Whatever Eva and Chris thought of the recording, their fellow band member Keith Grimes was very much impressed. "We were really slaving on that 'Chuck and Eva' album, and in the midst of our grunting and straining and working very hard," (laughs) "Eva and Chris did this thing in a couple of days. She came in with that, and I said, "This is the best thing on the record! You little stinker!" I felt so admiring of Eva. It was as if somebody had done the quintuple Lutz, I felt like going up and shaking her hand, because it's so hard to land the big fish, in terms of performance, and that's what we were grappling with on some of these songs, and she did it. It's like capturing something, because once you have it recorded you've got it forever."


The "Chuck and Eva" album, THE OTHER SIDE, was released by Liaison Records in 1992. With the addition of Chuck Brown, a superstar in the local music scene, the struggling Eva Cassidy Band started to get some better engagements than the mostly-empty small clubs and restaurants where they had been performing on weeknights. They opened for the Neville Brothers Band at Wolf Trap, played at the Barns of Wolf Trap, the Kennedy Center Open House, the Columbia Arts Festival, the Birchmere. Most importantly, they played at Blues Alley, the famous Georgetown nightclub where all the great names of jazz and blues had performed. That first Blues Alley gig was a tremendous thrill for Eva, who later described the whole experience as "perfect."

According to Raice McLeod, "When we did Blues Alley the first time, with Chuck, 'Over the Rainbow' was one of the songs that Eva chose as a solo for herself. Eva played guitar and Keith played some solo lines for her. Lenny and Chris and I left the stage, which meant that we walked through the crowd as they started the first few bars of the song. It was basically a Chuck crowd, a little harder crowd than would be there at a typical Eva-only crowd, and I remember hearing a couple of groans as she started, a couple of "Oh, noooo, ohhh…" Boy, when she finished it, they were screaming. And I remember thinking at the time that it was a red letter moment for Eva, even though she didn't realize that. She basically turned some hardcore people around from thinking they were going to hear this schmaltzy old ballad they really weren't going to want to listen to, and she moved them on that song."


Eva Cassidy's performance of "Over the Rainbow" at the Washington Area Music Association awards ceremony has become legendary in the story of Eva's short career. The night Eva sang at the Wammies was actually the third time she attended the local music awards ceremony, known as the "local Grammies." In 1992 she came with Chris Biondo, who had been nominated for an engineering award. He remembers that they spotted Grace Griffith, a singer Eva admired, and he encouraged Eva to go talk to her.

"Grace Griffith is famous, why would she want to talk to me?" Eva responded. (Pictured at right, Grace Griffith)
The next year, in November of 1993, Eva was the nominee, and Biondo and Eva's manager Al Dale came along. They hadn't planned to attend, Chris remembers. "But we got a phone call from Mike [Schreibman] strongly urging Eva to come," so they changed their plans at the last minute. "Eva and Al Dale and I were sitting by ourselves. When she got the award, Al and I stood up and cheered, but I think he and I were the only people in the whole room to know who she was. Afterwards we expected people to come over and say congratulations, but nobody did, so we went home." Eva did get quoted as part of the Wammie coverage in the Washington Times newspaper: ' "It's exciting, and I feel like I'm `allowed in the club' now of Washington musician people," said equally blond up-and-coming jazz singer Eva Cassidy, winner for jazz-traditional vocalist.'
In 1994, Eva was invited to be one of the performers at the Wammies event, a prestigious honor in the local music community. Mike Schreibman, the president of the Washington Area Music Association and the producer of the Wammies show, had been keeping tabs on Eva's career. "I was blown away by her voice, and I wanted to find a way to let more people know about her. As the word spread, I thought I had enough justification to put her on the Wammies show. We have fairly strict guidelines for who can be selected to perform, and we showcase different musical styles from year to year." Schreibman didn't realize it at the time, but he also had a personal family connection with Eva Cassidy. His father, "Mischa" Schreibman, had been a close friend and business partner of Clara Cassidy, Eva's grandmother, and Mike had known Eva's father and aunt and uncles as children.
Mike Schreibman says, "Eva asked me what I wanted her to perform. I said, 'Whatever you feel best doing.' I expected her to do something with her band, but Eva decided she wanted to sing 'Over the Rainbow' solo. I said 'Are you sure,' thinking of a big hall, it's going to be hard for a solo artist to get across to that crowd. She was very firm that that's what she'd do." According to Chris Biondo, not all of Eva's regular band members would have been available that night, and rather than perform with a fill-in musician, Eva chose to do a solo. "I'm not a mind reader, but I think Eva actually wanted to do it by herself," Biondo believes. Her decision turned out to be the right one. Schreibman remembers, "When she came out, I was just worried, you know, the audience was milling around and talking. But when she started to sing, they just… stopped. So many times I've heard since then, that was the first time they heard her, and how great she was. Ron Holloway said that he was on the way out the door but when he heard Eva he came back in." Eva's father Hugh Cassidy recalls, "When she got into the song, people started paying attention. I remember one person told me that his first reaction was, 'Don't tell me that little girl is going to try "Over the Rainbow" on THIS crowd.' "
"After Eva sang," Biondo says, "I remember Marcy Marxer and Grace Griffith ran up to the stage, RAN up, to talk to Eva. I don't believe she'd ever mustered up the courage to talk to either of them before. The Washington Post the next day said that she fared better than the others because of the acoustics of the big room."
The Washington Times wrote, "It was a night for veterans Monday at the ninth annual Washington Area Music Association's Wammie awards ceremony, held in the cavernous and acoustically challenged International Ballroom at the Washington Hilton. Local music stalwarts such as roots-rock king Bill Kirchen, "Godfather of Go-Go" Chuck Brown, country star but faithful hometown girl Mary Chapin Carpenter and saxophone player extraordinaire Ron Holloway were among the main award winners, each walking off with multiple Wammies. ….Mr. Brown took honors for go-go duo/group (odd since he rarely performs go-go anymore) and jazz contemporary male vocalist. ….Mr. Brown's singing partner, Eva Cassidy, whose performance was a show-stopper, won for traditional jazz vocalist." That night, in addition to performing, Eva actually won two Wammie awards; the other was for "Roots Rock/Traditional R & B."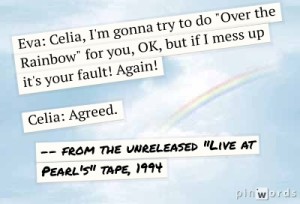 After Eva's dazzling introduction to the Washington music community, her special version of "Over the Rainbow" was ever-more-often demanded by her fans at her live performances. Usually she didn't put it on the set list without a special request. Eva's friend Celia Murphy recalls, "We were always under orders NOT to request that song, but we always did, and she always obliged!" According to Chris Biondo, "The hard part for her wasn't singing it, it was playing the guitar part all the way through without making any mistakes. There were a couple of difficult parts for her during the little instrumental break, there was a slide where sometimes she wouldn't quite slide up to where she was heading, she had problems making that slide work. Sometimes she played it better than others."
In January of 1996, the night LIVE AT BLUES ALLEY was recorded, Eva again sang "Over the Rainbow" at Blues Alley (the rendition heard on the album SIMPLY EVA). This time she played all the guitar parts herself, without Keith's backup. Knowing that it would not be used on the album, since the studio version had been on THE OTHER SIDE, the pressure was off and Eva played her guitar accompaniments flawlessly. The head cold that was bothering her that week gave her voice a huskier quality than usual, and she cracked a note near the end, but as always the audience was rapt. Her friend Bryan McCulley was videotaping with his hand-held camera, but when she was singing she was too deep in the song to notice….
---
Eva's introduction to "Over the Rainbow" the night of the videotaping at Blues Alley:
First she pushes up the right sleeve of her shirt and adjusts her guitar. "OK, one more slow song," she says, raising one finger, "then we'll get a little jumpy."
---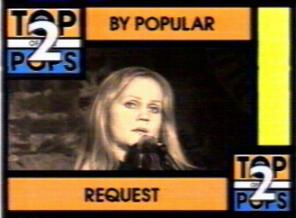 Fast-forward. Five years after Eva's death, her music had already reached a wider audience than she could ever have dared to dream, thanks to radio airplay on BBC Radio 2. But there was more to come. On December 13, 2000, Bryan's low-tech video of "Over the Rainbow" from Blues Alley was broadcast on the BBC's popular music video show "Top of the Pops 2." The producer, Mark Hagen, had his doubts about the video clip's poor production values, and he was taking a risk in putting it on the program. The favorable viewer reaction, however, was astonishing: TOTP2 later characterized Eva's "Over the Rainbow" as "the most requested video in the history of the program" when it showed the clip again on January 24, 2001. Never mind that the picture wobbled a bit when someone jostled the camera, or that someone's head occasionally obscured the view of the singer. People who had heard the song from "The Wizard of Oz" so often they had ceased to listen, found themself falling in love with Eva Cassidy's reinvention of the classic Arlen/Harburg ballad. Seeing was believing; even Eva's existing fans were overwhelmed to watch Eva singing with such riveting intensity while accompanying herself on guitar.
The album SONGBIRD, which featured the studio version of "Over the Rainbow" as its final track, zoomed to #1 on the album charts in the United Kingdom and Ireland. "Number One on the Charts" got the world's attention in a way that quality itself never could. Articles began to appear in newspapers and magazines; documentaries were broadcast on television networks in several countries; people started referring to Eva Cassidy as a "phenomenon." SONGBIRD retained a strong chart position for months. Eventually it achieved "triple platinum" status in the UK, and earned a platinum record in the United States and gold or platinum in several other countries.
Five years after she died, the shy singer from Bowie had become a star.
---
---
The above story of "Over the Rainbow" is part of a series written by Laura Bligh especially for the Eva Cassidy Web Site at http://www.evacassidy.org. Links to my other articles, and to interviews with Eva's musical colleagues, are
on the "Exclusive Interviews and Articles" page
and the
"Song by Song" page.
---
More about Eva's "Over the Rainbow":

The BBC chose 100 songs for a feature they called "Sold on Song," and #95 was "Over the Rainbow." What I love is that they consider Eva's version to be the ultimate, and Judy Garland's as secondary!
---
"Closetcomposer" from the Yahoo discussion group devoted to Eva's music wrote this assessment (reprinted by permission):
She really had reinvented this standard, adding a strong jazz influence. To my ears, she cleaned up some prominent melodic embarrassments. For example, she sings both syllables of the first word "Somewhere" on the same high A flat, rather than the octave jump of the Judy Garland version. I read somewhere that Harold Arlen was trying to achieve a "symphonic" effect by the octave jump. That effect may have worked in the context of the movie and 1939 audience expectations; IMO it's hackneyed today, which I believe is a big reason for numerous poster claims that they didn't like OTR until they heard Eva's version.
Another example [in the original version] that obtains cringes from contemporary listeners: "Someday I'll wish upon a star…" Borrowing a mathematical term, an effective melodic line should be what I call "short-term monotonic" — in other words, the line should rise and fall, but not in the same manner. Listener interest depends on a melody EVOLVING. The alternating C-Eb and Db-Eb couplets don't evolve; the passage instead sounds rather like a bad Gilbert and Sullivan patter song. G&S knew that such a pattern sounded trite but they did it deliberately as satire of some of the conventions of contemporary operetta. For a song like OTR that has been sung so slavishly and with such dead earnest by so many, the couplets torpedo their interpretations. Wisely, Eva avoided the patter song by rewriting the line.
---
---
Copyright 2002 – Laura Claire Bligh. This article is dedicated to Grace Griffith, who played a pivotal behind-the-scenes role in the story of Eva's music. Thank you to the members of the Eva Cassidy Band for helping me with this series of articles. Thanks also to Louis Scherr of Blues Alley for the photo of the Blues Alley sign, and Bryan McCulley for permission to use screen shots from the Blues Alley video. Please do not copy the images on this website, which are shown with the permission of the copyright holders.