Content on the Internet comes and goes. Several Eva-related sites have come and gone, as well. In their place, innumerable album reviews, YouTube videos, and blog commentary can be found, proving how Eva's music has permeated the culture. Otherwise, online material about Eva is mostly derived from this website, Wikipedia, All Music Guide, and press releases.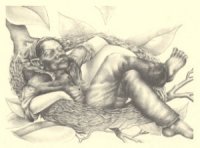 Still in operation is EVA CASSIDY ARTWORK SITE, run by Eva's sisters Anette and Margret. Founded in 2004, the Eva Cassidy Artwork Site is located at EVACASSIDY.COM. Margret Cassidy Robinson writes, "This website was created by Eva's family to share a few images of Eva's artwork with her many fans." The site features a gallery of Eva's paintings and drawings. Available for purchase are beautiful full-size prints of Eva's artwork, note cards, books, CDs, and a wonderful bumper sticker.

Margret Cassidy Robinson has been keeping track of the many countries to which she has been sending "Another Eva Cassidy Fan" bumper stickers. In addition to many regions of the United States, she lists Germany, Canada, England, Belgium, Australia, Denmark, Norway, Ireland, Italy, Holland, Iceland, Mexico, Sweden, Netherlands, Austria, New Zealand, Switzerland, Kenya and Indonesia! Doesn't it make you smile to think of Eva's music uniting music-lovers all over the earth? What a wonderful world!
---

Also still up-and-running is the most senior of the Eva Cassidy Web Sites, set up by Mike Schreibman and Maria Villafana at Crosstown Arts when LIVE AT BLUES ALLEY first came out. Since then they have helped promote her music in many ways. Thank you, Mike and Maria! Of special interest are photos of Eva and reproductions of some of her artwork, and some black-and-white photos taken at WAMA events such as the Wammies and the Crosstown Jam by Maria Villafana.
---
Online discussion groups and fan clubs:
---
GONE AND MUCH MISSED:
"EVA SONGS" was a comprehensive and scholarly Eva lyrics site. Henrik in Denmark and Torbjörn and Mona in Sweden transcribed ALL the lyrics from ALL the Eva Cassidy recordings, over the course of years. I hope the site will return before long.
EVA CASSIDY, SONG BY SONG was extensively researched and written by Paul Limbrick in South Wales. Paul corresponded by e-mail with many of Eva's former musical colleagues (including some I have never even heard of). In addition to information about the albums, he listed all the songs Eva performed or recorded, and all the bands with which Eva sang.
Loe van Haarlem's "WHO WAS EVA CASSIDY?" web site was very beautiful. Collaborating with artist Margaret Haven, with whom Eva worked painting murals during her last summer, Loe created a stunning photo exhibition of Eva's paint work. The website also explored Eva's connection with the lovely town of Annapolis, Maryland.
EVA MEMORABILIA: Baltimore singer-songwriter Niki Lee created a multimedia Eva Cassidy section on her own website. Included was a "Real Audio" file with one of Niki Lee's songs for which Eva sang backup vocals as part of an ensemble. Also of great interest, a reproduction of Eva's own setlist from Blues Alley, and a note Eva wrote to Niki the night the album was recorded.
---