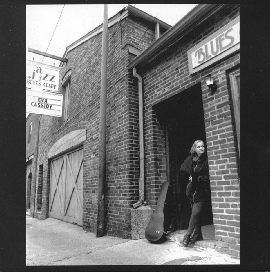 Dateline 1996: Are you a time-travelling Eva Cassidy fan, or just in the right place at the right time? On the night of January 3, 1996, the place to be was Blues Alley, a small nightclub on Wisconsin Avenue in the historic Georgetown section of Washington, DC. "Live at Blues Alley" — You Are There.
The second set of the evening is soon to begin. You were lucky to get a table; most of the audience members from the first set have stayed to hear more, but a few tables have been cleared as their occupants rushed off, muttering about babysitters. According to the Blues Alley's printed schedule, this is the second of two nights that somebody named Eva Cassidy is performing at the famous jazz club. She's a local artist, it seems, nobody you've ever heard of, but the waitress is enthusiastic about her.
The tables are covered with white cloths, and a candle flickers in a cup in the center of each. Your table is close to the stage, a low platform against a wall of old brick. It is cluttered with guitars in stands, amps, microphones, low stools, a drum set, and cables snaking everywhere.
The audience at the club is an all-American mixture of people, ranging in age from 25 to 65. Their faces are white and black, their clothing mostly the latter. Overall they seem to be happy to be here, lots of smiling, lots of chatting, full of eagerness and attention when the band members come out.
At first glance, the group looks unpromising. The musicians are a motley assortment of varying heights and hirsute adornment, ranging from dapper and clean-cut to slightly scruffy. They are dressed more for comfort than sophistication or stage effect.
The pianist, Lenny Williams, takes his place at the Steinway 6-foot grand piano at the far left, looking rather like the young Paul McCartney with specs. He is neatly dressed in a sport coat over a sweater, suitable for a drafty stage on a January night. Next to him is Chris Biondo on electric bass, wearing an open-necked knit shirt under a dark sport coat, and a bolo tie. A tall white man in his late thirties, he wears his hair in Stevie Wonder-style cornrows, with a small moustache and goatee.
Raice McLeod's drums are set up in front of the "Blues Alley" logo at the center of the stage. Perhaps slightly older than the others, Raice has graying curly hair and a moustache, and wears a geometrically-patterned sweater. At the far right is the lead guitarist, Keith Grimes. A zebra-striped guitar strap adorns his Gibson ES 335 electric guitar. Keith looks more musician-hip than the rest of the band, in a leather jacket over a dark shirt, with a narrow satin tie. He has a mustache and beard, wisps of his reddish-brown hair falling into his eyes as he tunes his guitar.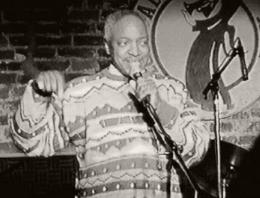 Customarily the Blues Alley lighting engineer, Sharon Shapiro, announces the performers, but tonight a kind-looking black man of about fifty comes out and takes the microphone. Eva had asked her manager, Al Dale, to "bring her on." He is wearing a colorful sweater with zigzag patterns. Al shields his eyes from the stage lights. "I want you to know that this is recorded tonight, live," he tells the audience. "It's gonna be heard all over the world." This seems like a ludicrous exaggeration, but in time Al was proved correct. He continues, "– And if you want to tell people, 'Hey, that's me right there, that's me,' you know, you've got to make noise in all the right places, so let's start it out right now and give a Blues Alley welcome to Eva… Cassidy!" The audience applauds. As Al sits down at a table near yours at the front, you notice that a young man with brown hair and a mustache is recording the performance with a hand-held video cam-corder. You worry that your head might be in his way, then decide that he'll be able to work around you.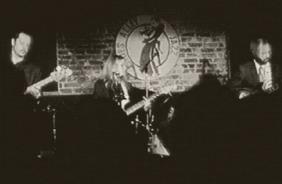 The singer, a young woman of about thirty, doesn't try to make a dramatic entrance. She comes onto the stage carrying a tall glass of water, and puts the strap of her electric guitar across her shoulder. Eva Cassidy is petite, almost a foot shorter than the bass player next to her, and looks even smaller because she is dressed in a man's grey wool shirt that comes down to her knees. A black cotton turtleneck shows at the open collar of the overshirt, its sleeves rolled up, the turtleneck's sleeves pushed up to just below her elbows. Black leggings and sturdy work boots complete the thrift-shop look. Her shiny blonde hair is spilling over her shoulders.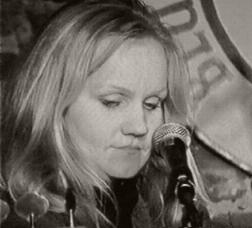 By now you are fearing the worst. You had overheard someone at another table saying something about Eva having a cold. Now you see there are circles under her eyes, her eyelids are heavy. She looks a little hunched over in her oversized grey shirt. Eva doesn't feel well and it shows. How good does anyone look, with a cold? How well can anybody sing, with a cold?
You'll soon find out.
"Gonna start off with an old Etta James song," Eva tells the audience, adjusting the cord that attaches her guitar to the amp. "She has a really good book out about her life, you should read it, it's juicy!" Laughter from the audience. She plays a tentative chord, pushes up her sleeves, brushes her hair out of her face, and sings.
I get a feeling that I've never never never ever had before.... That I just wanna tell you right now that... I believe, I really do believe that... Something's got a hold on me Oh, it must be love....
Something's got a hold on you now, too. It's the voice of Eva Cassidy, and you are completely under its spell.
---
For more information, check out my newest article, telling the Live at Blues Alley backstory.
---
Copyright 2002 – Laura Claire Bligh. This article is dedicated to Mona and Torbjörn Skobe, Eva's biggest fans in Sweden, whose enthusiasm for the smallest details inspired me to write it. "You Are There" was based on my own recollections, interviews, and the videotape made by Bryan McCulley, who generously gave me permission to reproduce some of the video images here. Thank you also to Louis Scherr of Blues Alley for permission to use the photo of the Blues Alley sign. Please do not copy these images.
---
Here is another account, written by one of the lucky audience members at Blues Alley in January, 1996:

'My name is Diogo and I'm from Brazil. I lived in Rockville, Maryland, from '94 to '96. Although I was a teenager at the time, I already enjoyed jazz and blues. So at the time we heard about a club called Blues Alley at DC. And one night my family and I went there.
At the door we knew that Eva Cassidy was the main artist of the night and she was taping the show for a future live cd. Never heard about the singer, but the idea of being part of a record got us excited. And we stayed to check it out. I remembered that we sat on a table far from the stage and near the bar, although the club was quite small.
By the end of the first song we all knew that we had made a great choice by being there at that place. Eva's voice was so beautiful and the songs she was singing were almost only classics, which made the small audience embrace her and the band. I remember my uncle "howling" after each song so he would be heard on the record. The next day we went to Blues Alley again – there were two shows – and enjoyed one more night of incredible singing.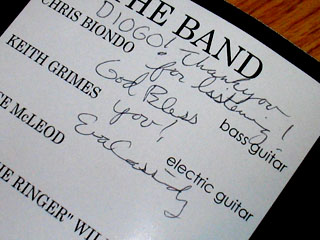 A few months later we read in the Washington Post that Eva was going to perform again at Blues Alley, but now releasing her new cd. Of course we attended the show, bought half a dozen cds – to all the family – and got them all autographed. Yes, I have here in my hands, in Brazil, a copy of "Live at Blues Alley" signed by Eva Cassidy (I attached a picture to prove I'm not lying). She was so kind. She sat there for hours after the show signing everybody´s cds.
And now, after almost 10 years, here in Brazil, I read that Eva died in '96 of cancer. You cannot imagine how sad me and my family are. How could a person with that talent leave us. It's a great loss for humanity. Eva was a great singer. At that time we wanted to get her autograph because we knew she had everything to become a great star. And now she's gone and can not live her awaited sucess…. It's a great shame, it is very, very unfair. At least, from what I read on this web site, the whole world got to know the great voice and interpretation of Eva Cassidy. And thanks god, music is forever.
Eva, thanks for your presence and art and, wherever you are, keep shining on us.'
---