NOT YET UPDATED OR EDITED
This section of the Eva Cassidy Web Site is dedicated to singer Grace Griffith, with links to her website, articles about Grace, and a gallery of snapshots and lots of recollections from her September 27th, 2003, concert in Silver Spring, Maryland.
LATEST GRACE GRIFFITH NEWS: 2006
MY LIFE: New album from Grace Griffith: The newest album from Eva's friend Grace Griffith will be released on March 14, 2006. Grace writes, "MY LIFE feels different than any of my other albums. It was recorded during a time of profound change in how I define myself. A lot of that change has its origins in my experience with Parkinson's Disease. This album is not about sweating the small stuff. It's about embracing the big stuff —- like comforting someone or making them smile, savoring the light of a candle on a winter's night or the sunlight in the whispering summer leaves on a walk in the woods. This album is about connection and how essential connection is to our survival and growth as human beings." MY LIFE was produced by Chris Biondo, Marcy Marxer, and Lenny Williams. The featured music includes both traditional songs and some of the best contemporary songwriters including Jane Siberry, Sting, and Susan Graham White. Producer Chris Biondo's favorite track is the title song, by Iris DeMent: "'I gave joy to my mother.' That's it. Circle that. Nail it. What a great lyric." Grace herself can't pick a favorite, saying only, "That's going to change a lot every day. It's a hard question!"
Webmaster's comment: I warmly encourage any Eva fans to discover this album, which I definitely recommend. To me, Grace's new album is something of a miracle. Grace has been suffering from Parkinson's Disease for several years, and her ability to create such beauty despite her challenges is an astonishment and a delight.
MY LIFE was reviewed in the Washington Post. Mike Joyce writes, "Fans of Southern Maryland-bred singer Grace Griffith consider each of her recordings a blessing, and understandably so. After all, it's not often that one encounters a voice as lovely or as affecting as hers. Still, 'My Life' stands apart and above, as one haunting and soulful performance follows another…. Griffith conveys what drew her to each lyric on such an obviously personal and spiritual level, it's hard to imagine any of the composers represented here wishing for a more heartfelt interpretation. Making the performances all the more expressive is a large and empathic lineup of Washington-based musicians that includes album producers Chris Biondo, Marcy Marxer and Lenny Williams." As noted below, Grace performed a concert on March 6, 2006, at 7:30 PM, at the St Mark Presbyterian Church in Rockville, Maryland. The concert was part of the excellent Institute of Musical Traditions series. What a great evening it was! Plus I got to meet a couple of people I had previously only known through e-mail — singer Janine Davy (who has a new CD out, as explained elsewhere on this page), and Joe (who miraculously recognized me from the cryptic photo I have somewhere on this site). Grace sang so well, and I loved the spirit and camaraderie among her supporting musicians, and particularly the stunning artistry of guitarist Al Petteway.
**UPDATE: The March 4th edition of the Washington Post had a wonderful article about Grace Griffith, by Richard Harrington. Several "Eva mentions." Don't miss it, even though — I warn you — it may make you cry. Richard, you are an amazing writer! (Updated March 14, 2006)


---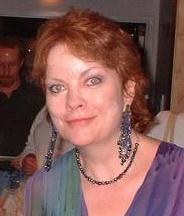 AMAZING GRACE: Grace Griffith was recently in Massachusetts to perform at a symposium of the American Parkinson Disease Association. She was interviewed by Irene Sege for an article in the
Boston Globe, and
by Daniel Gewertz for the Boston Herald.
---
2003 ALBUM RELEASE CONCERT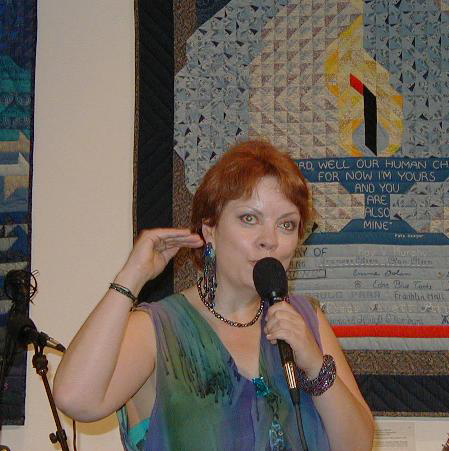 "Saturday night was truly time in heaven to me… a very special moment of forever," says Grace Griffith.
"Grace Griffith and Friends" was the title of the album release concert for SANDS OF TIME, held at the Unitarian Universalist Church of Silver Spring on September 27, 2003. It was an evening of joyful music-making and warm friendship. There was another kind of warmth, too, caused by the fact that the air conditioning was not working! The calendar said it was autumn, but it definitely felt like summer.
The church was crowded, with many people standing at the back. The small stage, too, was crowded with many of Grace's friends providing instrumental support and background vocals. In the audience, it sometimes seemed as if "everybody" was there. Some names that might be familiar to people who visit this website regularly: Hugh and Barbara Cassidy, Isabel Cassidy Bligh, Niki Lee, Eileen White, Andy Roberts*, Celia Murphy, Richard Harrington, Bill Straw, Steven Digman, and a big handful of Eva fans whose names might also be familiar: Eric from Silver Spring, Rose from Reading, Garry from Nova Scotia (the fan who travelled the farthest to come to the concert), Sandy from Cincinnati, and Lenette from Virginia. I don't know which gave me the greatest pleasure, the opportunity to meet so many wonderful people whom I had only "known" from e-mail, or the wonderful music.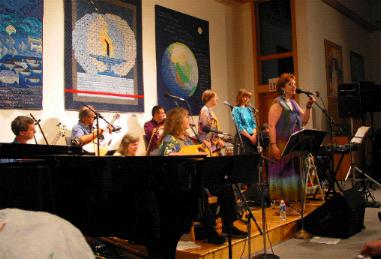 Grace opened the program with "My Heart's in the Highlands" (you can hear it on her album with Connemara called BEYOND THE HORIZON). A few days after the concert she explained to me, "I picked it to open the show because Eva liked that song and Marcy and I got to sing it with her." During the first half, she performed many of the songs from the new album. One of the musical high points was "Carry You," with three-part harmony that Grace correctly described as "heavenly." For me, the most riveting was "Moment of Forever," my own favorite song from SANDS OF TIME.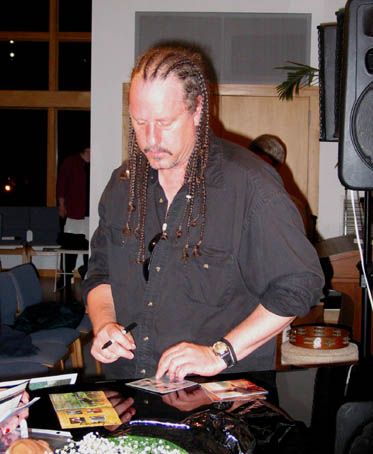 During intermission, most audience members dashed for the cool outdoors, but some of the Eva fans assembled informally near Lenny's piano. Blix Street Records had sent me some Eva Cassidy posters to give out, and some people had brought Eva albums to collect an autograph or two. I'm not sure who brought the "Sharpie" indelible pen, but it really came in handy. Nothing else writes easily on shiny paper.
The second half of the program was eclectic, showcasing Grace's abilities to perform a range of musical styles, from folk music to the Beatles to jazz to new age-style "sea music." My mother's favorites were the audience sing-along to the Beatles' "Octopus' Garden," and Grace's humorous rendition of "Famous in France"! One of Grace's fellow musicians described Grace's voice as "alluring," and the perfect embodiment of the fabled song of the Sirens.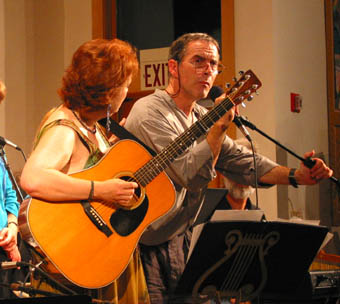 Later in the second set, Grace invited her brother, Fred Sisson, to recite a poem to the audience. "You know the one I want," she told him. It was "Unity," the beautiful poem about karma that opens the Eva Cassidy biography, Songbird. "Love the day and live the moment," it begins.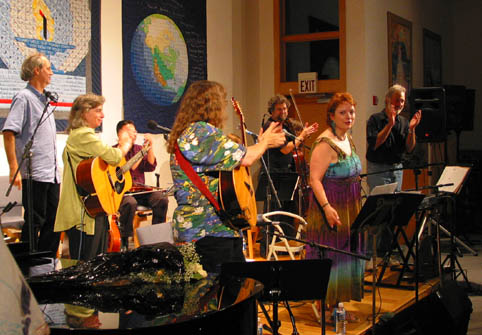 At the end of the concert, everybody in the audience rose to pay tribute to a marvelous performance. It was truly a magical evening!


More photos from the evening appear below. Many thanks to Lenette, Garry, and Sandy Martin from North Carolina for some of these snapshots. Thanks also to Lisa and Eileen for other assistance.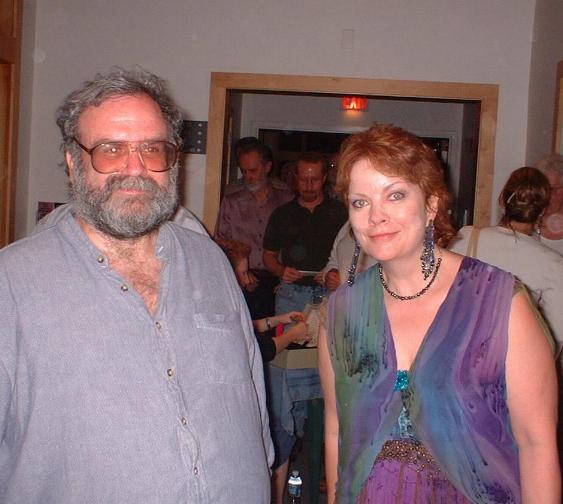 Grace with Richard Harrington of the Washington Post, before the concert. Before the program began, one of the group asked the audience, "How many of you saw the article about Grace in the Washington Post?" Hundreds of hands went up. Richard also wrote the first major article about Eva Cassidy.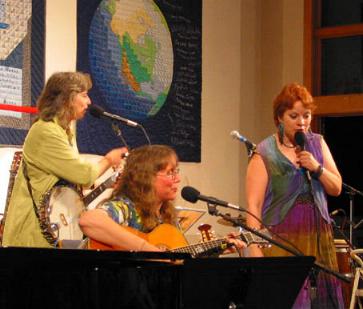 Cathy Fink and Marcy Marxer (photo at right) were two of the many musicians to join Grace on stage. Cathy and Marcy are wonderful performers who have been nominated for eight Grammy awards. I saw Cathy playing guitar and banjo. How many instrument did Marcy Marxer play during the course of the evening? It must have been about ten. Guitar, mandolin, recorder, bongos, rain stick, what else? There was a beautiful instrument that looked like a giant mandolin with doubled strings. We were all wondering what it was, and finally Grace enlightened us by announcing, "Marcy Marxer on the bouzouki!" After the concert, Marcy quipped, "When I take it through airport security, I call it a mandolin." You can hear Marcy's bouzouki in the background on "Dark Eyed Molly" on Eva's AMERICAN TUNE album.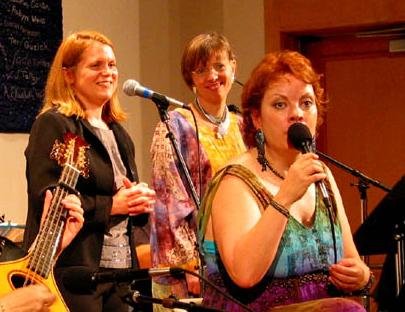 Grace with backup singers Chris Noyes and Carey Creed. (I think that's Marcy's bouzouki at the edge.)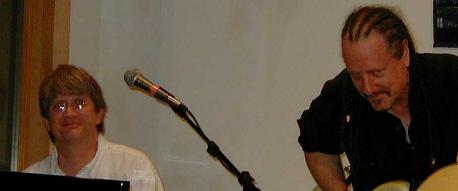 Pianist Lenny Williams and bassist Chris Biondo, who co-produced Grace's album along with Marcy Marxer, were among the dozen or so of Grace's friends who performed with her at the concert. Cathy Fink introduced Chris and Lenny by saying "We have two Emmy-award winners with us tonight!" The firm of Williams-Biondo recently did receive their second Emmy for the musical score to a television documentary, "Hornets from Hell." In years past, of course, they were members of the Eva Cassidy Band.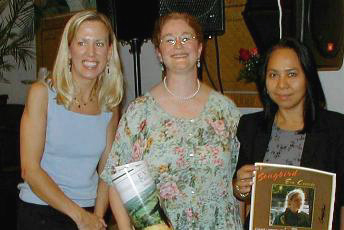 Meeting in person at last: From left to right, Rose, Laura and Lenette.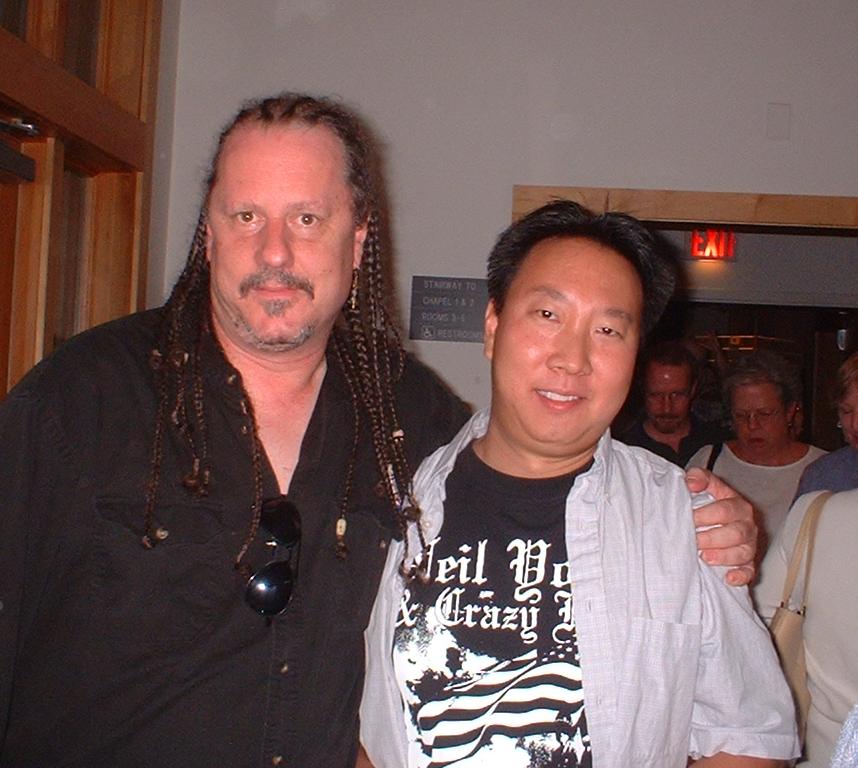 Chris Biondo with Eric from Silver Spring — the Eva fan who had the shortest journey to the concert! Eric comments, "I hope Grace got a sense from some of us Eva fans as to how much we appreciate her
role in Eva's story."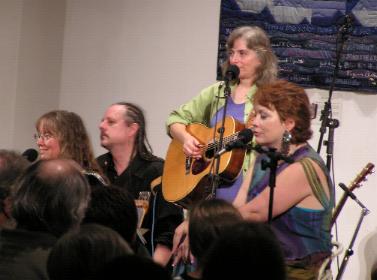 Many thanks to everybody who took part in making this concert wonderful!
---
MORE ABOUT GRACE GRIFFITH:
Grace Griffith's official website is http://www.seamaid.org.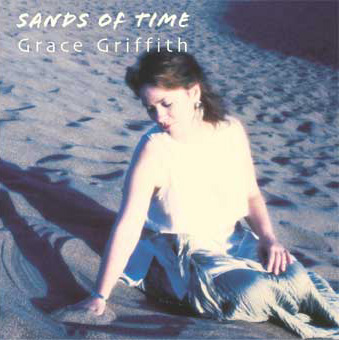 HIGHLY RECOMMENDED: Grace Griffith's marvelous new album, SANDS OF TIME. It is a very, very lovely album which I urge every one of you to buy. As many of you know, Eva was a big fan of Grace Griffith, and Grace played an important role in the often-told story of Eva's posthumous success. Say "thank you" to Grace by buying this album, and you will say thank you again when you hear it! To order from Amazon.com, CLICK ON THIS LINK, and 5% of the price will be donated to cancer research. When the album becomes available on Amazon.co.uk, I will try to let you know.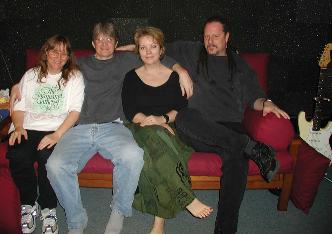 In the photo, from left to right, that's Marcy Marxer, Lenny Williams, Grace Griffith, and Chris Biondo. Marcy is one of the producers of SANDS OF TIME, and she also worked on the track "Dark Eyed Molly" on the latest Eva Cassidy album, AMERICAN TUNE. Lenny and Chris, of course, were members of the Eva Cassidy Band. Many thanks to Doug for permission to reproduce his photo here. Note: At the far right, you will see a white Fender Stratocaster guitar. That's the instrument Eva played on band gigs, and also on the studio recording of "Songbird." Chris Biondo still owns it.
---
ARTICLES ABOUT GRACE GRIFFITH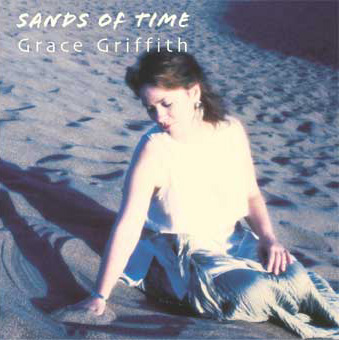 August 2003: How nice — the Gazette newspapers (a chain of local weekly papers in the Maryland suburbs of Washington DC)
have an article about Grace Griffith. The author is Meghan Mullen. It's a lovely article that discusses Grace's new album SANDS OF TIME, her struggle with Parkinson's Disease, and her role in the Eva Cassidy story.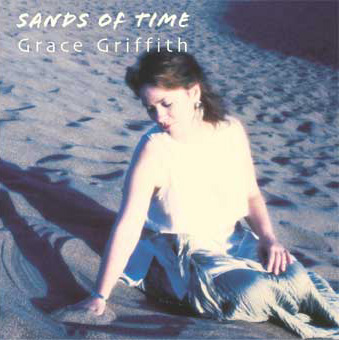 September 17th, 2003: Critic Mike Joyce reviews Grace Griffith's new album SANDS OF TIME
in the Washington Post today. The review mentions that Eva was a big fan of Grace's, and reminds us of Grace's role in the whole Eva Cassidy story. Go read the article, and then, if you don't have the album yet, buy it. That's an order. Some quotes from the review: 'Griffith, recently diagnosed with Parkinson's disease, is still making the kind of music that Cassidy found so alluring and moving. "Sands of Time," not surprisingly, is largely devoted to reflective ballads, songs that concern healing, friendship, spiritual renewal and the inexorable passing of time. Occasionally sounding as if she could be Judy Collins's younger sister, Griffith quietly imbues these meditations with a soulful intimacy that helps make even the most sentimental expressions ring honest and true.'
---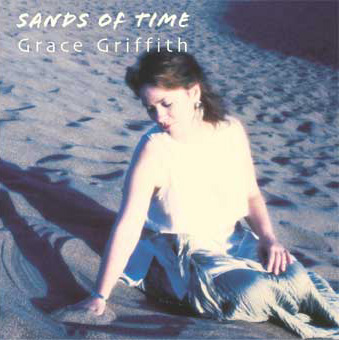 September 26, 2003:
"For Griffith, Music is the Ultimate Therapy."
The
Washington Post
has an
article about Grace Griffith,
and her new album. The Eva Cassidy connection is also mentioned. The author is Richard Harrington, whose name might be familiar to you from the
"Articles Page"
at the top of the "Best Articles" section. Many music journalists have written long articles about Eva in the past eight years, but Richard Harrington was the first.

Here is something special. Steven Digman sent me an article he wrote for the Pickett News (a newspaper in Hagerstown, Maryland) and has allowed me to reprint it for the Eva Cassidy fans who visit this website. It is an interview with singer Grace Griffith and how she came to know Eva, and ultimately how she introduced Eva's music to her own record label, Blix Street Records. "All the colors of the rainbow, all life's palettes of beauty and sadness and sweet passion and eternity–it was all there in that voice that came from that heart and those hands."
---

I just found a
glowing review of SANDS OF TIME by Grace Griffith,
on the "Sing Out!" website. The reviewer is Rich Warren of WFMT's "Midnight Special."
---
*Special challenge, can you figure out how Andy Roberts is connected to Eva Cassidy? The answer is on my website somewhere. Don't cheat and use a search engine.
---
Copyright 2001, 2002, 2003, 2004, 2005, 2006, 2007 – Laura Claire Bligh. All rights reserved. The photo copyrights belong to the various people who took the snapshots.
---