Oh, had I a golden thread,
And a needle so fine,
I would weave a magic spell
Of rainbow design….
"It was the only song where I remember her telling me it turned out exactly perfectly," says Chris Biondo, Eva's producer and bassist.
In the booklet for LIVE AT BLUES ALLEY, Eva described "Golden Thread" as her favorite song. Eva had recorded it for a long-planned studio CD that would be released sometime after the live album. Instead, the song ended up on LIVE AT BLUES ALLEY as a result of a long, heated, tearful discussion with Eva and Chris Biondo and manager Al Dale about whether the live album would be released at all.
Eva wasn't happy with her singing at Blues Alley, which had not been at 100% because she had been fighting a cold. Also, due to a technical glitch which rendered the first night of taping unusable, they only had one version of each song to choose from. Biondo and Dale felt that even on a bad day Eva was a great singer, and were concerned that she would lose her financial investment in the Blues Alley taping if the project were scrapped. The great compromise was that twelve songs from Blues Alley would be on the album, plus "Golden Thread," which had been completed some months before. On that song her range and vocal authority could be heard at peak performance, along with the choir-like backup vocals Eva loved.
"It is beauty of a kind that leaves you defenseless. You do not want to defend yourself. On that first occasion in my car I played ["Golden Thread"] nine times in a row."
— Lasse Anrell, AFTONBLADET, Sweden

"Oh, Had I a Golden Thread" was written by Pete Seeger in 1958. Like many of Seeger's classic works, it is often mistaken for a folk/traditional song, and Eva designated it as such on the original LIVE AT BLUES ALLEY album. (Blix Street Records later corrected the error when the song was included on the anthology album SONGBIRD.) Pete Seeger himself wrote, "A rather gentle song came to me as I was fooling around on the guitar…. Years later I realized that I had rewritten the melody of 'Nearer My God to Thee.' Once again, you can see how the folk process has been aided by a bad memory."
Eva's mother, Barbara Cassidy, says that Eva learned "Golden Thread" from watching Pete Seeger's public television show, Rainbow Quest. "That was his opening and closing music. I remember him having that sparkling banjo music with the song." Pete Seeger also recorded "Golden Thread" several times in the 1960s. Eva's family had many Pete Seeger records and it seems likely that "Golden Thread" was on one of them.


Eva was probably also familiar with the best-known recording of "Golden Thread," on Judy Collins' 1970 album WHALES AND NIGHTINGALES. But her own musical ideas for the song were a world apart from Seeger's folk-style banjo version and Collins' dreamy folk-ballad arrangement. Chris Biondo recalls, "Her concept of the song was pretty much intact when she brought it into the studio, we never talked about the external influences. She just conveyed what she wanted to do, to do a gospel thing that started very simply. Then it would crescendo through that verse, 'Won't you show my brothers and sisters,' to build into that verse, then pare down again to a softer ending. It all came together fast."
"Pete Seeger's 'Oh, Had I a Golden Thread' interweaves Hilton Felton's organ riffs around Cassidy's vocals. This gospel/rhythm-and-blues-fused piece transports the listener smack into the middle of a southern black Baptist church service on a sweltering Sunday."
— Critic Kevin McCarthy
Drummer Raice McLeod remembers recording "Golden Thread" with Eva. "That session was a very spur-of-the-moment thing. Eva and Chris and I were doing our usual Tuesday thing, and Chris said 'Eva really wants to do this song, do you know "Golden Thread"?' I said, 'You mean the old folk thing,' I hummed it, he said 'Yeah, that's the one.' He said, 'Eva really loves the song, wants to put a version of it down.' They were debating how to start it, and I was sitting out in the drum booth, and I started that brush thing that you hear that opens the track up. And Eva said 'Yeah, Raice, just start like that!' And so I played about eight bars of it, and then I stopped, and we talked about how we were going to do it, and then we went again, and what you're hearing on that track is the first time we actually played the thing right through. Other parts were added, of course, there were guitar parts added, the B-3 was added, but the original rhythm track is just the way it came out. She was real happy with it, she loved it." Raice lists the reasons he ranks "Golden Thread" among his favorite Eva recordings: "In terms of showing her off, her own vocal performance, what she does, some of the notes she hits, and the confidence and strength and power she hits them with — she sings its tail off!"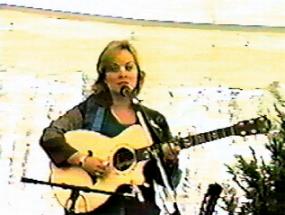 At the memorial service for Eva at Greenbelt Park, singer Grace Griffith performed a haunting Celtic-tinged version of "Golden Thread" that Eva would have loved.
"Golden Thread" was never a part of the Eva Cassidy Band's live repertoire. "We tried to play it once at band practice, after we'd recorded it, and it just never sounded good," Chris Biondo says. "The focus on the groove and the overall feel is more important than the actual notes. There's a certain kind of simplicity that makes it difficult. If something didn't come together quick, right off the bat, she was not too interested in rolling up the shirtsleeves and staying with it, she got turned off by how it started to sound. We never really seemed to get it how she liked it, so we didn't follow through on it."
"She performed 'Oh, Had I a Golden Thread' as if it was funk of the seventies with vocal blues improvisations, suggestive rhythms, and a pounding organ."
— Magnus Eriksson, MODERN TIMES, Sweden

What was it about "Golden Thread" that spoke so deeply to Eva? Perhaps the artist in her responded to the visual elements of the lyrics, the weaving of the "rainbow design." Certainly the idealistic themes of peace and brotherhood were central to Eva's view of the world. As Grammy-winning critic Joel E. Siegel wrote in his album notes for EVA BY HEART, "She was attracted to songs that express profound themes (love, loss, transcendence, redemption) drawn from a diversity of musical traditions which she transforms into haunting personal statements."
Won't you show my brothers and sisters
My rainbow design
Cause I, I would bind up this sorry world
With hand and heart and mind.
Copyright 2002 – Laura Claire Bligh. The quote from Pete Seeger is taken from the booklet for the album WHERE HAVE ALL THE FLOWERS GONE, The Songs of Pete Seeger. Mona and Torbjörn in Sweden and Henrik in Denmark provided the translations from the Swedish reviews of Eva's albums. Thanks as always to the members of the Eva Cassidy Band for helping me with this series of articles about Eva's recordings.