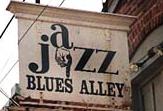 "You'll remember me…."
Fans like to tell about the first time they heard Eva Cassidy's voice. "It was on the radio in the car," they might say, "and I got tears in my eyes, I had to pull off the road to listen."
Most often, the song that caught their attention was the ballad "Fields of Gold." Familiar to listeners from Sting's original recording, but brought to soul-stirring new life with Eva's vocals and arrangement, "Fields of Gold" was the first of Eva's recordings to get much radio airplay. The record company sent shiny golden CDs to radio stations with accompanying marketing materials proclaiming "You'll remember the first time you heard Eva Cassidy!"

For most people, that first time they heard Eva Cassidy was several years after the singer's death. Even in her native Washington DC, Eva had been "sadly undernoticed," as Eric Brace of the Washington Post commented later. The Eva Cassidy Band typically performed mid-week in half-empty bars and clubs, and when Eva picked up a solo engagement here and there, it would be at a struggling storefront restaurant more often than a club where anybody had come to listen.
LIVE AT BLUES ALLEY, it was hoped, would change that. After repeated attempts to secure a recording contract had failed, Eva had scraped together the money to record a live album, using her small savings, a cash advance on her credit card, and a gift of a thousand dollars from her aunt. One of the middle tracks of the independently-produced album was "Fields of Gold."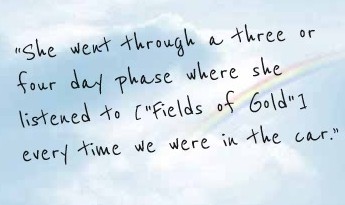 Chris Biondo remembers that Eva first heard the song on a cassette tape of the Sting solo album "Ten Summoner's Tales." "When we were driving around she'd put it on, she went through a three or four day phase where she listened to that every time we were in the car." Eva developed her own guitar arrangement of "Fields of Gold" and played it for Keith Grimes, the lead guitarist in the Eva Cassidy Band. Grimes recalls, "We wanted to rehearse duo versions of some different material, things we hadn't played in the band. Eva came over to my house, sat at my dining room table, and sang a whole batch of songs for me. When she did that one, tears rolled down my cheeks, which" (laughs) "is something that happens to everybody, I suppose. I had heard Sting's recording, but the way she put it across just overwhelmed me. Eva reached over and put her hand on my arm, sort of comfortingly. I think I said 'You got me,' and blew my nose. She just laughed. It was a nice moment."
Eva and Keith Grimes started performing "Fields of Gold" on their duo gigs, and in "showcase segments on some of the hipper band engagements, always with just the two guitars," Grimes says. "Eva's acoustic guitar supported and intertwined with her gorgeous voice. I added an electric guitar solo and background parts designed to further support and color subtly. 'Frame well the vocal' was our unspoken motto."
Keith Grimes always regarded Eva's acoustic guitar arrangements as a perfect foundation for her vocals. "There was a whole architecture to her arrangement on 'Fields of Gold' which is really well balanced," he observes. "When Eva did something on acoustic guitar, the arranging concept really made about 95% of the song, so it was very heavily arranged even though it was done elegantly and simply. I always admired how well she was able to do those things. Her technical abilities were not limitless, on the guitar, but her guitar accompaniments were so nicely conceived that you didn't have a sense of any limitation displayed."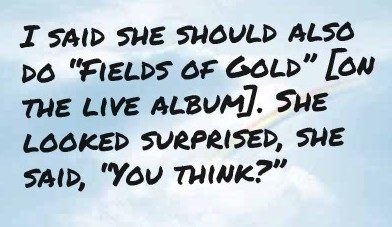 At the suggestion of Mike Dove, Eva chose "Fields of Gold" to be one of the songs she recorded at Blues Alley in January of 1996. She sang it on the first set, and therefore it was not captured on video by her friend Bryan McCulley, who videotaped the second set on both nights with his camcorder.
It is a well-known part of the "Eva legend" that the entire first night's recording at Blues Alley was unusable because of technical problems, and that Eva's voice was not at its best because she had a cold. Nevertheless, LIVE AT BLUES ALLEY was well-received when it was released locally in May, 1996.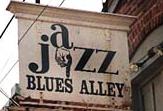 At the CD Release Party at Blues Alley on May 20th, 1996, Eva introduced the song simply as "This is another one on the CD, by Sting. Schting," she repeated, with a Teutonic emphasis, perhaps to amuse her German-born mother who loved the song and was in the audience.
Less than six months later, Eva Cassidy was gone, claimed by melanoma, the most deadly form of skin cancer. That would have been the end of the story, if it were not for some highly energetic and determined people who were convinced that the world needed to hear Eva Cassidy's voice.
In 1997 a posthumous studio album, EVA BY HEART, was released locally as a follow-up to LIVE AT BLUES ALLEY. In 1998, Eva's parents licensed Eva's recordings to a small California record company called Blix Street Records, resulting in the album SONGBIRD, with music from all three of Eva's CDs. Partnered with the equally-tiny UK/Australian record company Hot Records, Blix Street Records released SONGBIRD internationally. "Fields of Gold" was chosen to be the first song on the new album, and became the focus of the marketing campaign aimed primarily toward radio stations. Bill Straw, the President of Blix Street Records, says, "I chose 'Fields of Gold' along with 'Over the Rainbow' because those two tracks received the most immediate audience reaction. That's also why the tracks begin and end the SONGBIRD album."

Mike Harding of BBC Radio 2 was the first to broadcast "Fields of Gold" in the United Kingdom. "I first came across Eva when I was in the States visiting my daughter who lives and teaches near Washington DC. She played me some of her stuff, I loved it and bought a CD to take back to the UK and play on my weekly BBC radio show. 'Fields of Gold' fitted in perfectly with my show material which is mostly folk roots and acoustic stuff. The reaction from listeners was quite amazing; letters, emails, phone calls – it went on for weeks." Meanwhile Harding's colleagues at the BBC had also discovered Eva Cassidy. Terry Wogan was bringing her voice to the huge audience of his popular morning show "Wake Up With Wogan," and Bob Harris was playing Eva tracks for his eclectically intellectual Saturday night listeners. "Fields of Gold" was released as a single in the UK and the sweet-voiced unknown from Washington DC was becoming a posthumous success. In 2001, the album SONGBIRD was #1 on the album charts in the United Kingdom and Ireland.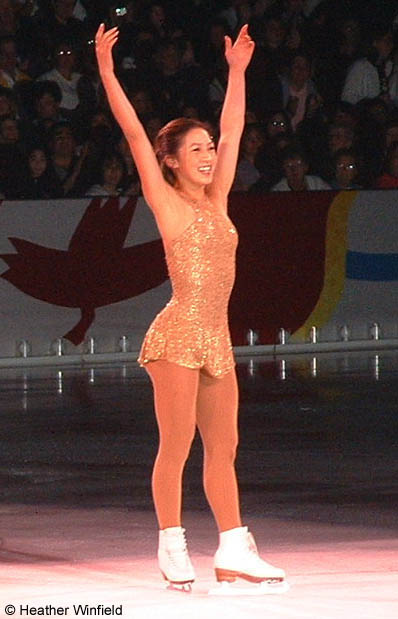 In the autumn of 2001, a whole new international audience discovered Eva's recording of "Fields of Gold" when champion ice skater Michelle Kwan chose that music for her exhibition skating routine. Chris Biondo watched it on television and found Kwan's interpretation of Eva's vocals to be tremendously moving. "I cried like a baby," he admits. "Then I called my mother, she was crying too, everybody was crying."
Michelle Kwan skated to "Fields of Gold" several more times that winter, in an elegant new Vera Wang costume in glittering gold. The skater clearly enjoyed the music, and on one televised performance she could be seen singing along with Eva as she skated. Guitarist Keith Grimes admitted he felt proud to have his guitar-playing be a part of Michelle Kwan's artistic expression. "Thrilling solo skating matched with a bare bones musical performance — I thought the combination worked. Plus, in the big arena, Eva finally got the reverb she was crazy for!"
"Skatingfan5" from the Michelle Kwan Forum wrote the following description of the skating elements of Michelle Kwan's "Fields of Gold," which was choreographed by Sarah Kawahara:
The program opens with a pivoting movement and then goes into what we've been calling the "Maribel Vinson Owen" move — a forward inside spiral that changes into a back outside arabesque through the connection of a 3-turn. Then a double axel, followed by a triple toe loop, and then a back Charlotte (done to the words "as her hair came down") followed by raising her upper body into right backward outside spiral with right hand down – rocker into right forward inside spiral. Flying camel spin/back sit/Y-spin combination. Split "falling leaf" jump followed forward edge work, then two small backwards leaps ("kick jumps") — a camel/back sit/upright spin combination, footwork into a triple lutz jump, footwork into outside spread eagle, long Ina Bauer ("see the children run"), hydroblade move into gliding backwards lunge, camel/layback/back sit/Y-cross variation combination spin, steps into deep edging (forward gliding moves), then ending with a backwards inside to outside spiral traveling 2/3 the length of the ice."
At the skating gala for the 2002 Salt Lake City Olympics, Michelle Kwan again chose to skate to "Fields of Gold." Though bitterly disappointed that she had won the bronze medal instead of the hoped-for Olympic gold, she electrified the billions of watchers around the world with her gloriously expressive, emotional performance of "Fields of Gold."
During the summer of 2002, Michelle Kwan continued skating to "Fields of Gold" on the 85-city "Champions on Ice" tour. When "Champions on Ice" came to Baltimore, Maryland, Eva's parents and some other family members and friends went backstage to meet the skater. Kathy McCabe, one of the group, recalls, "Michelle was so gracious and spent a long time with us explaining how she came to choose the music and what she feels like when she skates to it. She said it was a friend of her mother's who brought her the CD and said she should skate to that song. She listened to it and right away she knew. She said it is the best song she has ever skated to, that she feels so free and not stressed when she skates to this song, it makes her feel beautiful, and like a beautiful skater. She went on and on about it.
"We watched the show after that, and when Eva's voice came through the PA and Michelle skated so beautifully, it was hard to keep from crying. Bill Straw and Hugh held Barbara's hands throughout the song and though she was immensely proud I could tell she was immensely emotional too."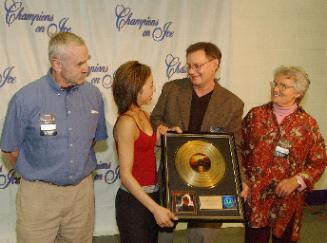 Bill Straw of Blix Street Records had brought a special gift for the skater, a newly-minted "gold record" of the SONGBIRD album, which had recently achieved that status in the United States.
(At left, Michelle Kwan with Bill Straw and Eva's parents, Hugh and Barbara Cassidy.)
People often ask if Eva knew Sting, who wrote "Fields of Gold." She did not; as an unknown singer just beginning her career, she did not move in such exalted musical circles. The songwriter and pop star now knows all about Eva Cassidy, however. In 2001 he told Richard Harrington of the Washington Post, "A friend of Eva's sent me the recording after her death, I thought it was a beautiful rendition. I've rarely heard a voice of such purity. I was deeply sorry to learn of her death and somehow it gave the song another emotional level. I was very happy the work saw the light of day. It's an extraordinary success." Later, he commented, "I heard this voice and it was so beautiful, so pure. And the next thing I hear, it's almost a year later, and Terry Wogan is playing it on Radio 2. Then lo and behold, it's number one in England and I'm happy for her. Even though it's a sad tragic story, it has kind of a poetry about it."



---
Copyright 2002 – Laura Claire Bligh. Thank you to the members of the Eva Cassidy Band for helping me with this series of articles. Thanks also to Skatingfan5 for the excellent skating description, Heather Winfield for use of her photo of Michelle Kwan, Louis Scherr of Blues Alley for the photo of the Blues Alley sign, and Richard Harrington for the Sting quote. Please do not copy the images on this website, which are shown with the permission of the copyright holders.