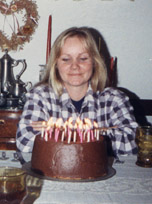 HAPPY BIRTHDAY EVA! Eva was born on February 2nd, 1963.
A few years ago, some of Eva's friends and family helped me compile this list of a few of Eva's favorite things. (I'd welcome additions!) I have heard from people who stopped by a few Eva-related places while visiting the Washington DC area, such as Blues Alley. Perhaps some of the items here would be helpful additions to such an itinerary.
Please do not copy these images.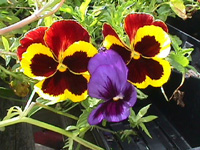 Flowers — Pansies were among Eva's favorite flowers. She also loved lamb's ears, pink roses, bluebells, delphiniums, and the common roadside type of daylilies!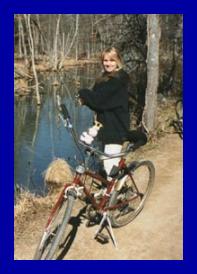 "Bicycling… that was one of her big passions in life," Eva's mother Barbara Cassidy told the BBC in 1999.
Some of Eva's favorite places to ride her bicycle were Colonial Beach, Virginia, and the towpath of the C&O Canal, which is where this photo was taken. Other rides she enjoyed were the Rock Creek bike path to Lake Needwood in Maryland, and "Old Town" Alexandria, Virginia (parking at Belle Haven Marina along the George Washington Parkway, and riding on the bike path along the Potomac River).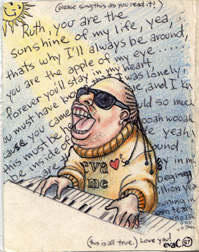 Favorite Singer — No question, it was Stevie Wonder. Eva drew this picture of Stevie Wonder as part of a birthday card for her friend Ruth Murphy. Note the inscription on the sweater Stevie's wearing.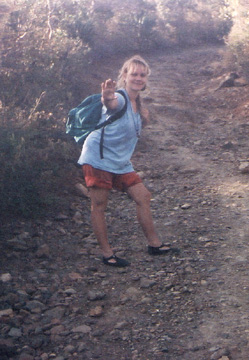 Hiking — Several of Eva's favorite hikes in the Washington area:
– C & O Canal
– Flag Pond Nature Park, Calvert County, MD
– Merkle Wildlife Sanctuary, Upper Marlboro, MD
– St. Mary's County, MD
– Calvert Cliffs, MD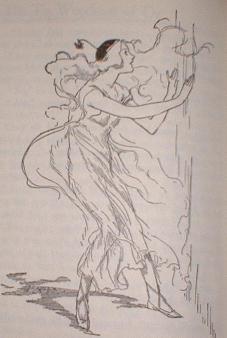 Favorite childhood books — Eva and her sisters and cousins loved the fourteen Oz books by L. Frank Baum. Our grandmother gave different titles in the series to her granddaughters, and we exchanged them often among ourselves. My sister Vivien recalls that Eva was particularly interested in the character of Polychrome, the Daughter of the Rainbow. At left, a depiction of Polychrome by illustrator John Neill, from The Tin Woodman of Oz
Favorite Restaurants:

Eva loved Ledo's Pizza, especially at the Fireside Inn in Greenbelt. (That branch of Ledo's is no longer in business, but there are plenty of others still around.) Some other favorites:
– 94th Aero Squadron, College Park, MD. Eva's favorite meal there was the Farmhouse Chicken.

– Benihana, Bethesda, MD, a Japanese restaurant where they cook on your table. The picture of Eva and Chris Biondo in the Songbird book was taken at Benihana. Eva especially liked the ginger salad dressing at Benihana. Her favorite meal: Rocky's Choice (beef and chicken).
Other favorite foods:
– Peanut butter ice cream
– Tuna sandwiches
– Big Red chewing gum (cinnamon)
– Cheetos — the crunchy kind, not the puffy kind
– Durkee's potato sticks, "like miniature french fries"
– Chef-Boy-R-Dee beef ravioli in a can
– Pop-tarts — the strawberry kind with the frosting
– Marshmallow Peeps — Margret Cassidy Robinson remembers that "long into adulthood, one of us would buy a package and we would share them. That was something special just for the two of us!"
Favorite movie:
The Color Purple was Eva's favorite movie, according to several sources. Chris Biondo also recollects that Eva loved Empire of the Sun — "She liked the boy choir music in it. She really enjoyed The Silence of the Lambs too. She saw it with Ruth [Murphy] and dragged me to it the next week."
Some favorite stores:

– Gossypia in "Old Town" Alexandria
– Anthropologie in Rockville, MD
– She loved little antique shops – the crowded "junk shop" type
Favorite country drive:

Around Edgewater and Deale, MD; down Cumberstone Road and past Tacaro Farm, on narrow winding country roads
Art: Favorite painting:

From Chris Biondo: "Eva had a book with a painting in it that she told me was her favorite painting of all time. The artist was 'unknown' and the painting was on a wall that was between some houses in Italy. It was a landscape with olive trees. She also loved Monet, and Salvador Dali. One time we went on vacation to St. Petersburg, Florida, and it rained, so we drove for hours to go visit the Salvador Dali museum. She bought a lot of prints."
Thanks to Margret, Elaine, Ruth, Celia, Chris, and Eileen! I hope more of Eva's friends will help expand this page.