THE OTHER SIDE – A studio album of jazz/blues/soul standards, solos and duets with Chuck Brown, first distributed by Liaison Records on CD and cassette tape in 1992. This album is often referred to by the band and their families as "Chuck and Eva." Chuck Brown was a local Go-Go star and Eva was a complete unknown, but after they met at Chris Biondo's studio, Chuck was inspired to branch out from his dance music and return to the blues and jazz of his roots. Here's a link to an interview with Chuck and Eva from 1992 from the Washington City Paper. This article, "When Chuck Met Eva," describes their meeting and relationship.


Songs:
1. Let the Good Times Roll (duet)
2. Fever (duet)
3. You Don't Know Me (duet)
4. I Could Have Told You So (duet)
5. Gee Baby, Ain't I Good to You (duet)
6. I'll Go Crazy (duet)
7. You Don't Know What Love Is (Chuck solo)
8. Drown in My Own Tears (duet)
9. God Bless the Child (Eva solo)
10. Red Top (duet)
11. Dark End of the Street (Eva solo)
12. Shadow of Your Smile (Chuck solo)
13. Over the Rainbow (Eva solo)
14. You've Changed (duet)
---

LIVE AT BLUES ALLEY – Recorded in January of 1996 at the famous club in Washington DC, live (of course) with the Eva Cassidy Band. Released May 1996. For more information, read "Live at Blues Alley — the Backstory" and the article "Live at Blues Alley — You Are There" here.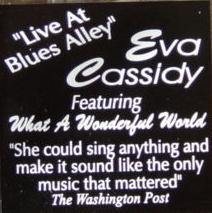 Songs:
1. Cheek To Cheek
2. Stormy Monday
3. Bridge Over Troubled Water
4. Fine and Mellow
5. People Get Ready
6. Blue Skies
7. Tall Trees in Georgia
8. Fields Of Gold
9. Autumn Leaves
10. Honeysuckle Rose
11. Take Me To The River
12. What A Wonderful World
13. Oh, Had I A Golden Thread (this last song is a studio recording, not live)
---
EVA BY HEART – Studio recordings issued posthumously in 1997. For further information, read the interview with Chris Biondo on "The Making of the Album EVA BY HEART."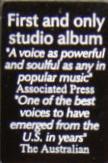 Songs:
1. I Know You By Heart
2. Time Is A Healer
3. Wayfaring Stranger
4. Wade In The Water
5. Blues In The Night
6. Songbird
7. Need Your Love So Bad
8. Say Goodbye
9. Nightbird
10. Waly Waly
11. How Can I Keep From Singing?
Some versions of this CD also have:
12. Dark End of the Street
---

SONGBIRD – A collection of tracks from the three previous albums, with some editing. Released by Blix Street Records under license from Eva's parents in 1998. This album has gone "quintuple platinum" in the United Kingdom and "gold" in the United States, Australia, Norway, and other countries.
Songs:
1. Fields Of Gold
2. Wade In The Water
3. Autumn Leaves
4. Wayfaring Stranger
5. Songbird
6. Time Is A Healer
7. I Know You By Heart
8. People Get Ready
9. Oh, Had I A Golden Thread
10. Over The Rainbow
---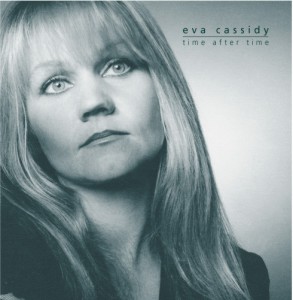 TIME AFTER TIME – Live and studio recordings released in 2000. Article here.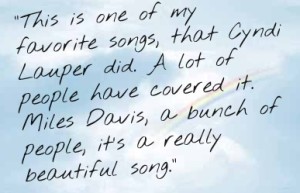 Songs:
1. Kathy's Song
2. Ain't No Sunshine
3. The Letter
4. At Last
5. Time After Time
6. Penny To My Name
7. I Wandered By A Brookside
8. I Wish I Was A Single Girl Again
9. Easy Street Dream
10. Anniversary Song
11. Woodstock
12. Way Beyond The Blue
---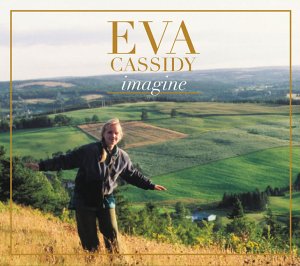 IMAGINE – Live and studio recordings, released in 2002. Article here.
Songs:
1. It Doesn't Matter Anymore
2. Fever
3. Who Knows Where the Time Goes
4. You've Changed
5. Imagine
6. Still Not Ready
7. Early Morning Rain
8. Tennessee Waltz
9. I Can Only Be Me
10. Danny Boy
---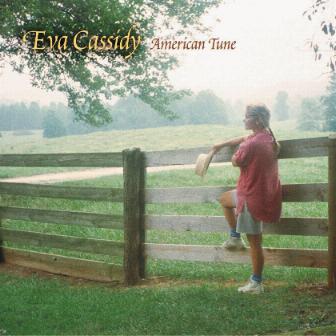 AMERICAN TUNE – Live and studio recordings, released in 2003. Article here.
Songs:
1. Drowning in a Sea of Love
2. True Colors
3. The Water is Wide
4. Hallelujah I Love Him So
5. God Bless the Child
6. Dark-Eyed Molly
7. American Tune
8. It Don't Mean a Thing
9. Yesterday
10. You Take My Breath Away
---

WONDERFUL WORLD – This is a second anthology album featuring selected songs from the albums LIVE AT BLUES ALLEY, TIME AFTER TIME, IMAGINE, and AMERICAN TUNE, released in 2004. One can view it as a companion to SONGBIRD.
Songs:
1. What A Wonderful World (remixed for US version of the album)
2. Kathy's Song
3. Say Goodbye
4. Anniversary Song
5. How Can I Keep From Singing?
6. You Take My Breath Away
7. Drowning In a Sea Of Love
8. Penny To My Name
9. You've Changed
10. It Doesn't Matter Any More
11. Waly Waly (remixed)
---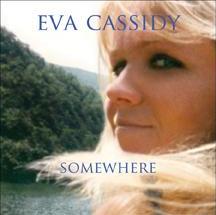 SOMEWHERE – Live and studio recordings, released in 2008. Article here.
Songs:
1. Coat Of Many Colors
2. My Love is Like a Red, Red Rose
3. Ain't Doin' Too Bad
4. Chain Of Fools
5. It Won't Be Long
6. Walking After Midnight
7. Early One Morning
8. A Bold Young Farmer
9. If I Give My Heart To You Tonight
10. Blue Eyes Crying In The Rain
11 Summertime
12 Somewhere
---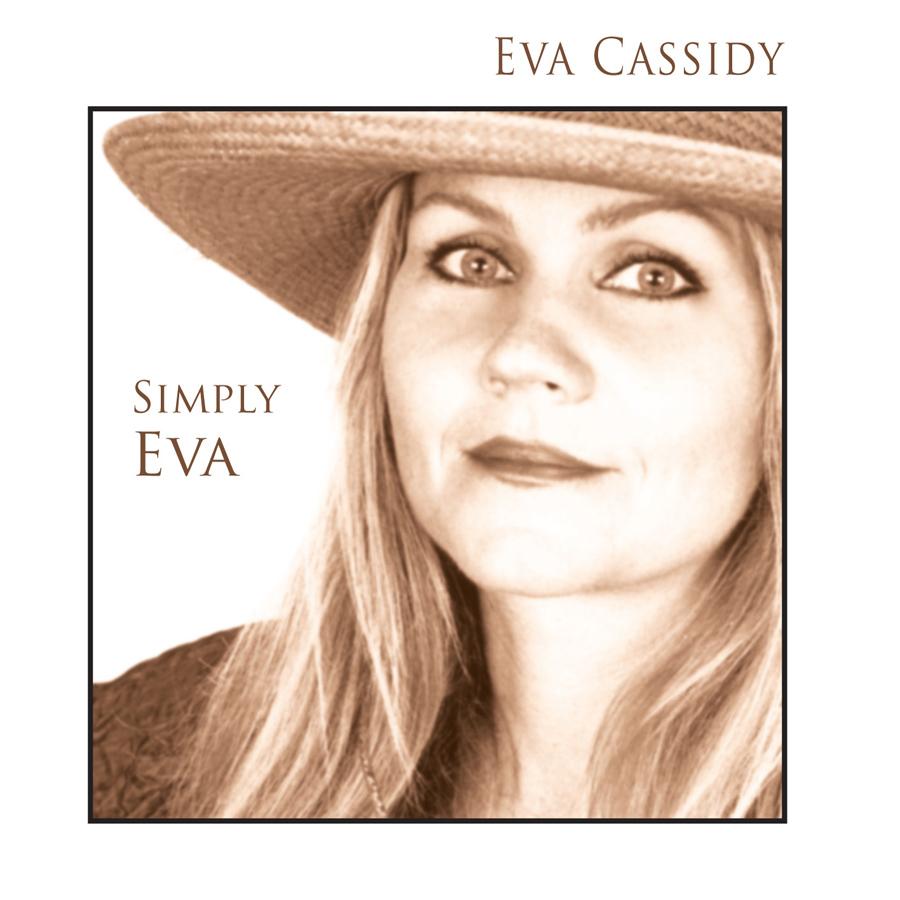 SIMPLY EVA – released in 2011.
Songs:
Songbird
Wayfaring Stranger
True Colors
Who Knows Where The Time Goes
Over The Rainbow (recorded live at Blues Alley)
Kathy's Song
San Francisco Bay Blues
Wade In The Water
Time After Time
I Know You By Heart (a cappella)
---

THE BEST OF EVA CASSIDY –  20 songs including just about everybody's favorites, released in 2012.
Songs:
Kathy's Song
Songbird
Wade In the Water
Ain't No Sunshine
I Can Only Be Me
It Doesn't Matter Anymore
Imagine
True Colors
Danny Boy
Anniversary Song
Early Morning Rain
I Know You By Heart
Tall Trees In Georgia
---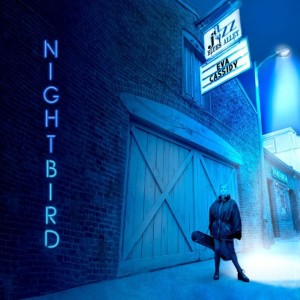 NIGHTBIRD
– 2-CD album released in
2015.
The UK edition also contains a DVD, which North American fans will have to watch on YouTube.
Songs, Disc 1:
Blue Skies
Ain't Doin' Too Bad
Ain't No Sunshine
Baby I Love You
Honeysuckle Rose
Route 66
Bridge Over Troubled Water
Eva introduces the band
Chain of Fools
Fever
Fine and Mellow
Cheek to Cheek
It Don't Mean a Thing (If It Ain't Got That Swing)
Late in the Evening
Next Time You See Me
Waly Waly
Disc 2:
Take Me to the River
Nightbird
The Letter
Son of a Preacher Man
Stormy Monday
Tall Trees in Georgia
Something's Got a Hold on Me
Over the Rainbow (Eva solo)
You're Welcome to the Club
Caravan
Oh, Had I A Golden Thread (studio recording)
DVD (UK only, not formatted for North America):
Cheek to Cheek
Nightbird
Honeysuckle Rose
Autumn Leaves
People Get Ready
Stormy Monday
Tall Trees in Georgia
Take Me To The River
Bridge Over Troubled Water
Time After Time
Over The Rainbow
You've Changed
---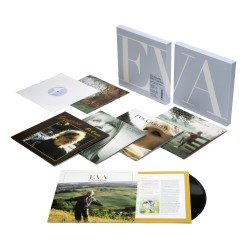 The
EVA CASSIDY VINYL COLLECTION
on 180g vinyl is a limited edition five-LP boxed set of the albums SONGBIRD, TIME AFTER TIME, IMAGINE, AMERICAN TUNE, and SOMEWHERE. Note: THE BEST OF EVA CASSIDY album is also available as two vinyl LPs.
---


METHOD ACTOR – Recorded at Chris Biondo's studio, 1987. The first album to showcase Eva's lead vocals. Limited local release on LP and cassette; re-released on CD in 2002. Eva sings lead vocals on original songs by David Christopher. She also contributed the artwork for the album jacket. For additional information, read my interview with David Christopher or the METHOD ACTOR page.


Songs on the original album release:
1. Look Into My Eyes
2. When It's Too Late
3. Laugh With Me
4. Stay
5. Forever
6. End the Rain
7. How Will It End
8. Getting Out
(The 2002 re-release on CD also includes "Little Children" and "The Waiting is Over.")
---
Where to find Eva Cassidy's albums?
It's hard to believe that when I started this website in 1999, Eva's albums were hard to find. That situation has changed, and now nearly all the on-line CD stores carry her albums and even downloadable MP3s.  I do encourage you to shop locally when you can. In North America, the United Kingdom, and some other parts of the world, most well-stocked stores will carry at least the album SONGBIRD. Sometimes Eva's albums are shelved in unexpected sections, so it is a good idea to ask, if you don't see what you are looking for. (Jazz? Folk? Pop? Vocals? Bestsellers? Employee favorites?) Another idea — why not visit an independent CD store instead of the big chains? Often you'll get superior service and some great suggestions about other music you would enjoy.
---
To buy Eva Cassidy's albums online, try the following:

Amazon.com in the United States carries all the Eva Cassidy CD's, including the once-hard-to-find duet album THE OTHER SIDE (with Chuck Brown). Amazon encourages its customers to post comments, so please add your opinions about Eva's albums! The eloquent postings from Eva's fans all over the world make fascinating reading: "…Cassidy goes deep into familiar and unfamiliar songs to grab the listener — sometimes to shake us, sometimes to rock us in her arms…." The Eva Cassidy Web Site is an "associate" of Amazon.com. If you place an order through the specially coded links here, a small percentage of the sale is donated directly to melanoma research at Johns Hopkins University, at no additional cost to you. The same is true of the Amazon sites in the United Kingdom and Canada.




Liaison Records in Maryland (USA) is the company that distributed Eva's first CD, THE OTHER SIDE, with Chuck Brown.  They now offer that album as a CD or as downloadables, as well as the two Christmas duets recorded by the duo (see below). Tom Goldfogle, former CEO of Liaison, once wrote to me, "It's so encouraging to see her music doing so well and that a real legacy is coming into existence that is so deserved."
---
OTHER RECORDINGS: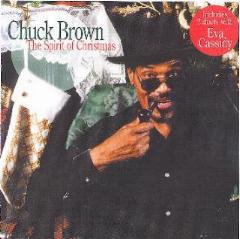 Shortly after completing the album THE OTHER SIDE, Chuck Brown and Eva Cassidy recorded two songs for the Christmas season, "That Spirit of Christmas" and "The Christmas Song" (a.k.a. "Chestnuts roasting on an open fire"). These duets are part of Chuck Brown's 1999 Christmas album, "The Spirit of Christmas," from Liaison Records. The original CD cover is shown here. The album is currently available only as a download. For more information about Christmas songs recorded by Eva, follow this link.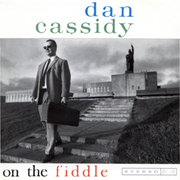 Eva's brother Dan Cassidy is a talented fiddle player based in Iceland. He can be heard on several songs on Eva's albums : "I Know You By Heart" (on the SONGBIRD, EVA BY HEART, and BEST OF EVA CASSIDY albums), "How Can I Keep From Singing" (on EVA BY HEART), "Penny To My Name" (on TIME AFTER TIME), "Fever" (on THE OTHER SIDE), and "Yesterday" (on AMERICAN TUNE). His wonderful solo debut CD is entitled DAN CASSIDY ON THE FIDDLE (1997) and includes three songs with Eva (these are available on Eva's albums also, sometimes with slight production differences). Here's an Icelandic link where people can order Dan's solo CD. For more about Dan Cassidy, here's an article/interview by Johan Bakker. In recent years, Dan has been touring and recording with guitarist James Hickman, and has recorded and toured with a tribute to Eva with singer Margriet Sjoerdsma.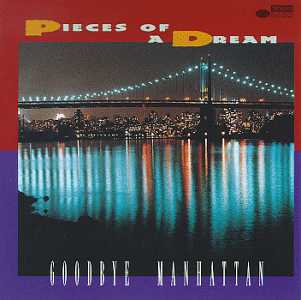 Eva Cassidy joined with the jazz group "Pieces of a Dream" for their album GOODBYE MANHATTAN. She sings lead vocals on "Have a Little Faith" and the title track, "Goodbye Manhattan." (The same two songs are also included on a new "Pieces of a Dream" album called SENSUAL EMBRACE that seems to be a "best of" type of album.) Reviewer Mike Joyce of the Washington Post said in his April 7, 1995, review that he welcomed "the addition of guest vocalist Eva Cassidy on two tracks. What Cassidy brings to the album is the sort of distinctive personality the band has sorely lacked in the past, and although this is not an album charged with powerful emotions, it is Cassidy's heartfelt readings of the topical title track and the inspirational ballad 'Have a Little Faith' that leave the strongest impression."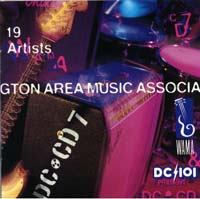 This compilation album, DCCD7, features 19 different Washington DC-area bands selected by the Washington Area Music Association. A bonus track on the CD is a song called "Hear" with Eva Cassidy and her friend Mary Ann Redmond. The style is soul-pop, very different from most of Eva's recordings. Eva wrote and recorded the song with Chris Biondo, and after her death, Mary Ann Redmond wrote another verse or verses and made the solo into a duet, for this album. This compilation album is sometimes listed as "DC 101 Edition." Note: The same song was remade into the title song for the 2008 release SOMEWHERE.




The band METHOD ACTOR featured Eva on vocals, and you can hear one of those songs, "When It's Too Late," on a compilation disc from the Washington Area Music Association. This track is from Volume One (there have been a number of these discs which showcase our local talent). Chris Biondo says it is a slightly shortened version from the METHOD ACTOR album. For more about METHOD ACTOR, see above.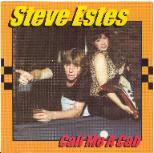 "NEVER LET YOU GO": Eva sings one song, "Never Let You Go," on a CD entitled CALL ME A CAB by a singer/songwriter named Steve Estes. The original album cover is shown to the left. The album is now available through iTunes and other download sources, or possibly only the song featuring Eva.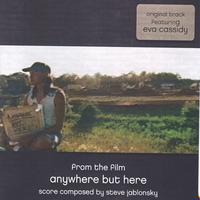 "BAGGAGE": Eva recorded a song entitled "Baggage" for an unreleased film called 'Anywhere But Here,' which was directed and produced by Michael Ingram. The song was written by Michael and his brother Jeff Ingram. In the mid-80s, Michael formed the band Characters Without Names together with Eva, Larry Melton and Ned Judy. Apparently in addition to recording the song, Eva had a scene in the movie. You can order the album from CDBaby and probably elsewhere.
---
EVA'S BACK-UP VOCALS:

Eva enjoyed singing backup for other artists. You can hear her on a number of albums including two songs ("Ain't That Peculiar" and "Stand By My Side") on the CD UNTOUCHABLE by local guitar legend Danny Gatton. Eva's voice is somewhat identifiable, and Gatton is fabulous. Eva took a few guitar lessons from Danny Gatton at one time — I always wonder if their services were bartered. Incidentally I have seen other tracks online credited incorrectly as Eva Cassidy and Danny Gatton, in which the actual guitarist is Eva herself. Eva's brother Dan commented on Washingtonpost.com in 2015, 'Eva did take a few lessons in the 80's from Danny….we were both huge admirers of his and went to hear him many times. By coincidence, we found out that our dad played bass briefly in a band with Danny in the mid-60's. I think Eva was wanting to learn a few new chords from him at the lessons but when I asked her how it went she said that his musical knowledge was way above her head. I heard that Eva had asked Danny to sit in on one of her solo gigs, but have no more details on this. When Danny took his own life, the only thing she said was "doesn't it seem like we have lost an uncle?"'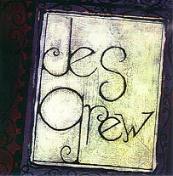 Eva also provides backup vocals on the album JES GREW (1997) by Eva's friend Jeff Muller. This CD would be a nice introduction to some of Eva's musical friends who performed at her benefit concert; the album was dedicated to Eva's memory. You can read a review here.

Eva enjoyed the musical challenge of singing in different styles as a back-up singer; she also gained valuable recording experience and was able to earn a little money. The styles ranged from folk to country to jazz to rap to hip-hop. One of the rap songs is often unavailable but worth searching for — it is entitled "This Is For My Mother." It was included in an out-of-print album called "Jiggas on My Roof" and you can hear it on YouTube. Chris Biondo tells me, "JuJu House recorded that with a group called 'Twenty Times Twenty' in 1991, and Eva came in to do some vocals. JuJu coached those vocals, he told her what to sing, she came up with the harmonies. There's some ad lib at the end where we encouraged her to hit the highest notes she could." CAUTION: I have never heard this entire CD. Many rap and hip-hop albums contain "explicit" lyrics. The song "This Is For My Mother" does not — it is entirely innocuous, as befits a Mother's Day song — but some of the other material on the CD might not be appropriate for those of us who have led sheltered lives.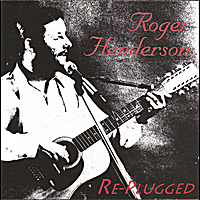 Long before "Penny To My Name" was on the album TIME AFTER TIME, it was part of songwriter Roger Henderson's album REPLUGGED (under the original title "Gas Station Mountain Home"). Also on this REPLUGGED album (and the reason it's listed under Back-up Singing), is "After You've Gone," with Eva Cassidy and Carey Colvin adding wonderful background harmonies. Roger's website is http://www.rogerhendersonmusic.com. Roger died in 2011. His music is well worth investigating; I especially love his brilliant "A Song Away."
---
Support the hardworking musicians in your area by attending live performances. Go out to the little clubs and restaurants that offer live music, and if you like what you hear, tell the performers! Clap long and loud! And if they're selling CDs and tapes from their guitar cases, as Eva once did, support their talents and efforts that way too. As someone once wrote in the Guestbook, "There will never be another Eva Cassidy, but there will be someone else."
---
Eva Cassidy Web Site Copyright © 1999-2015 – Laura C. Bligh. All rights reserved. Please do not copy any of the images on this site.
---