NOT YET UPDATED OR EDITED
(Will be updated to include information about Johan Bakker's book, Behind the Rainbow.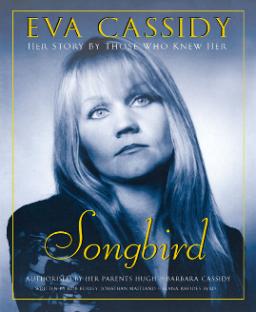 EVA'S BIOGRAPHY: The biographical book Songbird, which sold 100,000 copies in its hardcover edition in the United Kingdom, is now available in the United States also.
The book is subtitled Eva Cassidy, Her Story By Those Who Knew Her, and it is fully authorized by Eva's parents, Barbara and Hugh Cassidy. The new US edition is published by Gotham Books, a division of Penguin Group USA, in a good-quality softcover binding. In the UK, the book is available in hardcover and softcover.
It is a very beautiful book, full of gorgeous reproductions of Eva's artwork, and many photographs of Eva which have never before been published. The text is based on extensive interviews with Eva's family, friends, and musical colleagues. I enthusiastically recommend the book to all Eva Cassidy fans, especially those of you who have been thinking, "I wish I had known her."
The US edition includes two additional chapters, added to bring the book up-to-date since its original publication in 2001, with additional pictures as an added bonus. There is now a web site about the book; the web address is EvaCassidySongbird.com and it includes sample pages.
You can order the book now, from Amazon.com, using this special link. There is presently a 30% discount for pre-ordered copies ($12.25, instead of the list price of $17.50). Please do use the special link if possible, because 5% of your purchase price will be donated to cancer research.
Reader Reactions:
Here is a sampling of comments from Eva Cassidy's fans:
"Surely a worthy tribute to Eva"
"After having read the book, you really think
that you know the person behind the music."
"The book in a way 'squares the circle' regarding Eva's
story from the people who knew her best. This extension
to the Music we already know and love so much is a 'must
have' item for anyone who has been moved by Eva's presence
in any way."
"There is a life in that book– it is there on every
page– and whether you read it right through or just open
it at random, you look up having made contact with someone
you've wanted to meet for a long time."
"The book is a treasure; I shall always cherish and enjoy it."
"It's so warm and personal, and the love and respect of
her friends and family is apparent in every word."
"The text is absorbing, one hears much in the voices of
those who knew and loved Eva. Simply a must for the Eva fan!"
"I read the book in one evening and it was beautiful. I can
honestly say that is the most wonderful portrait of a genuine
human being that I have ever experienced. The pictures and
packaging of the book are fantastic."
"I finally received my "Songbird" book last night. What a
stunning publication! I immediately started browsing through
it. I put it aside for a while then came back later and
started reading. I stopped at page 42 and started to peruse
the rest of the book. As I neared the end, I could feel myself starting to get tight in the throat and my eyes misting. Like
the story of the Titanic, one knows the outcome but the story
is so compelling!"
Critical Acclaim: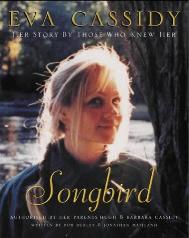 The distinguished Swedish music critic Magnus Eriksson reviewed the Songbird book for the second largest newspaper in Sweden, Svenska Dagbladet. Henrik in Denmark translated it for us. Thank you, Henrik!
MAGNUS ERIKSSON, Svenska Dagbladet, entertainment page, February 6, 2002
(The article includes a photo of the book's dust jacket; this has the legend "The book about one of the greatest voices of all time")
Eva Cassidy – a shy genius
According to a BBC Radio 2 jury, Eva Cassidy was possessed of one of the best singing voices of all time. Another poll put Over the Rainbow on the list of the most memorable songs ever written. Eva Cassidy's version received more votes than did Judy Garland's. Songbird, an Eva Cassidy compilation, reached the number one spot on the British sales chart after hovering around the No. 80 position for almost two years. Not bad for a singer who in her lifetime hardly ever performed outside Washington D.C. or Maryland, except for a couple of weeks at the Blues Bar in Reykjavik, Iceland, 1994.
Yet Eva Cassidy was not like any other singer. She was not a songwriter, but an interpreter of other people's songs. She was low-voiced and quite happy with an audience of a few dozen at her concerts. She missed several contract opportunities with major record companies because they found it difficult to pigeonhole her music. Eva Cassidy's heroes belonged to the back catalogs of jazz and folk music: Ella Fitzgerald, Buffy Sainte-Marie, Sarah Vaughan, but also Aretha Franklin and the Wilson sisters from Heart. Yet she made the songs her own. This could take a long time. She began experimenting with Over the rainbow in 1984. It achieved its final form in 1996, the year she died, at the age of thirty-three.
In her lifetime Eva Cassidy released two records. Four posthumous albums have since been released. There are also quite a few ambitious articles. Yet we were not much the wiser, but Rob Burley and Jonathan Maitland's book Songbird now fills in many of the gaps in our knowledge. It is an interview biography in which Eva Cassidy's family and friends tell about her life. They all concur: Eva Cassidy was a brilliantly gifted singer and a faithful friend. But the picture that emerges is also that of an insecure and shy woman; in fact there is more than a hint of internal conflict.
Central to the picture is also her singleness of purpose as an artist. Eva Cassidy painted when she did not sing. The book offers many fine examples of her idiosyncratic, mildly sarcastic, sometimes visionary pictorial art. The book also contains moving memories, penetrating analysis and mere curios. Yet such details are sometimes valuable, as when we learn that Dan, her brother, recorded the sorrowful violin heard on I know you by heart, having come from Iceland, where he lives, to Maryland in order to meet his sister Eva one last time.
---

INTERNET REVIEWS: Here's the first review of the U.S. edition I have seen so far, from the jazz website jazzreview.com. Thanks to Doug in Pennsylvania for spotting this! Here's a quote: "Highly recommended. The book is filled with photographs that chart the singer's life. This finely written book would make an ideal gift for those interested in the life of Eva Cassidy, and also for inclusion in your local Public Library for library patrons interested in the blues and jazz music of contemporary singers." **Updated again: Critic and songwriter Steven Digman has also reviewed the book here.
---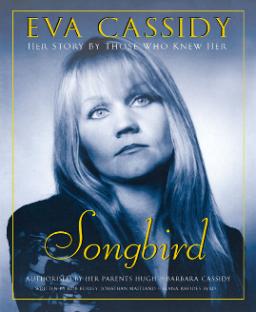 WASHINGTON CITY PAPER REVIEW: November 18, 2003: There's a VERY nice write-up about the Songbird biography in the Washington City Paper this week. Pamela Murray Winters interviewed one of the book's co-authors, Elana Rhodes Byrd, for the paper's "Artifacts" section (page 56). Winters writes that the book "turns out to be as sentimental, idiosyncratic, and multifaceted as its subject. Part coffee-table book, part oral history, it recounts Cassidy's short life and artistic and personal impact from many points of view, and it conveys a cozy intimacy with informal snapshots along with sketches and other artwork by Cassidy — a gifted visual artist as well as singer." The article ends "Byrd is confident that the more people hear of Cassidy, the more they'll want to hear: 'Eva's her own best salesman.'" Doesn't that say it all?
---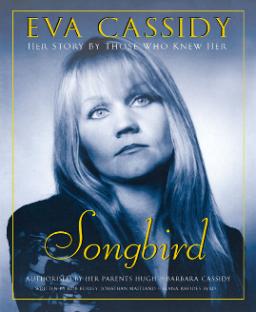 LIBRARY NEWS
(December 2003): Today I was thrilled to see the
Songbird
biography at our local library today in the "new books" section! I showed it to all the librarians, who are big Eva fans, and positioned it in a more prominent location with the front facing out. According to the on-line catalogue for Fairfax County, Virginia, the system has twelve copies of the book. Let me know if your library carries the book! Use the "Contact the Webmaster" link in the navigation box.
Coincidentally, just as I was preparing to write the above paragraph about libraries, Dave in Maryland sent me the following information: "Carroll County library Md has ordered American Tune and a check of their circulation shows that 17 out of the 20 Eva cds are checked out. Frederick County Md is processing my donation of an Eva cd, their first, and they now have 2 Songbird books which are both checked out. Adams County Pa has 2 Eva cds and they are checked out all the time. Eva cds make great gifts to your local library."
Thanks, Dave — What a great idea for end-of-the-year donations to your local libraries! Eva albums and/or copies of the Songbird biography will help share Eva with the people in your community.
---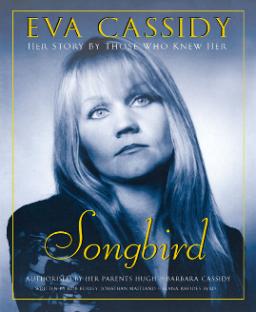 ANOTHER INTERNET REVIEW: The Songbird biography is reviewed on the website bvsreviews.com. 'If you are a fan of Eva Cassidy's then Songbird is a "must have." For those who didn't know anything about Eva and her music, maybe its time to find out,' writes critic Bruce Von Stiers. Elana tells me, "The creator of this site wrote me about Joe's albums [Elana's husband is jazz musician Joe Byrd] and I mentioned Eva's work and the book. Now he wants everything on Eva." (Doesn't everybody?) Von Stiers also reviews the album SONGBIRD.
---
SALES UPDATE:
FEBRUARY 2004:
Songbird
co-author Elana Rhodes Byrd tells me that 'over 20,000 copies of the book "Songbird" were sold in the first three months! Gotham Books is very happy.'
---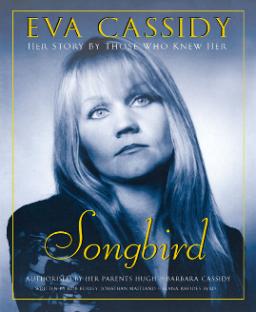 GREAT PRICE WHILE SUPPLY LASTS: The website BookCloseouts.com is listing the "Songbird" biography for $4.99 plus shipping. Here's the link.
Since the list price is $17.50, this is a great discount. The site states that they have 100 copies. This is a good chance to pick up a few extra copies to give as gifts, etc. etc.
I have purchased books from bookcloseouts.com in the past and had no problems.
---
SNIPPETS FROM "GOOGLE BOOKS": Through this search tool I found a number of surprising mentions of Eva:
In Follies, a book of short stories by Ann Beattie, "Mandy had bought two Miles Davis CDs to play at the party, to be mixed in with Alicia's Japanese hip-hop and Kathy's beloved Eva Cassidy."
In Singing and the Actor, by Gillyanne Kayes, Eva's recording of "Golden Thread" is cited as a good example of the vocal technique of "belting."
Historian Taylor Branch's book The Clinton Tapes: Wrestling History with the President, includes the information that as a gift to the former President, Branch had made him a custom CD "of two singers I liked, Eva Cassidy and Keb' Mo'." (Come on, Taylor Branch, couldn't you have bought a couple of discs?) Clinton had just given Branch a check for $50,000.