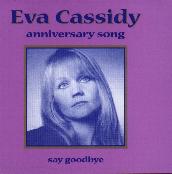 Most of the songs Eva Cassidy recorded were already associated with other artists or even considered "standards" or "classics." On a few occasions, however, she had the opportunity to establish the standard herself.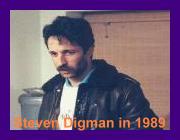 Maryland songwriter Steven Digman came to Chris Biondo's studio in Rockville, Maryland, in 1988 or 1989 to make a demo recording of "Anniversary Song" with another vocalist. Biondo recalls, "I loved the song right away. Nobody could listen to it without crying, especially the last couple of lines." Biondo was looking for material for Eva Cassidy to record, and had a feeling that "Anniversary Song" would suit her voice. Eva had sung a few other Digman songs as studio demos, "Easy Street Dream" (released on the album TIME AFTER TIME) and "Slowly and Smooth," and she had recorded back-up vocals for several more. A week or so after the recording session, Biondo asked Digman about having Eva sing "Anniversary Song."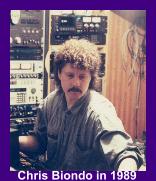 Digman remembers that Biondo was rather forceful about it. "That song, you can 100% thank Chris for. He's the one who insisted, I mean absolutely insisted that Eva sing 'Anniversary Song'…. I had already recorded it with another vocalist and was happy with it, and I knew Eva was very busy. But Chris kept on insisting, so one day (I think this is correct) Chris called me up and said 'Listen,' and I could hear Eva singing it. It was beautiful. Eva sounded good even over the phone. Of course it blew me away."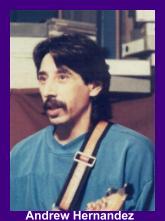 But Digman's songwriting career was going nowhere, and he needed to provide for his growing family. He moved to Jacksonville, Florida, and opened a violin shop there. Years later, during a short visit back to his native Maryland, he gave Biondo a call. "Andy Hernandez and I wanted to write a song together. I told Chris I'd like to spend some time in the studio, and was Eva available? When Chris said Eva could do it, we were up all night trying to write the song, we were writing it in the car. When it was completed, I didn't care for it that much, but I said 'Eva's coming, Eva said she'd sing, so we have to go.' If Chris said Eva couldn't come, I'd have cancelled the session. We went in and she said she liked the song and wanted to record it." The song Digman and Hernandez wrote in such a hurry was "Say Goodbye."
After Eva died in 1996, Biondo selected "Say Goodbye" to be on the posthumous album EVA BY HEART (for further information, read the interview with Chris on "The Making of the Album EVA BY HEART"). The album was favorably received, and "Say Goodbye" was praised by one reviewer as "a song with the look and feel of current, Generation X angst" and by another as "a fine, soulful love song."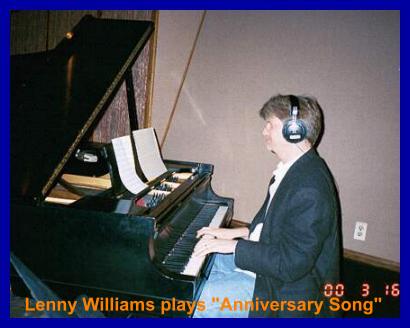 Four years later, Blix Street Records chose Eva's recording of Digman's ballad "Anniversary Song" for the album TIME AFTER TIME. The synthesized instrumentation from the demo was replaced by an arrangement for piano and string quintet written by Lenny Williams, the keyboardist from the Eva Cassidy Band. "Chris gave me a tape that had the vocals and a guitar part on it, and I worked from that to do the arrangement," said Williams, who studied composition and piano at Peabody Conservatory. "The hardest part to write was the opening piano lick; I remember Chris and I went back and forth about how many notes it should be, where the words are 'You play your piano.' "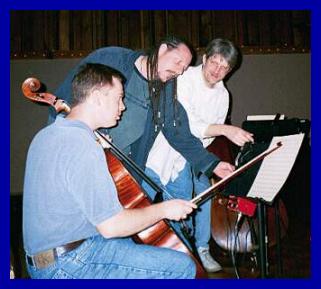 Williams hired a string quintet from the Kennedy Center Opera House Orchestra and the National Symphony Orchestra. At a midnight recording session at Omega Studios in Rockville, Williams and the quintet performed the music with Eva's voice soaring through their headphones. After the string ensemble had been taped, the violinists recorded additional parts on top to round out the sound.
Songwriter Steven Digman was very pleased with the final mix. "I must say that Anniversary Song couldn't have been done any better. I am in love with that song all over again. What a beautiful job!"
The Washington Post described "Anniversary Song" as a "power ballad" and praised "pianist Lenny Williams's arrangement of swelling chorus, a string quartet, and Cassidy's vocals, which absolutely refuse to recede into the surging mix." Eva's fans often mention "Anniversary Song" as a favorite from the TIME AFTER TIME album, and a recent tabulation put it in the Top Ten Favorites of all the songs Eva recorded. It is one of the songs on the BEST OF EVA CASSIDY album. How did Digman come to write it? "I wrote it years ago when I was thinking of my grandparents… not actually how they were, but how I imagined they should be," Digman told me. "Not being a religious man myself, I still think that if you live long enough, into your seventies, then God must have been there somehow!"
Today Steven Digman lives in Hagerstown, Maryland, with his wife and twelve-year-old son. He owns a violin shop, Digman's Violin and Publishing Company, in the historical district. Digman is pleased about the new single, but has no expectation that it will make him the hottest songwriter since Bob Dylan. "The only thing I've ever had on an album was through Eva," he says. But with "Anniversary Song" on the BBC radio playlist and "Say Goodbye" slated for use in a major Hollywood movie soundtrack, Digman is composing again and planning to return to the recording studio soon.
Until the release of the Eva Cassidy albums, much of his songwriting experience had been frustrating. "I didn't think it would ever happen…. Listening over and over again to her voice singing my songs, and thinking 'No one will ever hear this….' I think it would have been easier with someone of less vocal quality singing. At least I wouldn't have felt so bad about having to get a real job!" Another source of frustration was "dealing with music publishers and A&R People, who wanted the song or songs but needed to change a couple of words here-and-there, or rewrite a musical phrase to please the artist. Or simply demanded to be co-writer in order to publish…it's always made me wonder how many artists are actually the real writers or co-writers of the songs they perform!"
What was it like working with Eva Cassidy? "I think of two things — the sheer amazement of her voice and the complete amazement of her lack of ego…for how great she really was! I never asked Eva to sing for me, I was too shy, I asked Chris to ask her. I was too embarrassed, because she was so good. I would think, 'My God, this woman has so much ability, she's singing one of MY songs!' Eva was always very kind to me, she never made fun of my voice when I sang the songs for her." Like all Eva's musical associates, Digman was always sure that Eva's talent would take her to the top of the music world, eventually. "But the road she chose would have been a longer road," he thinks.
Steven Digman's website, which once showcased his poetry and songs, and an article entitled "Surviving the Violin," now features his photography at http://www.digmansworld.com/. For more information about this multitalented Marylander, read this 2005 article from the Musicdish website.
---
This article was written by Laura Bligh in September, 2001. The photos of Steven Digman, Chris Biondo, and Andrew Hernandez were taken at Chris Biondo's studio by Maria Digman, around 1989. Laura Bligh took the other photos at Omega Studios in 2000. DO NOT COPY THESE IMAGES.