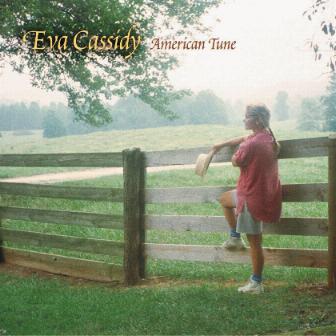 The album AMERICAN TUNE was released in August, 2003. Named for the haunting Paul Simon song that is one of the album's highlights, the CD was eagerly awaited by Eva's millions of fans around the world. In the United Kingdom, where Eva Cassidy is a greatly-beloved artist, the album was #1 on the official album charts for two consecutive weeks.
The program notes for the album read as follows:
Some singers need an audience to bring out their best. Not Eva Cassidy. The recording studio was Eva's natural musical home where she was free of the pressures of live performance. She spent countless hours there recording, rehearsing, even helping paint the walls and glue on acoustic tiles. Band rehearsals would be held there and Chris Biondo was in the habit of running a tape while guitarist Keith Grimes, a perfectionist like Eva, would take home the tapes to study the performances.

Since the release of last year's IMAGINE album, Keith discovered rehearsal tapes that had long been packed away and sent them to Blix Street's Bill Straw. Five of the ten tracks on AMERICAN TUNE come from that source. A couple of these are just Eva and Keith, cut while they were working out repertoire for their duo gigs. The remaining five tracks are comprised of three live recordings, one studio demo, and "Yesterday," which was one of the earliest songs that Eva recorded with Chris Biondo.

None of the surviving recordings were multi-track and therefore few corrections could be made for errors or glitches. In most cases what you hear now is how the songs were recorded, in one take and without editing. Yet there is no doubt these informal recordings capture Eva Cassidy's magic in its purest form — her remarkable voice never fails to send a shiver down the spine or bring a tear to the eye.

–Laura Bligh, Eileen White, Martin Jennings
---
ALBUM DETAILS: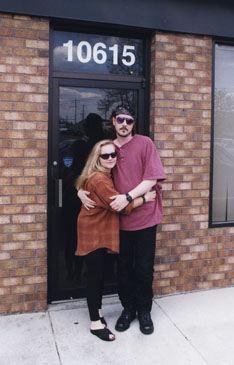 The ten songs on the album are:
"Drowning in a Sea of Love"
"True Colors"
"The Water is Wide"
"Hallelujah I Love Him So"
"God Bless the Child"
"Dark-Eyed Molly"
"American Tune"
"It Don't Mean a Thing"
"Yesterday"
"You Take My Breath Away"
(Photo above, Eva Cassidy and Chris Biondo outside the Glenn Dale studio where some of these songs were recorded.)
As with the two previous albums, TIME AFTER TIME and IMAGINE, the songs on AMERICAN TUNE come from a variety of sources. "The Water is Wide" and "American Tune" were taped at Pearl's, a storefront restaurant in Annapolis where Eva sometimes performed solo. "It Don't Mean a Thing" was taped at a higher-profile venue, the King of France Tavern at the Maryland Inn, also in Annapolis. The other songs were recorded at Chris Biondo's studio, either in Rockville or in Glenn Dale, Maryland.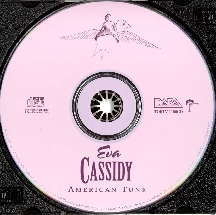 Though the official title of the album is AMERICAN TUNE, it could also appropriately be called BURIED TREASURE. Until recently the very existence of six of the ten songs on the CD, and all the photos and drawings used in the album's design, was unknown. Below is the story behind the discoveries.
---
INTERVIEW WITH KEITH GRIMES
In July of 2003, Laura Bligh spoke with Keith Grimes, lead guitarist for the Eva Cassidy Band, about the "buried treasure" he found in his basement.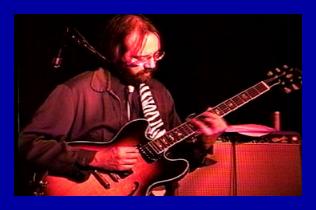 "The whole time we had the band, I would keep tapes of everything that we did. I wanted to have at least one version of every tune. We sometimes had substitute drummers, and I wanted to be able to play them our version of whatever song it was, and they'd be able to listen to the tapes and play with us. Then there were some things, Eva came to me and wanted to do some songs we didn't do with the band, as duo performances. She would sing them for me, and I played along, trying out some ideas. Then I'd take the tape home and work from there. It amounted to a bunch of stuff, by the end. After Eva died I just put it all away, I put it down in my basement. I didn't want to think about it any more.
"As soon as I started to listen to the tapes, I realized there was some really good stuff on there. It was just a matter of weeding through the tapes. My basement is damp, I was afraid some of it might not even play any more, but as it turned out nothing was damaged. I was elated! Here were a lot of songs Eva did that were really good, that I thought would never be available. It was like stumbling on something you thought you were never going to retrieve, like finding a buried treasure. It was a lot of material, about 20 hours of tape.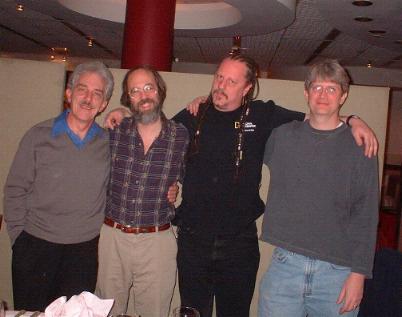 (In the photo, the members of the Eva Cassidy Band in 2002. From left to right, Raice McLeod, Keith Grimes, Chris Biondo, and Lenny Williams)
"Some of the performances were recorded better than I remembered. Others, you couldn't really hear the vocals, they had been recorded just with my Walkman recorder. The best of them were from rehearsals. We would record directly onto a DAT [digital audio tape], then Chris would bang me off a cassette copy from the DAT. The original DATs, we used to record over! Everything that was used for the album was done in the studio, and had been on cassette tape. None of it was on multitrack, which means that you can't do anything about any little mistakes.
"Chris helped me transfer the best recordings from tape to CD. We sent a couple of CDs off to Bill Straw [at Blix Street Records]. I guess there's five of those songs on this new album, and he may wind up releasing some of the others later on. I think there are a few more things that people would enjoy hearing. Some of the songs that were really good were ones that had already been on an album in other versions.
"I hope that there will be some more lucky accidents like that, more material coming to light. Though I don't know where it would come from!"
Note: To read another interview with Keith Grimes, from October 1999, click here.
---
Next, graphic designer Eileen White discusses her discovery of the photos and drawings used in the album's design.
INTERVIEW WITH EILEEN WHITE
The term "Buried Treasure" applies to more than just the music on the album AMERICAN TUNE. The cover photo, and the photos and drawings inside the CD leaflet, also have an interesting story behind their discovery.
Laura Bligh spoke with Eileen White, the graphic designer for AMERICAN TUNE, in July of 2003:
"In 2002, Chris Biondo sold his house in Upper Marlboro. He hadn't been living there, but a lot of his stuff was in the house, and I helped him clean the place out. When we were packing everything up, I found some interesting things that Eva had left, from the time when she lived there.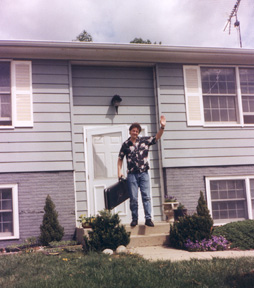 "When we cleaned out the storage room in the back of the basement, we found a box that was full of some of Eva's old art stuff — half-used tubes of paint, a sketchbook, a T-square, things like that. In the same box, I found a baggie that had four or five rolls of film in it. I found some other rolls of film lying around in various places. One roll was sitting on top of the big wooden entertainment unit, not even in a protective canister. By the time I got done, I had found eight rolls of film. They looked like they had been used but never developed. Chris hadn't even known they were there. I decided to take a chance and have them developed and see what was on them. It was fun, really fun! I picked them up later that day. I didn't want to wait till I got home to see them, so I sat in my car to go through them.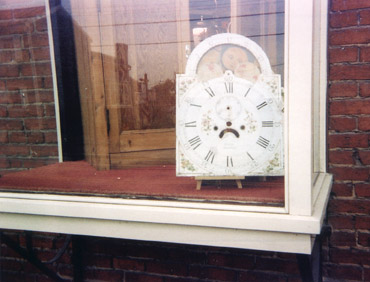 "Some of the rolls had nothing on them. A couple had four or five pictures of nothing in particular. For example, there was one that had pictures of water, like at the ocean. Maybe Eva took the photos to use as references for her paintings. Another one had four pictures of a clock, taken through the window of an antique shop, that's all there was on that roll. Chris remembered this one, he said Eva liked the clock, it was a small clock that showed the phases of the moon.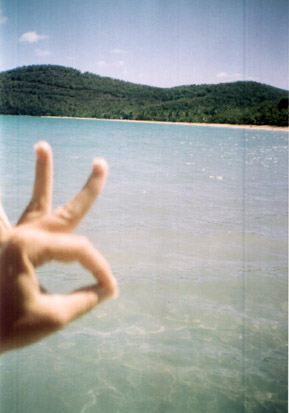 "One roll had pictures of a trip Eva and Chris took to the Caribbean. It has some beautiful pictures of the sky, I'm thinking she might have been taking pictures of the clouds, again to use in her paintings. It must have been St. John, in the U.S. Virgin Islands, because there is a picture of the Moravian Church that Eva did a painting of. There is a rather funny picture of the water, in which you can see Eva's hand showing at the side of the picture, making an OK sign. Her hand is very distinctive, the way the fingers bend.
"There was a roll that had a couple of shots of Eva and Chris in the Upper Marlboro house, when it was empty and they were just moving in. It was odd to have the photos developed when the house was empty again, and Chris was moving out.
"Then I started finding some good stuff. There were some outdoor shots of Eva in a pasture, along with various pictures of the pasture with cows. Two of the pictures on AMERICAN TUNE came from that roll. That's where I found the picture of Eva standing next to the fence, which is now the cover of AMERICAN TUNE. When I saw that picture I smiled and said "That's a CD cover." The photo looks posed to me, as if Eva asked Chris to take the picture that way. I think she knew it would be a good composition, like the cover photo of EVA BY HEART, which was taken by her mother at Eva's request.
"The other roll that turned out to be a big bonanza, a real treasure, had pictures of a hiking trip that Chris and Eva took together. Five of the pictures on AMERICAN TUNE came from that roll. There's one of Eva touching water, two of her touching moss, a landscape, and one of Eva standing in a field, a different one from the cover photo.
"Apart from the pictures Chris took of Eva, there were other pictures that Eva took, some of them of Chris. For example, one of the pictures used in AMERICAN TUNE is a landscape, and Eva took a picture of Chris lying in that landscape that I thought was great. It looks like something the Pre-Raphaelite painters might have done, with Chris as Ophelia. You can see in that photo that Chris is wearing one of the necklaces Eva made.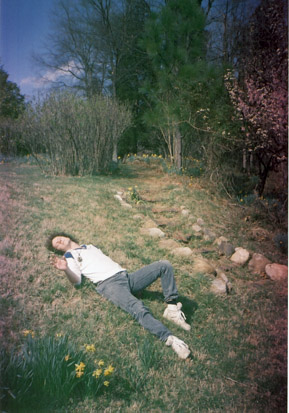 "I asked Chris about the photos, and he said he vaguely remembers them, but they went on so many hiking trips together, it was hard for him to remember specifically what trips those were. So we don't know exactly where the pictures were taken.
"One of the things that was interesting about the photos was the way that some of the colors were skewed. Because the film was so old, it had been sitting around in Chris's basement for ten years, and some of the rolls were not particularly protected, they probably had some light leaks. There are some weird, unnatural color casts to the photos that I actually thought made them look pretty interesting, they had sort of a surreal, otherworldly quality. While I could have corrected for the color casts in the final scans, I decided to leave them because I liked the way they looked. The film was also very grainy, it may have been that she was using fast film which would make it grainy. I didn't try to adjust for that either, I almost thought that the defects in the film were part of the story.
"Not long after I found the pictures, I started working on a sample layout to see how I could get them to work together. What struck me as I was working with them was how Eva seemed to be touching the elements of nature. We have her touching water, earth, the air. The only thing that's missing is fire. I thought that worked well visually, with what we know about her love of nature. So I put together this sample layout. There wasn't a CD project in the works at the time, so I put it on the shelf until I heard that AMERICAN TUNE was in the works. I took it out, dusted it off, and submitted it to Blix Street Records for their consideration. They were looking for new photos, so it turned out well for everybody.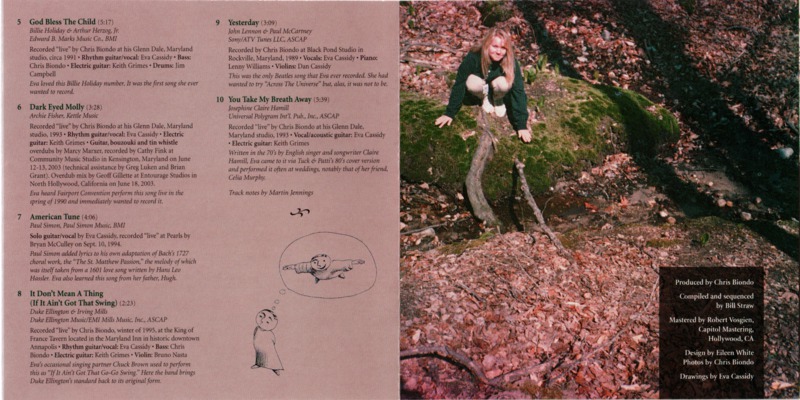 "The drawings used in the layout are from the old sketchbook of Eva's that we found among the art supplies. It was a very informal collection of interesting doodles and characters and figures, but one of the drawings that really struck me was a little figure looking up and dreaming that he's flying. When I saw this drawing I immediately thought of the lyrics of the song 'American Tune,' which I had heard on the Pearl's tape, where Eva sings 'And I dreamed I was flying.' I knew I wanted to use the drawing in connection with that song. Another drawing in the sketchbook, which I also used in the layout, has a small figure riding on the back of a bird in flight. That is on the CD itself, which is otherwise very simple.
"The colors in the layout were taken from colors that were in the photographs. I used the pinkish color on the inside, the shade is actually taken from the strange pink cast on the photographs. I chose a typeface that I thought looked delicate and light. In fact, the type face used on the cover is called Poetica. The type on the inside is called Minion.
"I haven't seen the final yet, but I think it's going to look good. I've heard that Blix Street Records printed it as I designed it, for the US version of the album. I know that Hot Records made a few changes for the UK version, so that may look a little different. You'll be able to tell whether you have a US or UK version by the differences in the layout, especially the cover. I know the typography was changed on the cover, in the UK.
"I got a nice card in the mail from Eva's parents saying how much they liked the photos and the layout. I'm so glad they are pleased with it, and I hope that Eva's fans will like it too.
---
Note: Eileen White designed the albums EVA BY HEART and TIME AFTER TIME as well as AMERICAN TUNE. She has also done CD packages for Chuck Brown, Liaison Records, and other local singer/songwriters such as Tom Forsey. For more information about Eileen's design for TIME AFTER TIME, click here.
AMERICAN TUNE — THE SONGS
Author's Note: I would like to thank the following people for helping with this song-by-song discussion: Hugh Cassidy, Chris Biondo, Keith Grimes, Raice McLeod, Lenny Williams, Ruth Murphy, Celia Murphy, Bryan McCulley, Marcy Marxer, and Andrew Bowles.
---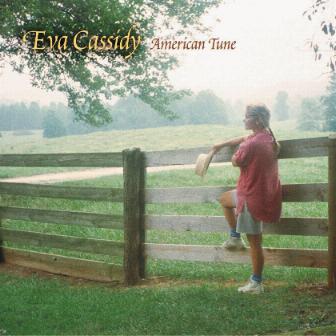 "Drowning in a Sea of Love"
Eva's father, Hugh Cassidy, told me "I like the way the album starts off with a little impact!" This recording is from a full-band rehearsal tape, very bluesy, great stuff. If you listen carefully, you can hear the incomparable Lenny Williams playing "B-3" organ in this rendition. Guitarist Keith Grimes comments, "We used to do a lot of rhythm and blues songs like that. They haven't been represented to any great degree on the records, so I'm glad to see a song of that type on this record, it's something Eva did so well." Raice McLeod, the band's drummer for much of its history, remembers, "That was one of the songs that Eva was doing when I first hooked up with the band. That one really knocked me out! It's a little bit different from what people generally identify with her."
---
"True Colors"
Cyndi Lauper recorded this song, though she didn't write it, and Eva learned it from Lauper's album. "True Colors" was one of Eva's special favorites. "Eva liked it, she brought it in, taught us how to play it. We must have played that song a thousand times," says Chris Biondo. Keith adds, "As I told you in a previous interview, I always liked that arrangement of the song. This is from a rehearsal tape that has Jimmy Campbell on drums, so we must have been doing that pretty early on."
Eva's friend Ruth Murphy recalls, "I love that one, I remember her singing it at Fleetwoods when she dedicated it to her sister Margret. Eva rarely ever dedicated anything to anyone, because that would mean a lot more words for her to say at the microphone!"
---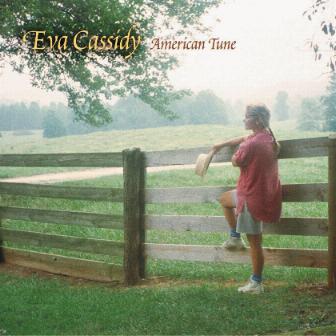 "The Water is Wide"
Eva learned the folk song "The Water is Wide" from her father as a child. She encountered it again in junior high school in Mrs. Walter's chorus. Eva's friend Ruth Murphy remembers, "We sang that in school chorus together. Celia and I used to sing it with Eva, that was a fun one we would sing together just to harmonize." Ruth and Eva were both sopranos, and Celia sang alto.
Eva often included this song in her solo and duo performances. Hugh Cassidy comments, "I like her guitar work on 'The Water is Wide.' When we sang it at home, I think we didn't do it as slowly. She slowed it down, made it more telling. In her phrasing, she is so conscious of the visual images."
This rendition was taped at Pearl's in Annapolis, the same night as "It Doesn't Matter Anymore" from the album IMAGINE. Eva performed at the small storefront restaurant several times, and on two of these occasions her friend Bryan McCulley brought his video equipment along to tape Eva's performance. He plugged his equipment directly into Eva's soundboard to record the audio portion. Bryan's fortuitous recordings of those two nights at Pearl's, in September 1994, have preserved forever some of Eva's most beautiful vocal performances. Bryan told me once, "Eva never watched anything I videoed. We had a deal that I would never show it to her."
---
"Hallelujah I Love Him So"
Yes, Eva could be lighthearted and upbeat! Raice McLeod comments, "That's a fun song! We did that one quite often." This rendition comes from a band demo tape. According to Chris Biondo, "We played that directly onto a DAT, with the idea of making cassettes from it later, but we never got around to it. This version of the song is shortened by about half, we usually did an extra verse and instrumental break also."
Keith says, "That's an R and B song, but like all the Ray Charles stuff, it has some gospel influence. It was a little more raucous in a live situation, this is a more understated performance. Eva gives it a cool treatment that is still effective. Another Ray Charles one that we haven't found a good recording for is 'Get on the Right Track.' We also did this old song 'Let the Good Times Roll' that Ray Charles recorded, and 'Drown in My Own Tears.'" (Note: "Let the Good Times Roll" and "Drown in My Own Tears" are part of the duets album THE OTHER SIDE.)
---
"God Bless the Child"
Eva Cassidy fans who own the album THE OTHER SIDE have already heard Eva's first recording of this song. Here is an alternate version, from one of Keith's "buried treasure" rehearsal tapes. Keith says "We must have recorded that in the early days of the band. It also has Jimmy Campbell on drums."
---
"Dark-Eyed Molly"
This song was taped in the studio, with Eva's vocals and acoustic guitar, supplemented by Keith Grimes's electric guitar. In 2003, additional instrumentation was added by the multitalented Marcy Marxer — including tin whistle and bouzouki (Marcy says "When I take it through airport security, I call it a mandolin".)
Marcy told me she had a lot of fun working on the song, and said "The vocals are amazing!" Eva and Marcy Marxer never had the opportunity to record together, but some of you may have read about how Marcy and Grace Griffith gave Eva great joy in her last weeks, by coming to visit and singing with her. What a precious gift of support and friendship!
Eva first heard "Dark Eyed Molly" when Fairport Convention performed it at the Birchmere in Alexandria, Virginia. Chris Biondo remembers, "Eva and I went with Eva's parents, her brother Dan, and Larry Melton. Dan knew the violin player, came up and talked to him after the show. They did that song. Eva started playing it live, did it a few times. Because Marcy Marxer is so versatile with the different Celtic instruments, Bill thought it would be a good idea to have her add whatever might be appropriate to make it more Celtic-authentic, because she had done so many nice things on Grace Griffith's record."
---
"American Tune"
"American Tune" has a long and interesting history. The melody can be traced back to the German composer Hans Leo Hassler (1564-1612), who originally wrote it as a love song called "Mein Gmüth ist mir verwirret" ("My mind confuses me"). The tune was later transformed into a hymn with the lyrics "Herzlich thut mich verlangen" and later "O Haupt voll' Blut und Wunden." Johann Sebastian Bach borrowed the melody for his "St. Matthew Passion," where it can be heard five times at different points in the oratorio. Today the melody is still found in hymnals of many denominations, with the lyrics "Because All Men Are Brothers," among others. In 1973, Paul Simon continued the transformational life of the ancient tune when he penned the lyrics beginning "Many's the time I've been mistaken" and called his song "American Tune." Rolling Stone declared it to be the best song of that year!
Eva learned "American Tune" from her father, Hugh Cassidy. He comments, "We used to sing that in our family band, Dan and Eva and myself, along with 'Desperado' and quite a few others, in the early 1980s. To me, 'American Tune' is probably the best song on this album. The words lay out well, the way they hang upon the air. Eva's phrasing is a lot of what Eva's about, and when you put that together with her voice, her pacing, her style, her use of dynamics, you really have something beautiful. She always had that sensitiveness."
Blix Street's Bill Straw had three different versions of "American Tune" and was having a hard time deciding which one to select for the album. Ultimately he invited Grace Griffith to listen and decide. Grace did not hesitate in identifying the September 10th "Pearl's" version as the best of the three, and it is that recording you hear on the eponymous album.
"This recording makes the world a better place," declares Chris Biondo, who also says "'American Tune' may be one of the top five best things that have been on an Eva record, especially in this version. I think it's an amazing achievement that it is a live performance, with Eva both playing the guitar and singing it." Keith Grimes agrees: "When vocal songs are done with an instrumental group, there are benefits. For one thing, you get arranging possibilities that aren't available to a solo performer. But there's also something special that happens when one person, self-accompanied, puts a song across completely. Eva has a powerful gift for that. It's so fortunate that these solo performances were recorded."
Eva's friend Celia Murphy was in the audience at Pearl's that night, September 10th, 1994. "I really like that song, and I remember that Eva was really getting into it. But I kidded her about it afterwards, I said 'Eva, how come you never do the next verse?' She looked at me like 'What are you talking about?' It was one of those Eva stares. I sang her the next verse and she said, 'Oh…. yeah.' So, one of the verses is missing." Chris Biondo comments, "Eva had a lot of lyrics to remember, if you think about it. She used to write them in a notebook, but she almost always sang from memory." The other two recordings of "American Tune" likewise do not contain the missing verse.
Someday I would love to interview Paul Simon about "American Tune"! I have read that he wrote the lyrics to express his disillusionment with the political situation in the United States, following the Watergate scandal.
---
"It Don't Mean a Thing" ("If It Ain't Got That Swing.")
This song was recorded at the Maryland Inn, the same night as "Who Knows Where the Time Goes" on the album IMAGINE. Violinist Bruno Nasta was sitting in with Eva, Keith Grimes and Chris Biondo. Keith comments, "It was a tune we didn't play all that much with the four-piece band. Usually we did it with 'Chuck and Eva,' with a bigger band. Eva liked it, she wanted to do it this particular night. That was the first time we did it without a drummer. We had Bruno [Nasta] with us, so we just jumped in there and tried to render it in a sort of 'Hot Club of France' version. That was one of the songs Eva did not play guitar on, so it was a very sparse instrumentation."
---
"Yesterday"
"Yesterday" was the only Beatles song Eva ever recorded. She had planned to record "Across the Universe" but never got the chance.
This recording of "Yesterday" was one of the early projects Eva recorded at Chris Biondo's studio in Rockville, in 1989. According to Chris, "We recorded 'Yesterday,' 'God Bless the Child,' and 'I Can Only Be Me' within a few weeks of one another. It usually took us a day to do each one. For 'Yesterday,' Lenny Williams came in to play the piano, Eva sang it, and on a later date she brought her brother Dan over to do the violin part. That was the first time I met Dan. He's a talented guy, and Eva was always very enthusiastic about her brother, thought he was the greatest."
In an earlier interview Chris had mentioned that this recording was marred by occasional sounds of a furnace turning on and off. He says "I'd like to retract that statement, it was another song that had the furnace sounds." (If any of you think you have heard them elsewhere, e-mail me your guess and I'll tell you if you're right!)
Pianist Lenny Williams comments, "I think that was the first session I did with Eva, we might have done that one and 'God Bless the Child' on the same day, but after all this time I'm not sure. I remember her drawing pictures, sketching faces of women with big eyes! We spent most of the time worrying about the pedals squeaking on Chris's piano, that was the focus of a lot of torment back then. He had this Kawai baby grand, and whenever you'd press the pedal it'd squeak, he couldn't stand recording it. It didn't bother me, I figured, 'It's a piano, it's gonna make some noise.' I don't think I had played the song before, of course I had grown up hearing it but I hadn't played it much, if at all."
Keith Grimes had never heard this recording before; it was made before the formation of the Eva Cassidy Band. He comments, "That's another song that's been recorded by a lot of people. Eva just marches in fearlessly and puts her own stamp on it."
---
"You Take My Breath Away" — see this article.